Jewish World Review Sept. 23, 2003 / 26 Elul, 5763

Argus Hamilton

And now for the
important news ....




http://www.NewsAndOpinion.com | John Kerry slipped in the presidential polls Wednesday. He and Teddy Kennedy represent Massachusetts in the Senate. The difference is, John Kerry is running fifth in America while Teddy Kennedy's father got rich running fifths into America.
U.S. Rep. Sheila Jackson Lee demanded Tuesday that the name french fries be restored on the House cafeteria menu. She said the term Freedom Fries is inappropriate. It was only a matter of time before one of the congressmen finally read the Patriot Act.
Syria was accused by the State Department Wednesday of hiding Iraqi chemical weapons. Any American action will incite tribal revenge. Syrian President Bashar Assad happens to be an ophthalmologist so he could personally exact an eye for an eye.
ABC's Good Morning America said Ted Williams's decapitated body is not being properly stored at the cryogenics lab in Scottsdale. The lab insists that things are much better since they began using a new shampoo on him. It's called Shoulders.
USA Today said Tuesday the college atmosphere in Shanghai is like the campus atmosphere in America way back in the 1960s. This adds a new meaning to the word unrest. The last thing a nation with a billion people needs is a Free Love Movement.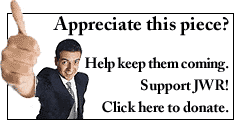 Appreciate this writer's work? Why not sign-up for JWR's daily update. It's free. Just click here.


JWR contributor Argus Hamilton is the host comedian at The Comedy Store in Hollywood. To comment or arrange for speaking engagements, please click here.
09/22/03
09/19/03
09/18/03
09/17/03
09/16/03
09/15/03
09/12/03
09/11/03
09/10/03
09/09/03
09/08/03
09/05/03
09/03/03
09/02/03
08/29/03
08/28/03
08/27/03
08/26/03
08/25/03
08/14/03
08/13/03
08/12/03
08/11/03
08/08/03
08/07/03
08/06/03
08/05/03
08/04/03
08/01/03
07/30/03
07/29/03
07/28/03
07/22/03
07/18/03
07/17/03
07/16/03
07/15/03
07/14/03
07/10/03
07/09/03
07/08/03
07/07/03
07/03/03
07/02/03
07/01/03
06/30/03
06/27/03
06/26/03
06/25/03
06/24/03
06/23/03
06/20/03
06/19/03
06/18/03
06/17/03
06/16/03
06/12/03
06/11/03
06/10/03
06/09/03
06/05/03
06/04/03
06/03/03
06/02/03
05/30/03
05/29/03
05/28/03
05/27/03
05/23/03
05/22/03
05/21/03
05/20/03
05/19/03
05/16/03
05/15/03
05/14/03
05/13/03
05/12/03
05/09/03
05/08/03
05/07/03
05/06/03
05/05/03
05/02/03
05/01/03
04/30/03
04/29/03
04/28/03
04/25/03
04/22/03
04/21/03
04/16/03
04/15/03
04/14/03
04/12/03
04/10/03
04/09/03
04/08/03
04/07/03
04/04/03
04/03/03
04/03/03
04/03/03
04/03/03
04/02/03
04/01/03
03/31/03
03/28/03
03/27/03
03/26/03
03/25/03
03/24/03
03/21/03
03/20/03
03/19/03
03/18/03
03/17/03
03/13/03
03/12/03
03/11/03
03/10/03
03/07/03
03/06/03
03/05/03
03/04/03
03/03/03
02/28/03
02/27/03
02/26/03
02/25/03
02/24/03
02/21/03
02/20/03
02/19/03
02/18/03
02/14/03
02/13/03
02/12/03
02/11/03
02/10/03
02/07/03
02/06/03
02/05/03
02/04/03
02/03/03
01/31/03
01/30/03
01/29/03
01/28/03
01/27/03
01/24/03
01/23/03
01/22/03
01/21/03
01/17/03
01/16/03
01/15/03
01/14/03
01/13/03
01/10/03
01/09/03
01/08/03
01/07/03
01/06/03
01/03/03
01/02/03:Annual Review of the Past Year's Mischief
12/31/02
12/30/02
12/27/02
12/26/02
12/24/02
12/23/02
12/20/02
12/19/02
12/18/02
12/17/02
12/16/02
12/13/02
12/12/02
12/11/02
12/10/02
12/09/02
12/06/02
12/05/02
12/04/02
12/03/02
12/02/02
11/27/02
11/26/02
11/25/02
11/22/02
11/21/02
11/20/02
11/19/02
11/18/02
11/15/02
11/14/02
11/13/02
11/12/02
11/11/02
11/08/02
11/07/02
11/06/02
11/05/02
11/04/02
11/01/02
10/31/02
10/30/02
10/29/02
10/28/02
10/25/02
10/24/02
10/23/02
10/22/02
10/21/02
10/18/02
10/17/02
10/16/02
10/15/02
10/14/02
10/11/02
10/10/02
10/09/02
10/08/02
10/07/02
10/04/02
10/03/02
10/02/02
10/01/02
09/30/02
09/27/02
09/26/02
09/25/02
09/24/02
09/23/02
09/20/02
09/19/02
09/18/02
09/17/02
09/13/02
09/12/02
09/10/02
09/09/02
09/07/02
09/06/02
09/04/02
09/03/02
08/30/02
08/29/02
08/28/02
08/27/02
08/26/02
08/23/02
08/22/02
08/21/02
08/20/02
08/19/02
08/16/02
08/15/02
08/14/02
08/13/02
08/12/02
08/09/02
08/08/02
08/07/02
08/06/02
08/05/02
08/02/02
08/01/02
07/31/02
07/30/02
07/29/02
07/26/02
07/25/02
07/24/02
07/23/02
07/22/02
07/19/02
07/18/02
07/17/02
07/16/02
07/12/02
07/11/02
07/10/02
07/09/02
07/08/02
07/05/02
07/04/02
07/03/02
07/02/02
07/01/02
06/28/02
06/27/02
06/26/02
06/25/02
06/24/02
06/21/02
06/20/02
06/19/02
06/18/02
06/17/02
06/14/02
06/13/02
06/12/02
06/11/02
06/10/02
06/07/02
06/06/02
06/05/02
06/04/02
06/03/02
05/31/02
05/30/02
05/29/02
05/28/02
05/24/02
05/23/02
05/22/02
05/21/02
05/20/02
05/19/02
05/16/02
05/15/02
05/14/02
05/13/02
05/10/02
05/09/02
05/08/02
05/07/02
05/06/02
05/03/02
05/02/02
05/01/02
04/30/02
04/29/02
04/26/02
04/25/02
04/24/02
04/23/02
04/22/02
04/19/02
04/18/02
04/16/02
04/15/02
04/12/02
04/10/02
04/09/02
04/08/02
04/02/02
04/01/02
03/31/02
03/27/02
03/26/02
03/25/02
03/22/02
03/21/02
03/20/02
03/19/02
03/18/02
03/15/02
03/14/02
03/13/02
03/12/02
03/11/02
03/08/02
03/07/02
03/06/02
03/05/02
03/04/02
03/01/02
02/28/02

© 2002, Argus Hamilton