Jewish World Review Sept. 17, 2003 / 20 Elul, 5763

Argus Hamilton

And now for the
important news ....




http://www.NewsAndOpinion.com | The Dallas Cowboys beat the New York Giants on Monday in a overtime thriller in a rainstorm. It was a great night for the whole team. The offense moved, the defense stood firm, and the moisture made Jerry Jones look three procedures younger.
The U.S. Court of Appeals in San Francisco delayed the California recall election in a setback for Arnold Schwarzenegger. It's the same court that banned the Pledge of Allegiance to mollify atheists. First they outlawed the Creator and now they are going after Mr. Universe.
The U.S. Court of Appeals stayed the California recall until everyone has touch screen voting. This changes everything. In order to have an edge with touch screen voters, Gray Davis plans to change his name to Press Here to Withdraw Cash.
California Democrats said Monday that punchcard ballots disenfranchise black voters. This reeks of paternalism. Apparently Democrats think that the same race that has held the heavyweight boxing title since 1959 cannot punch a hole in a card.
France offered Sunday to aid in Iraq if the U.S. leaves in thirty days. Things are chilly. Lafayette Park is right across the street from the White House, and France is just lucky the president thinks it was named for the Father of South Korea.
Osama bin Laden was hunted by U.S. Army Rangers in the Pakistan mountains beginning this week. He uses couriers for good reason. The fugitive terrorist can't stand hiking from one mountain to another asking the home office if they can hear him now.
President Bush lobbied Monday to ease restrictions on power plant emissions in Michigan. A little pollution is good. Now that Bill Clinton is sucking all the oxygen out of the news, people in L.A. are grateful they are trained to breathe sulfur.
Maria Shriver covered Arnold Schwarzenegger's mouth on the Oprah Winfrey Show as he began discussing womanizing. Her response was ingrained. Maria Shriver is confirming a new theory among Freudians who say beautiful women marry their uncles.
Bill Clinton dedicated an elementary school named after him in Los Angeles on Monday. It's his idea of a grade school. The boys and girls were issued little black books and were encouraged to grade each other on a scale of one-to-five stars.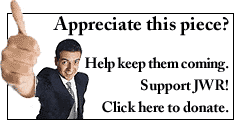 Appreciate this writer's work? Why not sign-up for JWR's daily update. It's free. Just click here.


JWR contributor Argus Hamilton is the host comedian at The Comedy Store in Hollywood. To comment or arrange for speaking engagements, please click here.
09/15/03
09/12/03
09/11/03
09/10/03
09/09/03
09/08/03
09/05/03
09/03/03
09/02/03
08/29/03
08/28/03
08/27/03
08/26/03
08/25/03
08/14/03
08/13/03
08/12/03
08/11/03
08/08/03
08/07/03
08/06/03
08/05/03
08/04/03
08/01/03
07/30/03
07/29/03
07/28/03
07/22/03
07/18/03
07/17/03
07/16/03
07/15/03
07/14/03
07/10/03
07/09/03
07/08/03
07/07/03
07/03/03
07/02/03
07/01/03
06/30/03
06/27/03
06/26/03
06/25/03
06/24/03
06/23/03
06/20/03
06/19/03
06/18/03
06/17/03
06/16/03
06/12/03
06/11/03
06/10/03
06/09/03
06/05/03
06/04/03
06/03/03
06/02/03
05/30/03
05/29/03
05/28/03
05/27/03
05/23/03
05/22/03
05/21/03
05/20/03
05/19/03
05/16/03
05/15/03
05/14/03
05/13/03
05/12/03
05/09/03
05/08/03
05/07/03
05/06/03
05/05/03
05/02/03
05/01/03
04/30/03
04/29/03
04/28/03
04/25/03
04/22/03
04/21/03
04/16/03
04/15/03
04/14/03
04/12/03
04/10/03
04/09/03
04/08/03
04/07/03
04/04/03
04/03/03
04/03/03
04/03/03
04/03/03
04/02/03
04/01/03
03/31/03
03/28/03
03/27/03
03/26/03
03/25/03
03/24/03
03/21/03
03/20/03
03/19/03
03/18/03
03/17/03
03/13/03
03/12/03
03/11/03
03/10/03
03/07/03
03/06/03
03/05/03
03/04/03
03/03/03
02/28/03
02/27/03
02/26/03
02/25/03
02/24/03
02/21/03
02/20/03
02/19/03
02/18/03
02/14/03
02/13/03
02/12/03
02/11/03
02/10/03
02/07/03
02/06/03
02/05/03
02/04/03
02/03/03
01/31/03
01/30/03
01/29/03
01/28/03
01/27/03
01/24/03
01/23/03
01/22/03
01/21/03
01/17/03
01/16/03
01/15/03
01/14/03
01/13/03
01/10/03
01/09/03
01/08/03
01/07/03
01/06/03
01/03/03
01/02/03:Annual Review of the Past Year's Mischief
12/31/02
12/30/02
12/27/02
12/26/02
12/24/02
12/23/02
12/20/02
12/19/02
12/18/02
12/17/02
12/16/02
12/13/02
12/12/02
12/11/02
12/10/02
12/09/02
12/06/02
12/05/02
12/04/02
12/03/02
12/02/02
11/27/02
11/26/02
11/25/02
11/22/02
11/21/02
11/20/02
11/19/02
11/18/02
11/15/02
11/14/02
11/13/02
11/12/02
11/11/02
11/08/02
11/07/02
11/06/02
11/05/02
11/04/02
11/01/02
10/31/02
10/30/02
10/29/02
10/28/02
10/25/02
10/24/02
10/23/02
10/22/02
10/21/02
10/18/02
10/17/02
10/16/02
10/15/02
10/14/02
10/11/02
10/10/02
10/09/02
10/08/02
10/07/02
10/04/02
10/03/02
10/02/02
10/01/02
09/30/02
09/27/02
09/26/02
09/25/02
09/24/02
09/23/02
09/20/02
09/19/02
09/18/02
09/17/02
09/13/02
09/12/02
09/10/02
09/09/02
09/07/02
09/06/02
09/04/02
09/03/02
08/30/02
08/29/02
08/28/02
08/27/02
08/26/02
08/23/02
08/22/02
08/21/02
08/20/02
08/19/02
08/16/02
08/15/02
08/14/02
08/13/02
08/12/02
08/09/02
08/08/02
08/07/02
08/06/02
08/05/02
08/02/02
08/01/02
07/31/02
07/30/02
07/29/02
07/26/02
07/25/02
07/24/02
07/23/02
07/22/02
07/19/02
07/18/02
07/17/02
07/16/02
07/12/02
07/11/02
07/10/02
07/09/02
07/08/02
07/05/02
07/04/02
07/03/02
07/02/02
07/01/02
06/28/02
06/27/02
06/26/02
06/25/02
06/24/02
06/21/02
06/20/02
06/19/02
06/18/02
06/17/02
06/14/02
06/13/02
06/12/02
06/11/02
06/10/02
06/07/02
06/06/02
06/05/02
06/04/02
06/03/02
05/31/02
05/30/02
05/29/02
05/28/02
05/24/02
05/23/02
05/22/02
05/21/02
05/20/02
05/19/02
05/16/02
05/15/02
05/14/02
05/13/02
05/10/02
05/09/02
05/08/02
05/07/02
05/06/02
05/03/02
05/02/02
05/01/02
04/30/02
04/29/02
04/26/02
04/25/02
04/24/02
04/23/02
04/22/02
04/19/02
04/18/02
04/16/02
04/15/02
04/12/02
04/10/02
04/09/02
04/08/02
04/02/02
04/01/02
03/31/02
03/27/02
03/26/02
03/25/02
03/22/02
03/21/02
03/20/02
03/19/02
03/18/02
03/15/02
03/14/02
03/13/02
03/12/02
03/11/02
03/08/02
03/07/02
03/06/02
03/05/02
03/04/02
03/01/02
02/28/02

© 2002, Argus Hamilton