Jewish World Review August 28, 2003 / 30 Menachem-Av, 5763

Argus Hamilton

And now for the
important news ....




http://www.NewsAndOpinion.com | The Airline Pilots Association on Tuesday demanded that federal authorities give them faster access to guns in the cockpit. This is just going to slow everything down at the airport. Hijackers need armed pilots like they need a hole in the head.
Retired General Wesley Clark hinted Monday he's close to announcing his presidential candidacy soon. This proliferation of Democratic candidates is alarming. Iowans are already complaining how they hop around on their lawns and eat up their gardens.
John Kerry had himself introduced Tuesday as the man with the war record of JFK, the brains of Bill Clinton, the toughness of LBJ and the hair of Ronald Reagan. What an ego. John Kerry won't even take a hot shower in the morning because it clouds the mirror.
Senator Joe Biden urged President Bush Tuesday to ask the United Nations for military help in Iraq and share reconstruction contracts with French companies. Is he insane? Bill O'Reilly and Al Franken will elope to Canada before that happens.
Athens saw protests by hookers Monday who say restrictions on legal brothels could hurt their Olympics business. Their concerns should be respected. Streetwalking is generally the only downtown business left standing after WalMart arrives.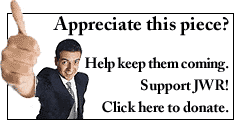 Appreciate this writer's work? Why not sign-up for JWR's daily update. It's free. Just click here.


JWR contributor Argus Hamilton is the host comedian at The Comedy Store in Hollywood. To comment or arrange for speaking engagements, please click here.
08/27/03
08/26/03
08/25/03
08/14/03
08/13/03
08/12/03
08/11/03
08/08/03
08/07/03
08/06/03
08/05/03
08/04/03
08/01/03
07/30/03
07/29/03
07/28/03
07/22/03
07/18/03
07/17/03
07/16/03
07/15/03
07/14/03
07/10/03
07/09/03
07/08/03
07/07/03
07/03/03
07/02/03
07/01/03
06/30/03
06/27/03
06/26/03
06/25/03
06/24/03
06/23/03
06/20/03
06/19/03
06/18/03
06/17/03
06/16/03
06/12/03
06/11/03
06/10/03
06/09/03
06/05/03
06/04/03
06/03/03
06/02/03
05/30/03
05/29/03
05/28/03
05/27/03
05/23/03
05/22/03
05/21/03
05/20/03
05/19/03
05/16/03
05/15/03
05/14/03
05/13/03
05/12/03
05/09/03
05/08/03
05/07/03
05/06/03
05/05/03
05/02/03
05/01/03
04/30/03
04/29/03
04/28/03
04/25/03
04/22/03
04/21/03
04/16/03
04/15/03
04/14/03
04/12/03
04/10/03
04/09/03
04/08/03
04/07/03
04/04/03
04/03/03
04/03/03
04/03/03
04/03/03
04/02/03
04/01/03
03/31/03
03/28/03
03/27/03
03/26/03
03/25/03
03/24/03
03/21/03
03/20/03
03/19/03
03/18/03
03/17/03
03/13/03
03/12/03
03/11/03
03/10/03
03/07/03
03/06/03
03/05/03
03/04/03
03/03/03
02/28/03
02/27/03
02/26/03
02/25/03
02/24/03
02/21/03
02/20/03
02/19/03
02/18/03
02/14/03
02/13/03
02/12/03
02/11/03
02/10/03
02/07/03
02/06/03
02/05/03
02/04/03
02/03/03
01/31/03
01/30/03
01/29/03
01/28/03
01/27/03
01/24/03
01/23/03
01/22/03
01/21/03
01/17/03
01/16/03
01/15/03
01/14/03
01/13/03
01/10/03
01/09/03
01/08/03
01/07/03
01/06/03
01/03/03
01/02/03:Annual Review of the Past Year's Mischief
12/31/02
12/30/02
12/27/02
12/26/02
12/24/02
12/23/02
12/20/02
12/19/02
12/18/02
12/17/02
12/16/02
12/13/02
12/12/02
12/11/02
12/10/02
12/09/02
12/06/02
12/05/02
12/04/02
12/03/02
12/02/02
11/27/02
11/26/02
11/25/02
11/22/02
11/21/02
11/20/02
11/19/02
11/18/02
11/15/02
11/14/02
11/13/02
11/12/02
11/11/02
11/08/02
11/07/02
11/06/02
11/05/02
11/04/02
11/01/02
10/31/02
10/30/02
10/29/02
10/28/02
10/25/02
10/24/02
10/23/02
10/22/02
10/21/02
10/18/02
10/17/02
10/16/02
10/15/02
10/14/02
10/11/02
10/10/02
10/09/02
10/08/02
10/07/02
10/04/02
10/03/02
10/02/02
10/01/02
09/30/02
09/27/02
09/26/02
09/25/02
09/24/02
09/23/02
09/20/02
09/19/02
09/18/02
09/17/02
09/13/02
09/12/02
09/10/02
09/09/02
09/07/02
09/06/02
09/04/02
09/03/02
08/30/02
08/29/02
08/28/02
08/27/02
08/26/02
08/23/02
08/22/02
08/21/02
08/20/02
08/19/02
08/16/02
08/15/02
08/14/02
08/13/02
08/12/02
08/09/02
08/08/02
08/07/02
08/06/02
08/05/02
08/02/02
08/01/02
07/31/02
07/30/02
07/29/02
07/26/02
07/25/02
07/24/02
07/23/02
07/22/02
07/19/02
07/18/02
07/17/02
07/16/02
07/12/02
07/11/02
07/10/02
07/09/02
07/08/02
07/05/02
07/04/02
07/03/02
07/02/02
07/01/02
06/28/02
06/27/02
06/26/02
06/25/02
06/24/02
06/21/02
06/20/02
06/19/02
06/18/02
06/17/02
06/14/02
06/13/02
06/12/02
06/11/02
06/10/02
06/07/02
06/06/02
06/05/02
06/04/02
06/03/02
05/31/02
05/30/02
05/29/02
05/28/02
05/24/02
05/23/02
05/22/02
05/21/02
05/20/02
05/19/02
05/16/02
05/15/02
05/14/02
05/13/02
05/10/02
05/09/02
05/08/02
05/07/02
05/06/02
05/03/02
05/02/02
05/01/02
04/30/02
04/29/02
04/26/02
04/25/02
04/24/02
04/23/02
04/22/02
04/19/02
04/18/02
04/16/02
04/15/02
04/12/02
04/10/02
04/09/02
04/08/02
04/02/02
04/01/02
03/31/02
03/27/02
03/26/02
03/25/02
03/22/02
03/21/02
03/20/02
03/19/02
03/18/02
03/15/02
03/14/02
03/13/02
03/12/02
03/11/02
03/08/02
03/07/02
03/06/02
03/05/02
03/04/02
03/01/02
02/28/02

© 2002, Argus Hamilton