Jewish World Review Sept. 15, 2003 / 18 Elul, 5763

Argus Hamilton

And now for the
important news ....




http://www.NewsAndOpinion.com | Sports Illustrated named Madison the top college town in the country. Things have changed at Wisconsin since the university's heyday as the center of Vietnam War protests. Nowadays students who want to avoid the draft just order bottled beer.
The Senate refused to let Home Box Office shoot any scenes of its new series K Street in the Senate part of the Capitol. It's a drama that will air on HBO about lobbyists. It seems what they do to taxpayers can only be shown on cable television late at night.
U.S. Senator Tom Harkin hosted his annual Steak Fry in Iowa Saturday featuring Democratic candidates. He chose Bill Clinton to headline the evening. Nothing gets the townspeople of Iowa going like an off-Broadway production of The Music Man.
House Democrat Leader Nancy Pelosi said Friday she is satisfied with Howard Dean's Israel policy. He assured her that as president he will follow in the footsteps of Bill Clinton. Satisfying Nancy Pelosi was certainly a step in the right direction.
Howard Dean said Thursday that President Bush ought to swallow his pride and appoint Bill Clinton to be his peace envoy to the Middle East. He doesn't want to get involved. Having his hand in the world's hot spots is what got him impeached.
Ft. Lauderdale Airport officials infuriated Arab rights groups Thursday when they refused to allow two Canadian Islamic leaders to deplane and enter the U.S. on September 11th. Their story just didn't add up. Flight schools don't have chaplains.
Wesley Clark told friends Thursday he will become the tenth candidate in the presidential race. Declaring your candidacy for the Democratic nomination is like marrying Jennifer Lopez. If you can just be patient it will eventually be your turn.
Brazil offered asylum Thursday to a Nigerian woman sentenced to be stoned to death for adultery. The law is different everywhere. In Africa, people who commit adultery get stoned, while in Los Angeles, people get stoned and then commit adultery.
The White House warned Thursday North Korea has a missile that can reach New York. It's a brand-new development. Previously the missile could only reach the West Coast, but now that it can get a California driver's license it can go anywhere.
The Israeli Cabinet voted on Thursday to evict Yasser Arafat from the West Bank. He was quickly surrounded by Palestinians who don't want him to leave. Ever since this guy has been in power, the whole region has been experiencing boom times.
The FBI said Thursday it gave up trying to infiltrate al- Qaeda. They say the initiation rites are too horrendous to consider. One FBI agent nearly infiltrated the group but backed out when they asked him to grow his crew cut to Beatles length.
The Jerusalem Post editorialized in Friday's edition that Yasser Arafat must be assassinated. His legend is already secure. Yasser Arafat is a terrorist, a murderer and an obstacle to peace, at least that's what it says on his business card.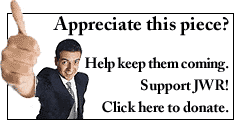 Appreciate this writer's work? Why not sign-up for JWR's daily update. It's free. Just click here.


JWR contributor Argus Hamilton is the host comedian at The Comedy Store in Hollywood. To comment or arrange for speaking engagements, please click here.
09/12/03
09/11/03
09/10/03
09/09/03
09/08/03
09/05/03
09/03/03
09/02/03
08/29/03
08/28/03
08/27/03
08/26/03
08/25/03
08/14/03
08/13/03
08/12/03
08/11/03
08/08/03
08/07/03
08/06/03
08/05/03
08/04/03
08/01/03
07/30/03
07/29/03
07/28/03
07/22/03
07/18/03
07/17/03
07/16/03
07/15/03
07/14/03
07/10/03
07/09/03
07/08/03
07/07/03
07/03/03
07/02/03
07/01/03
06/30/03
06/27/03
06/26/03
06/25/03
06/24/03
06/23/03
06/20/03
06/19/03
06/18/03
06/17/03
06/16/03
06/12/03
06/11/03
06/10/03
06/09/03
06/05/03
06/04/03
06/03/03
06/02/03
05/30/03
05/29/03
05/28/03
05/27/03
05/23/03
05/22/03
05/21/03
05/20/03
05/19/03
05/16/03
05/15/03
05/14/03
05/13/03
05/12/03
05/09/03
05/08/03
05/07/03
05/06/03
05/05/03
05/02/03
05/01/03
04/30/03
04/29/03
04/28/03
04/25/03
04/22/03
04/21/03
04/16/03
04/15/03
04/14/03
04/12/03
04/10/03
04/09/03
04/08/03
04/07/03
04/04/03
04/03/03
04/03/03
04/03/03
04/03/03
04/02/03
04/01/03
03/31/03
03/28/03
03/27/03
03/26/03
03/25/03
03/24/03
03/21/03
03/20/03
03/19/03
03/18/03
03/17/03
03/13/03
03/12/03
03/11/03
03/10/03
03/07/03
03/06/03
03/05/03
03/04/03
03/03/03
02/28/03
02/27/03
02/26/03
02/25/03
02/24/03
02/21/03
02/20/03
02/19/03
02/18/03
02/14/03
02/13/03
02/12/03
02/11/03
02/10/03
02/07/03
02/06/03
02/05/03
02/04/03
02/03/03
01/31/03
01/30/03
01/29/03
01/28/03
01/27/03
01/24/03
01/23/03
01/22/03
01/21/03
01/17/03
01/16/03
01/15/03
01/14/03
01/13/03
01/10/03
01/09/03
01/08/03
01/07/03
01/06/03
01/03/03
01/02/03:Annual Review of the Past Year's Mischief
12/31/02
12/30/02
12/27/02
12/26/02
12/24/02
12/23/02
12/20/02
12/19/02
12/18/02
12/17/02
12/16/02
12/13/02
12/12/02
12/11/02
12/10/02
12/09/02
12/06/02
12/05/02
12/04/02
12/03/02
12/02/02
11/27/02
11/26/02
11/25/02
11/22/02
11/21/02
11/20/02
11/19/02
11/18/02
11/15/02
11/14/02
11/13/02
11/12/02
11/11/02
11/08/02
11/07/02
11/06/02
11/05/02
11/04/02
11/01/02
10/31/02
10/30/02
10/29/02
10/28/02
10/25/02
10/24/02
10/23/02
10/22/02
10/21/02
10/18/02
10/17/02
10/16/02
10/15/02
10/14/02
10/11/02
10/10/02
10/09/02
10/08/02
10/07/02
10/04/02
10/03/02
10/02/02
10/01/02
09/30/02
09/27/02
09/26/02
09/25/02
09/24/02
09/23/02
09/20/02
09/19/02
09/18/02
09/17/02
09/13/02
09/12/02
09/10/02
09/09/02
09/07/02
09/06/02
09/04/02
09/03/02
08/30/02
08/29/02
08/28/02
08/27/02
08/26/02
08/23/02
08/22/02
08/21/02
08/20/02
08/19/02
08/16/02
08/15/02
08/14/02
08/13/02
08/12/02
08/09/02
08/08/02
08/07/02
08/06/02
08/05/02
08/02/02
08/01/02
07/31/02
07/30/02
07/29/02
07/26/02
07/25/02
07/24/02
07/23/02
07/22/02
07/19/02
07/18/02
07/17/02
07/16/02
07/12/02
07/11/02
07/10/02
07/09/02
07/08/02
07/05/02
07/04/02
07/03/02
07/02/02
07/01/02
06/28/02
06/27/02
06/26/02
06/25/02
06/24/02
06/21/02
06/20/02
06/19/02
06/18/02
06/17/02
06/14/02
06/13/02
06/12/02
06/11/02
06/10/02
06/07/02
06/06/02
06/05/02
06/04/02
06/03/02
05/31/02
05/30/02
05/29/02
05/28/02
05/24/02
05/23/02
05/22/02
05/21/02
05/20/02
05/19/02
05/16/02
05/15/02
05/14/02
05/13/02
05/10/02
05/09/02
05/08/02
05/07/02
05/06/02
05/03/02
05/02/02
05/01/02
04/30/02
04/29/02
04/26/02
04/25/02
04/24/02
04/23/02
04/22/02
04/19/02
04/18/02
04/16/02
04/15/02
04/12/02
04/10/02
04/09/02
04/08/02
04/02/02
04/01/02
03/31/02
03/27/02
03/26/02
03/25/02
03/22/02
03/21/02
03/20/02
03/19/02
03/18/02
03/15/02
03/14/02
03/13/02
03/12/02
03/11/02
03/08/02
03/07/02
03/06/02
03/05/02
03/04/02
03/01/02
02/28/02

© 2002, Argus Hamilton