Jewish World Review July 7, 2003 / 7 Tamuz, 5763

Argus Hamilton

And now for the
important news ....




http://www.NewsAndOpinion.com | Democratic hopefuls in Amherst, New Hampshire, Friday saw Revolutionary War battle re-enactments. It was colorful. A red coat meant you're a royalist, a blue coat meant you're a rebel, and a white coat meant you're assigned to make sure Howard Dean takes his medication.
Republicans vowed Wednesday to fight their own president's prescription drug plan. It's no surprise. The reason presidents don't do any Christmas shopping in November is because they never know who their friends will be four weeks from now.
The NEA asked teachers to send postcards to the White House and ask for more money for education. That isn't going to happen. Poor math scores give campaign donors the cover they will need to get through the next wave of accounting scandals.
Hillary Clinton raised eyebrows by celebrating the Fourth of July in England Friday. She must be blind to appearances. Every August Hillary celebrates the anniversary of her marriage to Bill Clinton with the Kennedys at Martha's Vineyard.
New York Democrat Andrew Cuomo separated from Bobby Kennedy's daughter Kerry last week. His divorce lawyer publicly accused her of cheating on him. Decades of research show that Middle East cease-fires last longer than Kennedy marriage vows.
The Tour de France began on Saturday, matching the world's fastest bicyclists in a fourteen-day race. Lance Armstrong is sponsored by the U.S. Postal Service. Their advertising logo belongs on anything that requires two weeks to get somewhere.
Howard Dean called in a speech Thursday for two thousand U.S. troops to be sent to Africa. The crowd in Iowa City just stared at him. It wasn't until he explained that the troop carriers would run on ethanol that they gave him a standing ovation.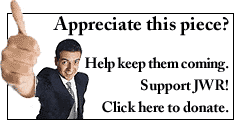 Marvel Comics announced it will bring Princess Diana back from the dead as a superhero. Let's guess the gimmick. Whenever Princess Di gets the call that there is a crime in progress, she rushes into the nearest phone booth and changes boyfriends.
The Supreme Court stunned conservatives on Thursday by legalizing sex between gay people. Gays have become mainstream in every area of life. Last Saturday night, gay burglars broke into a home in Beverly Hills and rearranged the furniture.
The Academy Awards issued tough new rules Wednesday to limit what studios can do to influence Oscar voters. The Academy said it's time to end the aggressive campaigning. Promising free drugs in exchange for votes is only allowed in Washington.
President Bush confronted Washington D.C. teachers Tuesday and demanded improved student achievement. It's time educators started living up to expectations. The average professor earns more money in one year than a New York Yankee makes all day.
The Kennedy Curse hits the bookstores today and details the cocaine problem of John-John's wife Carolyn Bessette. The book describes how an adulterous and drug-using and self-centered woman ruined the life of John Kennedy. That's a switch.
Appreciate this writer's work? Why not sign-up for JWR's daily update. It's free. Just click here.


JWR contributor Argus Hamilton is the host comedian at The Comedy Store in Hollywood. To comment or arrange for speaking engagements, please click here.
07/03/03
07/02/03
07/01/03
06/30/03
06/27/03
06/26/03
06/25/03
06/24/03
06/23/03
06/20/03
06/19/03
06/18/03
06/17/03
06/16/03
06/12/03
06/11/03
06/10/03
06/09/03
06/05/03
06/04/03
06/03/03
06/02/03
05/30/03
05/29/03
05/28/03
05/27/03
05/23/03
05/22/03
05/21/03
05/20/03
05/19/03
05/16/03
05/15/03
05/14/03
05/13/03
05/12/03
05/09/03
05/08/03
05/07/03
05/06/03
05/05/03
05/02/03
05/01/03
04/30/03
04/29/03
04/28/03
04/25/03
04/22/03
04/21/03
04/16/03
04/15/03
04/14/03
04/12/03
04/10/03
04/09/03
04/08/03
04/07/03
04/04/03
04/03/03
04/03/03
04/03/03
04/03/03
04/02/03
04/01/03
03/31/03
03/28/03
03/27/03
03/26/03
03/25/03
03/24/03
03/21/03
03/20/03
03/19/03
03/18/03
03/17/03
03/13/03
03/12/03
03/11/03
03/10/03
03/07/03
03/06/03
03/05/03
03/04/03
03/03/03
02/28/03
02/27/03
02/26/03
02/25/03
02/24/03
02/21/03
02/20/03
02/19/03
02/18/03
02/14/03
02/13/03
02/12/03
02/11/03
02/10/03
02/07/03
02/06/03
02/05/03
02/04/03
02/03/03
01/31/03
01/30/03
01/29/03
01/28/03
01/27/03
01/24/03
01/23/03
01/22/03
01/21/03
01/17/03
01/16/03
01/15/03
01/14/03
01/13/03
01/10/03
01/09/03
01/08/03
01/07/03
01/06/03
01/03/03
01/02/03:Annual Review of the Past Year's Mischief
12/31/02
12/30/02
12/27/02
12/26/02
12/24/02
12/23/02
12/20/02
12/19/02
12/18/02
12/17/02
12/16/02
12/13/02
12/12/02
12/11/02
12/10/02
12/09/02
12/06/02
12/05/02
12/04/02
12/03/02
12/02/02
11/27/02
11/26/02
11/25/02
11/22/02
11/21/02
11/20/02
11/19/02
11/18/02
11/15/02
11/14/02
11/13/02
11/12/02
11/11/02
11/08/02
11/07/02
11/06/02
11/05/02
11/04/02
11/01/02
10/31/02
10/30/02
10/29/02
10/28/02
10/25/02
10/24/02
10/23/02
10/22/02
10/21/02
10/18/02
10/17/02
10/16/02
10/15/02
10/14/02
10/11/02
10/10/02
10/09/02
10/08/02
10/07/02
10/04/02
10/03/02
10/02/02
10/01/02
09/30/02
09/27/02
09/26/02
09/25/02
09/24/02
09/23/02
09/20/02
09/19/02
09/18/02
09/17/02
09/13/02
09/12/02
09/10/02
09/09/02
09/07/02
09/06/02
09/04/02
09/03/02
08/30/02
08/29/02
08/28/02
08/27/02
08/26/02
08/23/02
08/22/02
08/21/02
08/20/02
08/19/02
08/16/02
08/15/02
08/14/02
08/13/02
08/12/02
08/09/02
08/08/02
08/07/02
08/06/02
08/05/02
08/02/02
08/01/02
07/31/02
07/30/02
07/29/02
07/26/02
07/25/02
07/24/02
07/23/02
07/22/02
07/19/02
07/18/02
07/17/02
07/16/02
07/12/02
07/11/02
07/10/02
07/09/02
07/08/02
07/05/02
07/04/02
07/03/02
07/02/02
07/01/02
06/28/02
06/27/02
06/26/02
06/25/02
06/24/02
06/21/02
06/20/02
06/19/02
06/18/02
06/17/02
06/14/02
06/13/02
06/12/02
06/11/02
06/10/02
06/07/02
06/06/02
06/05/02
06/04/02
06/03/02
05/31/02
05/30/02
05/29/02
05/28/02
05/24/02
05/23/02
05/22/02
05/21/02
05/20/02
05/19/02
05/16/02
05/15/02
05/14/02
05/13/02
05/10/02
05/09/02
05/08/02
05/07/02
05/06/02
05/03/02
05/02/02
05/01/02
04/30/02
04/29/02
04/26/02
04/25/02
04/24/02
04/23/02
04/22/02
04/19/02
04/18/02
04/16/02
04/15/02
04/12/02
04/10/02
04/09/02
04/08/02
04/02/02
04/01/02
03/31/02
03/27/02
03/26/02
03/25/02
03/22/02
03/21/02
03/20/02
03/19/02
03/18/02
03/15/02
03/14/02
03/13/02
03/12/02
03/11/02
03/08/02
03/07/02
03/06/02
03/05/02
03/04/02
03/01/02
02/28/02

© 2002, Argus Hamilton