Jewish World Review Sept. 2, 2003 / 5 Elul, 5763

Argus Hamilton

And now for the
important news ....




http://www.NewsAndOpinion.com | Alabama complied Friday and moved the Ten Commandments from the court lobby to a closet just off the lunchroom. It's insane. In the space of three months, the federal courts have put the Ten Commandments in the closet and let the sodomy laws out.
Newsweek is reporting that Osama bin Laden is hiding in the mountains above Afghanistan's remote Kunar province. He is living with his two sons, but his two wives are living elsewhere. There's absolutely no doubt about it, it's football season.
Arnold Schwarzenegger pitched for conservative votes on San Joaquin Valley radio shows Thursday. He may have hurt himself by promising to clean up the mess in Sacramento. The last thing this state needs is another foreigner with a dust rag.
Arnold Schwarzenegger was bombarded by questions Friday about a Oui magazine interview he gave in 1977. He told the reporter he enjoyed marijuana, group sex and the company of prostitutes. Now you know why his campaign slogan is Join Arnold.
Bill Clinton was seen hacking away on the golf course in New York over Labor Day weekend as his wife weighed a presidential run. Since leaving office, Bill Clinton has learned how to lower his score by eight strokes. He skips the last hole.
The India Times blamed Middle East violence Tuesday on the Earth's proximity to Mars last week. The planet was named after the Roman god of war. Comedians had it so much easier back when the Earth's proximity to Venus elected Bill Clinton.
California was hit by huge gasoline price increases Thursday. Some consumers complained but not everyone noticed. Every station in Los Angeles is required to have three service islands marked Full, Self, and the busiest of all, Full of Self.
Scotland Yard may implant a microchip into Prince Harry to track him during his gap year in Australia. The reason's obvious. Now that Arnold Schwarzenegger is polling so well, robot parts are a prerequisite for all potential world leaders.
Arnold Schwarzenegger led a California poll Tuesday based on beef taco sales at Taco Bell. Wait just a minute. If we allow all our polling to be done by Taco Bell, we run the very real risk that our next governor could be a talking Chihuahua.
The Arab League met in Egypt and refused to recognize the Iraq Governing Council as legitimate. They called its chairman a collaborator and gave him the highest penalty you can give any Arab citizen. They banned him from the January white sales.
Bob Hope was eulogized at a church in North Hollywood Wednesday. He was born in England and raised in Cleveland. It's only fitting that Bob Hope was laid to rest in Los Angeles because he was never happier than when he was in a war zone.
Arnold Schwarzenegger was confronted Thursday by a 1977 Oui magazine article where he said he enjoyed pot and group sex. He cheerfully admitted it. This is a political strategy that's known in California as appealing to the moderate center.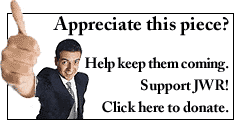 Appreciate this writer's work? Why not sign-up for JWR's daily update. It's free. Just click here.


JWR contributor Argus Hamilton is the host comedian at The Comedy Store in Hollywood. To comment or arrange for speaking engagements, please click here.
08/29/03
08/28/03
08/27/03
08/26/03
08/25/03
08/14/03
08/13/03
08/12/03
08/11/03
08/08/03
08/07/03
08/06/03
08/05/03
08/04/03
08/01/03
07/30/03
07/29/03
07/28/03
07/22/03
07/18/03
07/17/03
07/16/03
07/15/03
07/14/03
07/10/03
07/09/03
07/08/03
07/07/03
07/03/03
07/02/03
07/01/03
06/30/03
06/27/03
06/26/03
06/25/03
06/24/03
06/23/03
06/20/03
06/19/03
06/18/03
06/17/03
06/16/03
06/12/03
06/11/03
06/10/03
06/09/03
06/05/03
06/04/03
06/03/03
06/02/03
05/30/03
05/29/03
05/28/03
05/27/03
05/23/03
05/22/03
05/21/03
05/20/03
05/19/03
05/16/03
05/15/03
05/14/03
05/13/03
05/12/03
05/09/03
05/08/03
05/07/03
05/06/03
05/05/03
05/02/03
05/01/03
04/30/03
04/29/03
04/28/03
04/25/03
04/22/03
04/21/03
04/16/03
04/15/03
04/14/03
04/12/03
04/10/03
04/09/03
04/08/03
04/07/03
04/04/03
04/03/03
04/03/03
04/03/03
04/03/03
04/02/03
04/01/03
03/31/03
03/28/03
03/27/03
03/26/03
03/25/03
03/24/03
03/21/03
03/20/03
03/19/03
03/18/03
03/17/03
03/13/03
03/12/03
03/11/03
03/10/03
03/07/03
03/06/03
03/05/03
03/04/03
03/03/03
02/28/03
02/27/03
02/26/03
02/25/03
02/24/03
02/21/03
02/20/03
02/19/03
02/18/03
02/14/03
02/13/03
02/12/03
02/11/03
02/10/03
02/07/03
02/06/03
02/05/03
02/04/03
02/03/03
01/31/03
01/30/03
01/29/03
01/28/03
01/27/03
01/24/03
01/23/03
01/22/03
01/21/03
01/17/03
01/16/03
01/15/03
01/14/03
01/13/03
01/10/03
01/09/03
01/08/03
01/07/03
01/06/03
01/03/03
01/02/03:Annual Review of the Past Year's Mischief
12/31/02
12/30/02
12/27/02
12/26/02
12/24/02
12/23/02
12/20/02
12/19/02
12/18/02
12/17/02
12/16/02
12/13/02
12/12/02
12/11/02
12/10/02
12/09/02
12/06/02
12/05/02
12/04/02
12/03/02
12/02/02
11/27/02
11/26/02
11/25/02
11/22/02
11/21/02
11/20/02
11/19/02
11/18/02
11/15/02
11/14/02
11/13/02
11/12/02
11/11/02
11/08/02
11/07/02
11/06/02
11/05/02
11/04/02
11/01/02
10/31/02
10/30/02
10/29/02
10/28/02
10/25/02
10/24/02
10/23/02
10/22/02
10/21/02
10/18/02
10/17/02
10/16/02
10/15/02
10/14/02
10/11/02
10/10/02
10/09/02
10/08/02
10/07/02
10/04/02
10/03/02
10/02/02
10/01/02
09/30/02
09/27/02
09/26/02
09/25/02
09/24/02
09/23/02
09/20/02
09/19/02
09/18/02
09/17/02
09/13/02
09/12/02
09/10/02
09/09/02
09/07/02
09/06/02
09/04/02
09/03/02
08/30/02
08/29/02
08/28/02
08/27/02
08/26/02
08/23/02
08/22/02
08/21/02
08/20/02
08/19/02
08/16/02
08/15/02
08/14/02
08/13/02
08/12/02
08/09/02
08/08/02
08/07/02
08/06/02
08/05/02
08/02/02
08/01/02
07/31/02
07/30/02
07/29/02
07/26/02
07/25/02
07/24/02
07/23/02
07/22/02
07/19/02
07/18/02
07/17/02
07/16/02
07/12/02
07/11/02
07/10/02
07/09/02
07/08/02
07/05/02
07/04/02
07/03/02
07/02/02
07/01/02
06/28/02
06/27/02
06/26/02
06/25/02
06/24/02
06/21/02
06/20/02
06/19/02
06/18/02
06/17/02
06/14/02
06/13/02
06/12/02
06/11/02
06/10/02
06/07/02
06/06/02
06/05/02
06/04/02
06/03/02
05/31/02
05/30/02
05/29/02
05/28/02
05/24/02
05/23/02
05/22/02
05/21/02
05/20/02
05/19/02
05/16/02
05/15/02
05/14/02
05/13/02
05/10/02
05/09/02
05/08/02
05/07/02
05/06/02
05/03/02
05/02/02
05/01/02
04/30/02
04/29/02
04/26/02
04/25/02
04/24/02
04/23/02
04/22/02
04/19/02
04/18/02
04/16/02
04/15/02
04/12/02
04/10/02
04/09/02
04/08/02
04/02/02
04/01/02
03/31/02
03/27/02
03/26/02
03/25/02
03/22/02
03/21/02
03/20/02
03/19/02
03/18/02
03/15/02
03/14/02
03/13/02
03/12/02
03/11/02
03/08/02
03/07/02
03/06/02
03/05/02
03/04/02
03/01/02
02/28/02

© 2002, Argus Hamilton