Jewish World Review August 4, 2003 / 6 Menachem-Av, 5763

Argus Hamilton

And now for the
important news ....




http://www.NewsAndOpinion.com | The Rolling Stones drew five hundred thousand fans at a concert Wednesday in Toronto. The usual number of groupies partied with the band. The Rolling Stones still do drugs in the backstage dressing room only now there's a fifty dollar co-pay.
Congresswoman Sheila Jackson Lee urged the National Hurricane Center to give black names to hurricanes. It could save lives. Galveston police won't have to tell people twice to board up their windows if Mike Tyson is about to make landfall.
President Bush said Wednesday marriage should be between a man and woman and that White House lawyers are writing legislation to that effect. The Defense of Marriage Act was already signed by President Clinton. He's nothing if not flexible.
The Pentagon shut down its proposed futures market Wednesday that would have let investors bet on future acts of terrorism. It's insane. Imagine being upset about an airliner hijacking that happened one Friday night because you had Saturday.
Dick Gephardt was endorsed for president on Thursday by the Teamsters. Their pension fund built the Las Vegas Strip for the Mafia and backed Richard Nixon. A grown man with red hair and freckles must do whatever it takes to look like a player.
The Census Bureau said Wednesday the birth rate in the United States reached an all-time low this past year. It's another side effect of Viagra. More women are running off with older men who have higher bank balances and lower sperm counts.
Seabiscuit was ripped by movie critics for implying that a racehorse lifted the country out of the Great Depression. It's an improvement. Most Americans today think the Great Depression didn't end until Franklin Roosevelt invented Prozac.
The London Sun said Joe Stalin ordered hit men in 1943 to kill John Wayne as an enemy of the Soviet Union. You think we have bad intelligence? They tried to kill John Wayne while Ronald Reagan was walking around Hollywood in broad daylight.
President Bush refused Saudi Arabia's request to declassify the September 11th report. This is getting weird. You know your president is a little too secretive when the most closed society in the Islamic world is beseeching you to be more open.
Senator Hillary Clinton is flying to California to promote her autobiography and campaign against the recall of Governor Gray Davis. Her participation could turn the tide. No one does a better job of not recalling than Hillary Clinton.
Howard Dean spoke in Iowa to the Plumbers and Steamfitters Union and called for repealing all Bush tax cuts. He really needs the union on his side. Howard Dean will need a steamfitter at the Democratic Convention to shut off all the hissing when delegates learn that his grandparents founded two Wall Street brokerage firms.
Texas Senate Democrats fled to Albuquerque Monday to prevent Republicans from passing redistricting. They picked Albuquerque for a reason. The hotels there offer Democrats far more adult entertainment channels than the Holiday Inn in Ardmore.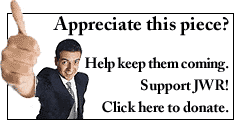 Appreciate this writer's work? Why not sign-up for JWR's daily update. It's free. Just click here.


JWR contributor Argus Hamilton is the host comedian at The Comedy Store in Hollywood. To comment or arrange for speaking engagements, please click here.
08/01/03
07/30/03
07/29/03
07/28/03
07/22/03
07/18/03
07/17/03
07/16/03
07/15/03
07/14/03
07/10/03
07/09/03
07/08/03
07/07/03
07/03/03
07/02/03
07/01/03
06/30/03
06/27/03
06/26/03
06/25/03
06/24/03
06/23/03
06/20/03
06/19/03
06/18/03
06/17/03
06/16/03
06/12/03
06/11/03
06/10/03
06/09/03
06/05/03
06/04/03
06/03/03
06/02/03
05/30/03
05/29/03
05/28/03
05/27/03
05/23/03
05/22/03
05/21/03
05/20/03
05/19/03
05/16/03
05/15/03
05/14/03
05/13/03
05/12/03
05/09/03
05/08/03
05/07/03
05/06/03
05/05/03
05/02/03
05/01/03
04/30/03
04/29/03
04/28/03
04/25/03
04/22/03
04/21/03
04/16/03
04/15/03
04/14/03
04/12/03
04/10/03
04/09/03
04/08/03
04/07/03
04/04/03
04/03/03
04/03/03
04/03/03
04/03/03
04/02/03
04/01/03
03/31/03
03/28/03
03/27/03
03/26/03
03/25/03
03/24/03
03/21/03
03/20/03
03/19/03
03/18/03
03/17/03
03/13/03
03/12/03
03/11/03
03/10/03
03/07/03
03/06/03
03/05/03
03/04/03
03/03/03
02/28/03
02/27/03
02/26/03
02/25/03
02/24/03
02/21/03
02/20/03
02/19/03
02/18/03
02/14/03
02/13/03
02/12/03
02/11/03
02/10/03
02/07/03
02/06/03
02/05/03
02/04/03
02/03/03
01/31/03
01/30/03
01/29/03
01/28/03
01/27/03
01/24/03
01/23/03
01/22/03
01/21/03
01/17/03
01/16/03
01/15/03
01/14/03
01/13/03
01/10/03
01/09/03
01/08/03
01/07/03
01/06/03
01/03/03
01/02/03:Annual Review of the Past Year's Mischief
12/31/02
12/30/02
12/27/02
12/26/02
12/24/02
12/23/02
12/20/02
12/19/02
12/18/02
12/17/02
12/16/02
12/13/02
12/12/02
12/11/02
12/10/02
12/09/02
12/06/02
12/05/02
12/04/02
12/03/02
12/02/02
11/27/02
11/26/02
11/25/02
11/22/02
11/21/02
11/20/02
11/19/02
11/18/02
11/15/02
11/14/02
11/13/02
11/12/02
11/11/02
11/08/02
11/07/02
11/06/02
11/05/02
11/04/02
11/01/02
10/31/02
10/30/02
10/29/02
10/28/02
10/25/02
10/24/02
10/23/02
10/22/02
10/21/02
10/18/02
10/17/02
10/16/02
10/15/02
10/14/02
10/11/02
10/10/02
10/09/02
10/08/02
10/07/02
10/04/02
10/03/02
10/02/02
10/01/02
09/30/02
09/27/02
09/26/02
09/25/02
09/24/02
09/23/02
09/20/02
09/19/02
09/18/02
09/17/02
09/13/02
09/12/02
09/10/02
09/09/02
09/07/02
09/06/02
09/04/02
09/03/02
08/30/02
08/29/02
08/28/02
08/27/02
08/26/02
08/23/02
08/22/02
08/21/02
08/20/02
08/19/02
08/16/02
08/15/02
08/14/02
08/13/02
08/12/02
08/09/02
08/08/02
08/07/02
08/06/02
08/05/02
08/02/02
08/01/02
07/31/02
07/30/02
07/29/02
07/26/02
07/25/02
07/24/02
07/23/02
07/22/02
07/19/02
07/18/02
07/17/02
07/16/02
07/12/02
07/11/02
07/10/02
07/09/02
07/08/02
07/05/02
07/04/02
07/03/02
07/02/02
07/01/02
06/28/02
06/27/02
06/26/02
06/25/02
06/24/02
06/21/02
06/20/02
06/19/02
06/18/02
06/17/02
06/14/02
06/13/02
06/12/02
06/11/02
06/10/02
06/07/02
06/06/02
06/05/02
06/04/02
06/03/02
05/31/02
05/30/02
05/29/02
05/28/02
05/24/02
05/23/02
05/22/02
05/21/02
05/20/02
05/19/02
05/16/02
05/15/02
05/14/02
05/13/02
05/10/02
05/09/02
05/08/02
05/07/02
05/06/02
05/03/02
05/02/02
05/01/02
04/30/02
04/29/02
04/26/02
04/25/02
04/24/02
04/23/02
04/22/02
04/19/02
04/18/02
04/16/02
04/15/02
04/12/02
04/10/02
04/09/02
04/08/02
04/02/02
04/01/02
03/31/02
03/27/02
03/26/02
03/25/02
03/22/02
03/21/02
03/20/02
03/19/02
03/18/02
03/15/02
03/14/02
03/13/02
03/12/02
03/11/02
03/08/02
03/07/02
03/06/02
03/05/02
03/04/02
03/01/02
02/28/02

© 2002, Argus Hamilton