Jewish World Review August 25, 2003 / 27 Menachem-Av, 5763

Argus Hamilton

And now for the
important news ....




http://www.NewsAndOpinion.com | China will host six-nation talks this week to discuss methods of dismantling North Korea's nuclear program. They have missiles that can reach the West Coast. Arnold's first act as governor will be to catch them barehanded and throw them back.
The EPA said the White House forced them to tell New Yorkers their air was safe to breathe after the World Trade Center collapsed, although it wasn't. New Yorkers are mortified. It turns out smoking in restaurants actually improves the air quality.
Gray Davis promised to sign a bill allowing illegal aliens to get California driver's licenses. He has hit a home run on this one. Californians have been searching desperately for a way to speed up the lines to buy beer on Cinco de Mayo.
John Kerry will announce for president in front of an aircraft carrier next week. He wants to showcase his Vietnam War record. Americans have no interest in John Kerry's Vietnam combat experience, what they would like is his Vietnam exit strategy.
The Energy Department consolidated a U.S.-Canada task force to find the reason for the power outage. No one feels immune from these glitches. It has been a summer marked by viruses, blackouts and worms, and that's just the bar scene.
Tampa police shut off their face-recognition surveillance system that beeps when it sees a criminal on the street. It really works. The inventor once aimed the camera at an NBA game and it sounded like a telegraph reporting the sinking of the Lusitania.
The National Enquirer reported Kobe Bryant offered $5 million to the alleged victim in Colorado. He also bought his wife a $4 million ring. That's the most money for one roll in the hay since Enron slipped something into California's drink.
Taco Bell will run a poll on the California governor's race by counting food orders. Order a beef taco and it's a vote for Arnold Schwarzenegger, a chicken taco and it's a vote for Gray Davis. Make a Run for the Border and it's Cruz Bustamante.
Cybill Shepherd told reporters on Wednesday she made out with Gray Davis in Hawaii when she was sixteen. It's hard to picture them together today. This could force Gray Davis to acknowledge that during his youth he experimented with charisma.
Dianne Feinstein ripped Arnold Schwarzenegger for using assault weapons onscreen and she accused him of setting a bad example. That's not fair. Is Arnold or is he not the first German to play the good guy in a Hollywood movie since World War I?
Arnold Schwarzenegger outlined his economic plans for California Thursday at a press conference. It was a bit light on specifics. Most politicians can't get away with saying it may look bad now, but it can always be fixed in post-production.
Colin Powell asked Israel and the Palestinians to stick to President Bush's roadmap to peace. He warned they are approaching a cliff. It might help if the Bijou Theater in Ramallah played some other movie besides The Charge of the Light Brigade.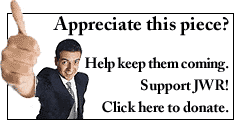 Appreciate this writer's work? Why not sign-up for JWR's daily update. It's free. Just click here.


JWR contributor Argus Hamilton is the host comedian at The Comedy Store in Hollywood. To comment or arrange for speaking engagements, please click here.
08/14/03
08/13/03
08/12/03
08/11/03
08/08/03
08/07/03
08/06/03
08/05/03
08/04/03
08/01/03
07/30/03
07/29/03
07/28/03
07/22/03
07/18/03
07/17/03
07/16/03
07/15/03
07/14/03
07/10/03
07/09/03
07/08/03
07/07/03
07/03/03
07/02/03
07/01/03
06/30/03
06/27/03
06/26/03
06/25/03
06/24/03
06/23/03
06/20/03
06/19/03
06/18/03
06/17/03
06/16/03
06/12/03
06/11/03
06/10/03
06/09/03
06/05/03
06/04/03
06/03/03
06/02/03
05/30/03
05/29/03
05/28/03
05/27/03
05/23/03
05/22/03
05/21/03
05/20/03
05/19/03
05/16/03
05/15/03
05/14/03
05/13/03
05/12/03
05/09/03
05/08/03
05/07/03
05/06/03
05/05/03
05/02/03
05/01/03
04/30/03
04/29/03
04/28/03
04/25/03
04/22/03
04/21/03
04/16/03
04/15/03
04/14/03
04/12/03
04/10/03
04/09/03
04/08/03
04/07/03
04/04/03
04/03/03
04/03/03
04/03/03
04/03/03
04/02/03
04/01/03
03/31/03
03/28/03
03/27/03
03/26/03
03/25/03
03/24/03
03/21/03
03/20/03
03/19/03
03/18/03
03/17/03
03/13/03
03/12/03
03/11/03
03/10/03
03/07/03
03/06/03
03/05/03
03/04/03
03/03/03
02/28/03
02/27/03
02/26/03
02/25/03
02/24/03
02/21/03
02/20/03
02/19/03
02/18/03
02/14/03
02/13/03
02/12/03
02/11/03
02/10/03
02/07/03
02/06/03
02/05/03
02/04/03
02/03/03
01/31/03
01/30/03
01/29/03
01/28/03
01/27/03
01/24/03
01/23/03
01/22/03
01/21/03
01/17/03
01/16/03
01/15/03
01/14/03
01/13/03
01/10/03
01/09/03
01/08/03
01/07/03
01/06/03
01/03/03
01/02/03:Annual Review of the Past Year's Mischief
12/31/02
12/30/02
12/27/02
12/26/02
12/24/02
12/23/02
12/20/02
12/19/02
12/18/02
12/17/02
12/16/02
12/13/02
12/12/02
12/11/02
12/10/02
12/09/02
12/06/02
12/05/02
12/04/02
12/03/02
12/02/02
11/27/02
11/26/02
11/25/02
11/22/02
11/21/02
11/20/02
11/19/02
11/18/02
11/15/02
11/14/02
11/13/02
11/12/02
11/11/02
11/08/02
11/07/02
11/06/02
11/05/02
11/04/02
11/01/02
10/31/02
10/30/02
10/29/02
10/28/02
10/25/02
10/24/02
10/23/02
10/22/02
10/21/02
10/18/02
10/17/02
10/16/02
10/15/02
10/14/02
10/11/02
10/10/02
10/09/02
10/08/02
10/07/02
10/04/02
10/03/02
10/02/02
10/01/02
09/30/02
09/27/02
09/26/02
09/25/02
09/24/02
09/23/02
09/20/02
09/19/02
09/18/02
09/17/02
09/13/02
09/12/02
09/10/02
09/09/02
09/07/02
09/06/02
09/04/02
09/03/02
08/30/02
08/29/02
08/28/02
08/27/02
08/26/02
08/23/02
08/22/02
08/21/02
08/20/02
08/19/02
08/16/02
08/15/02
08/14/02
08/13/02
08/12/02
08/09/02
08/08/02
08/07/02
08/06/02
08/05/02
08/02/02
08/01/02
07/31/02
07/30/02
07/29/02
07/26/02
07/25/02
07/24/02
07/23/02
07/22/02
07/19/02
07/18/02
07/17/02
07/16/02
07/12/02
07/11/02
07/10/02
07/09/02
07/08/02
07/05/02
07/04/02
07/03/02
07/02/02
07/01/02
06/28/02
06/27/02
06/26/02
06/25/02
06/24/02
06/21/02
06/20/02
06/19/02
06/18/02
06/17/02
06/14/02
06/13/02
06/12/02
06/11/02
06/10/02
06/07/02
06/06/02
06/05/02
06/04/02
06/03/02
05/31/02
05/30/02
05/29/02
05/28/02
05/24/02
05/23/02
05/22/02
05/21/02
05/20/02
05/19/02
05/16/02
05/15/02
05/14/02
05/13/02
05/10/02
05/09/02
05/08/02
05/07/02
05/06/02
05/03/02
05/02/02
05/01/02
04/30/02
04/29/02
04/26/02
04/25/02
04/24/02
04/23/02
04/22/02
04/19/02
04/18/02
04/16/02
04/15/02
04/12/02
04/10/02
04/09/02
04/08/02
04/02/02
04/01/02
03/31/02
03/27/02
03/26/02
03/25/02
03/22/02
03/21/02
03/20/02
03/19/02
03/18/02
03/15/02
03/14/02
03/13/02
03/12/02
03/11/02
03/08/02
03/07/02
03/06/02
03/05/02
03/04/02
03/01/02
02/28/02

© 2002, Argus Hamilton