Jewish World Review June 25, 2003 / 25 Sivan, 5763

Argus Hamilton

And now for the
important news ....




http://www.NewsAndOpinion.com | Harry Potter and the Order of the Phoenix sold at the rate of one book every eight seconds Sunday. Last week, Hillary Clinton's memoir was the top seller. The Weather Channel blames all the sudden interest in witchcraft on the Summer Solstice.
Prince William's birthday party was crashed Saturday by some guy who dressed up as Osama bin Laden. The entire Windsor family was there in the ballroom. Had the gatecrasher been a suicide bomber, Elton John would be the next Queen of England.
Scotland Yard apologized Sunday for allowing an Osama bin Laden impersonator into William's party. He even made it on stage. He was pulled away from the microphone before he could say that he just flew into Big Ben and boy, are his arms tired.
Arizona battled Sunday to contain a blaze which burned hundreds of homes and changed many vacation plans. Campers will be nervous for a long time. It would take a joint appearance by Bill and Hillary Clinton to convince them that the fire is really out.
Ted Kennedy stunned Democrats by backing a White House plan for prescription medicine benefits in Medicare. The plan is a major breakthrough. Until now, the only way to get free drugs in America was to wear a really short skirt to a party.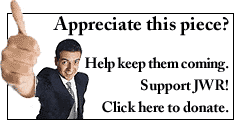 Max Factor heir and captured date rape drugger Andrew Luster left behind his diary in Mexico last week. It included his favorite pick-up lines. Never trust a man who comes up next to your drink and asks you if that's a Martian outside the window.
NASA launched a Mars Rover last week to search for water on the Red Planet. The surface atmosphere is eerie. Only downtown businesses that have ever experienced a Wal-Mart opening on the edge of town can describe the loneliness and the quiet.
The Eiffel Tower in Paris was restored on Friday to full night lighting with the addition of twenty thousand high-wattage light bulbs. It's part of a plan to lure U.S. tourists. Whatever made the French think that Americans don't like dim bulbs?
Appreciate this writer's work? Why not sign-up for JWR's daily update. It's free. Just click here.


JWR contributor Argus Hamilton is the host comedian at The Comedy Store in Hollywood. To comment or arrange for speaking engagements, please click here.
06/24/03
06/23/03
06/20/03
06/19/03
06/18/03
06/17/03
06/16/03
06/12/03
06/11/03
06/10/03
06/09/03
06/05/03
06/04/03
06/03/03
06/02/03
05/30/03
05/29/03
05/28/03
05/27/03
05/23/03
05/22/03
05/21/03
05/20/03
05/19/03
05/16/03
05/15/03
05/14/03
05/13/03
05/12/03
05/09/03
05/08/03
05/07/03
05/06/03
05/05/03
05/02/03
05/01/03
04/30/03
04/29/03
04/28/03
04/25/03
04/22/03
04/21/03
04/16/03
04/15/03
04/14/03
04/12/03
04/10/03
04/09/03
04/08/03
04/07/03
04/04/03
04/03/03
04/03/03
04/03/03
04/03/03
04/02/03
04/01/03
03/31/03
03/28/03
03/27/03
03/26/03
03/25/03
03/24/03
03/21/03
03/20/03
03/19/03
03/18/03
03/17/03
03/13/03
03/12/03
03/11/03
03/10/03
03/07/03
03/06/03
03/05/03
03/04/03
03/03/03
02/28/03
02/27/03
02/26/03
02/25/03
02/24/03
02/21/03
02/20/03
02/19/03
02/18/03
02/14/03
02/13/03
02/12/03
02/11/03
02/10/03
02/07/03
02/06/03
02/05/03
02/04/03
02/03/03
01/31/03
01/30/03
01/29/03
01/28/03
01/27/03
01/24/03
01/23/03
01/22/03
01/21/03
01/17/03
01/16/03
01/15/03
01/14/03
01/13/03
01/10/03
01/09/03
01/08/03
01/07/03
01/06/03
01/03/03
01/02/03:Annual Review of the Past Year's Mischief
12/31/02
12/30/02
12/27/02
12/26/02
12/24/02
12/23/02
12/20/02
12/19/02
12/18/02
12/17/02
12/16/02
12/13/02
12/12/02
12/11/02
12/10/02
12/09/02
12/06/02
12/05/02
12/04/02
12/03/02
12/02/02
11/27/02
11/26/02
11/25/02
11/22/02
11/21/02
11/20/02
11/19/02
11/18/02
11/15/02
11/14/02
11/13/02
11/12/02
11/11/02
11/08/02
11/07/02
11/06/02
11/05/02
11/04/02
11/01/02
10/31/02
10/30/02
10/29/02
10/28/02
10/25/02
10/24/02
10/23/02
10/22/02
10/21/02
10/18/02
10/17/02
10/16/02
10/15/02
10/14/02
10/11/02
10/10/02
10/09/02
10/08/02
10/07/02
10/04/02
10/03/02
10/02/02
10/01/02
09/30/02
09/27/02
09/26/02
09/25/02
09/24/02
09/23/02
09/20/02
09/19/02
09/18/02
09/17/02
09/13/02
09/12/02
09/10/02
09/09/02
09/07/02
09/06/02
09/04/02
09/03/02
08/30/02
08/29/02
08/28/02
08/27/02
08/26/02
08/23/02
08/22/02
08/21/02
08/20/02
08/19/02
08/16/02
08/15/02
08/14/02
08/13/02
08/12/02
08/09/02
08/08/02
08/07/02
08/06/02
08/05/02
08/02/02
08/01/02
07/31/02
07/30/02
07/29/02
07/26/02
07/25/02
07/24/02
07/23/02
07/22/02
07/19/02
07/18/02
07/17/02
07/16/02
07/12/02
07/11/02
07/10/02
07/09/02
07/08/02
07/05/02
07/04/02
07/03/02
07/02/02
07/01/02
06/28/02
06/27/02
06/26/02
06/25/02
06/24/02
06/21/02
06/20/02
06/19/02
06/18/02
06/17/02
06/14/02
06/13/02
06/12/02
06/11/02
06/10/02
06/07/02
06/06/02
06/05/02
06/04/02
06/03/02
05/31/02
05/30/02
05/29/02
05/28/02
05/24/02
05/23/02
05/22/02
05/21/02
05/20/02
05/19/02
05/16/02
05/15/02
05/14/02
05/13/02
05/10/02
05/09/02
05/08/02
05/07/02
05/06/02
05/03/02
05/02/02
05/01/02
04/30/02
04/29/02
04/26/02
04/25/02
04/24/02
04/23/02
04/22/02
04/19/02
04/18/02
04/16/02
04/15/02
04/12/02
04/10/02
04/09/02
04/08/02
04/02/02
04/01/02
03/31/02
03/27/02
03/26/02
03/25/02
03/22/02
03/21/02
03/20/02
03/19/02
03/18/02
03/15/02
03/14/02
03/13/02
03/12/02
03/11/02
03/08/02
03/07/02
03/06/02
03/05/02
03/04/02
03/01/02
02/28/02

© 2002, Argus Hamilton