Jewish World Review August 8, 2003 / 10 Menachem-Av, 5763

Argus Hamilton

And now for the
important news ....




http://www.NewsAndOpinion.com | ABC's Monday Night Football began another season Monday with the Hall of Fame Game in Canton. It was canceled in the third quarter due to lightning strikes. Apparently it was a boring game and Bob Hope is just learning how to use the remote.
Arnold Schwarzenegger wore a huge sparkling sapphire ring on the Tonight Show Wednesday. Talk about making news. People were surprised enough that he was running for governor but it was a bigger shock that Kobe Bryant had cheated on him.
Arnold Schwarzenegger told reporters Wednesday he expects attacks from Gray Davis. He has posed nude, he's been accused of womanizing and his father fought for Hitler. He's the perfect candidate for a state where the paper of record is Zig Zag.
The AFL-CIO convention in Chicago heard from all nine Democratic candidates Tuesday. The union bosses were tough on Howard Dean. They demanded to know who is the shop steward of all these civil unions he created while governor of Vermont.
Jerry Springer dropped out of the Ohio Senate race Wednesday in an emotional announcement. He said he can't keep his television show and still work for all the deserving people who desperately need government help. So he's keeping the show.
The CIA released a report this week saying terrorists follow a seasonal pattern and tend to strike in the warm months of August and September. This is an old problem. The closer it gets to October, the more everyone hates the Yankees.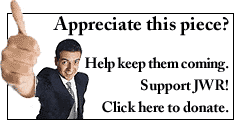 Appreciate this writer's work? Why not sign-up for JWR's daily update. It's free. Just click here.


JWR contributor Argus Hamilton is the host comedian at The Comedy Store in Hollywood. To comment or arrange for speaking engagements, please click here.
08/07/03
08/06/03
08/05/03
08/04/03
08/01/03
07/30/03
07/29/03
07/28/03
07/22/03
07/18/03
07/17/03
07/16/03
07/15/03
07/14/03
07/10/03
07/09/03
07/08/03
07/07/03
07/03/03
07/02/03
07/01/03
06/30/03
06/27/03
06/26/03
06/25/03
06/24/03
06/23/03
06/20/03
06/19/03
06/18/03
06/17/03
06/16/03
06/12/03
06/11/03
06/10/03
06/09/03
06/05/03
06/04/03
06/03/03
06/02/03
05/30/03
05/29/03
05/28/03
05/27/03
05/23/03
05/22/03
05/21/03
05/20/03
05/19/03
05/16/03
05/15/03
05/14/03
05/13/03
05/12/03
05/09/03
05/08/03
05/07/03
05/06/03
05/05/03
05/02/03
05/01/03
04/30/03
04/29/03
04/28/03
04/25/03
04/22/03
04/21/03
04/16/03
04/15/03
04/14/03
04/12/03
04/10/03
04/09/03
04/08/03
04/07/03
04/04/03
04/03/03
04/03/03
04/03/03
04/03/03
04/02/03
04/01/03
03/31/03
03/28/03
03/27/03
03/26/03
03/25/03
03/24/03
03/21/03
03/20/03
03/19/03
03/18/03
03/17/03
03/13/03
03/12/03
03/11/03
03/10/03
03/07/03
03/06/03
03/05/03
03/04/03
03/03/03
02/28/03
02/27/03
02/26/03
02/25/03
02/24/03
02/21/03
02/20/03
02/19/03
02/18/03
02/14/03
02/13/03
02/12/03
02/11/03
02/10/03
02/07/03
02/06/03
02/05/03
02/04/03
02/03/03
01/31/03
01/30/03
01/29/03
01/28/03
01/27/03
01/24/03
01/23/03
01/22/03
01/21/03
01/17/03
01/16/03
01/15/03
01/14/03
01/13/03
01/10/03
01/09/03
01/08/03
01/07/03
01/06/03
01/03/03
01/02/03:Annual Review of the Past Year's Mischief
12/31/02
12/30/02
12/27/02
12/26/02
12/24/02
12/23/02
12/20/02
12/19/02
12/18/02
12/17/02
12/16/02
12/13/02
12/12/02
12/11/02
12/10/02
12/09/02
12/06/02
12/05/02
12/04/02
12/03/02
12/02/02
11/27/02
11/26/02
11/25/02
11/22/02
11/21/02
11/20/02
11/19/02
11/18/02
11/15/02
11/14/02
11/13/02
11/12/02
11/11/02
11/08/02
11/07/02
11/06/02
11/05/02
11/04/02
11/01/02
10/31/02
10/30/02
10/29/02
10/28/02
10/25/02
10/24/02
10/23/02
10/22/02
10/21/02
10/18/02
10/17/02
10/16/02
10/15/02
10/14/02
10/11/02
10/10/02
10/09/02
10/08/02
10/07/02
10/04/02
10/03/02
10/02/02
10/01/02
09/30/02
09/27/02
09/26/02
09/25/02
09/24/02
09/23/02
09/20/02
09/19/02
09/18/02
09/17/02
09/13/02
09/12/02
09/10/02
09/09/02
09/07/02
09/06/02
09/04/02
09/03/02
08/30/02
08/29/02
08/28/02
08/27/02
08/26/02
08/23/02
08/22/02
08/21/02
08/20/02
08/19/02
08/16/02
08/15/02
08/14/02
08/13/02
08/12/02
08/09/02
08/08/02
08/07/02
08/06/02
08/05/02
08/02/02
08/01/02
07/31/02
07/30/02
07/29/02
07/26/02
07/25/02
07/24/02
07/23/02
07/22/02
07/19/02
07/18/02
07/17/02
07/16/02
07/12/02
07/11/02
07/10/02
07/09/02
07/08/02
07/05/02
07/04/02
07/03/02
07/02/02
07/01/02
06/28/02
06/27/02
06/26/02
06/25/02
06/24/02
06/21/02
06/20/02
06/19/02
06/18/02
06/17/02
06/14/02
06/13/02
06/12/02
06/11/02
06/10/02
06/07/02
06/06/02
06/05/02
06/04/02
06/03/02
05/31/02
05/30/02
05/29/02
05/28/02
05/24/02
05/23/02
05/22/02
05/21/02
05/20/02
05/19/02
05/16/02
05/15/02
05/14/02
05/13/02
05/10/02
05/09/02
05/08/02
05/07/02
05/06/02
05/03/02
05/02/02
05/01/02
04/30/02
04/29/02
04/26/02
04/25/02
04/24/02
04/23/02
04/22/02
04/19/02
04/18/02
04/16/02
04/15/02
04/12/02
04/10/02
04/09/02
04/08/02
04/02/02
04/01/02
03/31/02
03/27/02
03/26/02
03/25/02
03/22/02
03/21/02
03/20/02
03/19/02
03/18/02
03/15/02
03/14/02
03/13/02
03/12/02
03/11/02
03/08/02
03/07/02
03/06/02
03/05/02
03/04/02
03/01/02
02/28/02

© 2002, Argus Hamilton