Jewish World Review March 10, 2004 / 17 Adar, 5764

Lloyd Grove
The laugh that dare not speaks its name; Mistaken identity? NAH!; Is this a great country or what?
http://www.jewishworldreview.com | NEW YORK — Lynne Cheney's still-remembered 1981 lesbian romance novel, "Sisters," was feted Monday night in a special performance by the "Lynne Cheney Players" — to the delight of an audience of liberal East Village types.

The performance at the New York Theatre Workshop was part of a celebration of left-leaning radio personality Laura Flanders' new book, "Bushwomen: Tales of a Cynical Species."

On Tuesday, Flanders told this column that Cheney's novel "is a breathy, gothic romance, horribly written. It's celebrating lesbian love and promotes the value of preventative devices, condoms, to women who want to remain free. It features a woman who has unmarried sex with the widow of her sister — all this by Lynne Cheney, the culture warrior of the right."

Monday's crowd of 200 — which included actress Janeane Garofalo — laughed throughout the satirical staging.

Choice scenes adapted from "Sisters" included one in which two female characters write to each other: "Let us go away together, away from the anger and the imperatives of men. We shall find ourselves a secluded bower where they dare not venture. There will be only the two of us, and we shall linger through long afternoons of sweet retirement."

One of the Cheney's characters swoons to a Sapphic love letter: "How well her words describe our love — or the way it would be if we could remove all impediments, leave this place, and join together. . . . Then our union would be complete. Our lives would flow together, twin streams merging into a single river."

Vice President Cheney's wife — whose 34-year-old daughter, Mary Cheney, is openly gay — has been silent on the hot-button issue of gay marriage. President Bush has come out in favor of a proposed constitutional amendment banning gay marriage.

"Here's a whole book where she gloried in lesbian love affairs," Flanders said. "The hypocrisy is rank."

Lynne Cheney's spokeswoman didn't respond to this column's request for comment.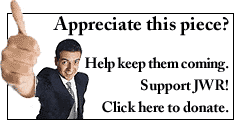 MISTAKEN IDENTITY? NAH!

Was Us Weekly snookered by a photo of Ben Affleck getting friendly with a "mystery woman" in Santa Monica?

The folks at rival Star magazine, run by former Us editor Bonnie Fuller, certainly gloated when they learned that Us bought the photo, along with several others, for a rumored $11,000.

"Absolutely not," Wenner Media spokeswoman Lisa Dallos insisted when I posed the question Tuesday.

It turns out that Affleck was putting his arm around Jancee Dunn — whom the Star folks immediately recognized as a writer for Rolling Stone, Us Weekly's Wenner Media corporate sister.

The Star people told me Tuesday that maybe Us editors didn't realize Dunn was acting as a willing prop in Affleck's little illustration of paparazzi madness.

No such luck, Dallos told me, noting that the incident is described in Dunn's upcoming Rolling Stone profile.

"We weren't fooled — not for a nanosecond," Dallos said. "We know who Jancee Dunn is. She's a former employee of Us Weekly. We weren't buying a photo of her and Ben. We were buying a set."

Dallos declined to comment on the rumored price.

THE BRIEFING

IS THIS A GREAT COUNTRY OR WHAT?: In the land of the free and the home of the brave, anything is possible. So even 28-year-old "Bachelor" cad Andrew Firestone can dream of future political office. "By 'the future' I don't mean the next couple of months; I mean the next 10, 15 or 20 years," Firestone tells Us Weekly. "Political office is earned. You have to have life experience." At least Andrew has a role model. His Republican dad, Brooks Firestone, was just elected a county supervisor in Santa Barbara, Calif.


Comment by clicking here.

03/05/04: Bush vs. Kerry: a Skull session; Kramer vs. The Times, scorch session; enthusiasm curbed; (Tina) Brown-nosing?
03/03/04: Oscars memorialize Hitler's fave filmmaker; baubles, bangles and Kelly Osbourne; moonwalking through cyberspace; more
02/27/04: Regan rebellion; Ed Limato strikes again!; tears for Tom; more
02/26/04: McCain predicts a nasty campaign; the misdirected missive; Janet Jackson, the interview; more
02/20/04: Introducing the Kerry sisters; cyberflap!; Snoop Dogg v. O'Reilly?; more
02/18/04: John Kerry's Friendster?; On the mend?; food for fraughtm; more
02/13/04: John & Carolyn, redux; Zell Miller shows the flag; kill Quentin?; more
02/11/04: HE FEELS BAD!; Dick Cheney, still not dead; more
02/06/04: Glittering Grammys; a laurel for Janet; Haryl's heart
02/04/04: Shriver quits NBC; "Marshmallow" Mike Tyson?; Super Bowl propriety?; MTV's next production?; more
01/30/04: The political forehead front; Alies meets Franken; the art of the hype; arrested career development?
01/28/04: Eyebrow-raising politics; call him indescribable; Woods vs. Williams; more
01/23/04: Eyebrow-raising mystery; who's punk'd anyway?; don't curb your enthusiasm; more
01/21/04: Ridiculous lives of the self-important stars; long arm of the law; all's fair in love and literature
01/16/04: Global warming at a glacial pace; targeting pop culture; Is 'the price of loyalty' too high?
01/14/04: Busting on the "cult buster"; Sarsgaard thinks globally; one angry woman; more
01/08/04: Sitcom star won't be excused from Blake murder trial; fierstein on fire; Drudge & Blumenthal, together again
01/07/04: Bono hits a brick wall; Britney, before the nuttiness; the Arianna primary; more
01/02/04: Where have you gone, Joe DiMaggio!?; "Bachelor" bruises; Returning to the scene of the crime?
12/31/03: Disaster for the defense; no-war Omar; the shoe must go on; more
12/19/03: Bob Shapiro's free commercial?; Are sophisticated and hip New Yawkers easily duped?; Positive Saddam fallout?; Ratty insult?
12/17/03: Magic Mystery Tour?; Russell Simmons battles ink by the barrel; Would it have killed her to say 'get well soon'?; no Gest room
12/12/03: Karenna defends her dad; now she tells us!; say it ain't so, Mo!; more
12/10/03: Man & wife, interruptus; pepperoni has feelings, too; more
12/05/03: The knives are out; Who's sorry now?; JWR in the news
12/04/03: The war of the gest-minnellis; something borrowed, something cashmere; fashion trendsetter, nailed!
12/03/03: Colombian grace under pressure; Lord of the Screwups; more
12/02/03: Curb your anti-Semitism?; fame fatigue?; bowing to pressure?; more
12/01/03: Dennis the Menace strikes again; first literary feud of the holiday season; Norma Jean & Hef in heaven?; the fog of McNamara; more
11/26/03: Catherine Crier raps Jacko's TV defender, refuses on-air hint of racism; At 50, Tina's in full cry; STAY OUT OF HER WAY!; more
11/25/03: The mogul strikes back?; go ahead, make Harvey's day; more
11/24/03: Georgette's pilfered baubles; prosecutor of pop?; absent but not missed?; Norman Mailer's prescription for education reform; more
11/20/03: Is a movie career in store for Maria Bartiromo?; People for the Unethical Treatment of Humans?; more
11/19/03: Scientologists on Razor's edge?; picking a winner?; source on a hot tin roof?; more
11/18/03: Clay Aiken neuters PETA?; THEM'S FIGHTIN' WORDS!; a mural for Joe
11/17/03: When networks attack!; leaky Fawcett; forget the Paris Hilton video!; more
11/13/03: Publicity hounds; Prophetic priest; Dumb and Dumber
11/12/03: Not so Rosie; do you believe in miracles?; catalogue of sins; My Heart Belongs to Koppel
11/10/03: Gen. clark on the Subway diet; life of the party; MTV's Dumb and Dumber?; the hug issue; but does the $6,000 shower curtain convey?; red faces at Buckingham palace?
11/06/03: Let them eat pita?; verbal jousting; pretenders to the throne?
11/05/03: Will Harvey Weinstein and Gregg Easterbrook now be pals?; crazed Quentin; more
11/04/03: Herding off the hipsters; more
11/03/03: Dean's tell-all on himself?; Lisaraye vs. Mya?; the odd couple; no need to panic; just don't call him "Scooter"!; Rosie scenarios
10/30/03: Autumn of the editor?; Cynthia Nixon's split may be costly; 'Burning' questions
10/29/03: Ah-nold, unauthorized!; a dilemma for Melissa Gilbert? not even Frank Gifford can help him now!; nobody wanted Elizabeth Hurley
10/28/03: It's Cher calling!; Brown Alert
10/27/03: Paparazzi uncensored!; where's Aaron Brown?; postcards from the middle; invasion of the party snatchers?; House flooded when not afire?; suspenders of disbelief?
10/23/03: Ace up Howard Dean's sleeve; Woody's ordeal; Paul Simon's kid makes good; the non-beginning of a beautiful friendship?
10/22/03: Showing the flag; Joe Frazier, smokin'!; see Carville bruised-up — sort of
10/21/03: Morris & Jaci's charm offensive; Hell hath no fury; Wintertime for Hitler
10/20/03: Isn't it rich?; men (and the occasional woman) behaving badly; peacenik John Lennon supporting the U.S. military?; courageous Connie
10/16/03: George Clooney and intolerable Drudgery; Cameron goes native; and you thought the war in Iraq was nasty?; now it can be revealed; star wars?
10/15/03: Kerik into the breach?; holiday pander?; "the Dink" corrects the record; more
10/14/03: Madge gets mad, lips are sealed; the candidates who listen; he who hesitates is Beatty
10/13/03: Clothes, but no cigar; New Yorkers put a Sox in it; mad at Matalin?; more
10/09/03: Gray Davis goes to the movies; Ali Wentworth, working blue; Law & Order?; pot of gold at the end of the rainbow room?
10/08/03: Art-time for Hitler; the actress who hates movies; lying "Liam"
10/07/03: Pond scum of the rich and famous
07/24/03: Ali and George, living it up; Mel Gibson's Washington power play
07/21/03: White House smear?
07/17/03: Yet another intern scandal; it's her party and she can pay if she wants to
07/14/03: On the auction block: JFK'S boxer shorts; love bytes the maestro
07/10/03: A hairy situation at Homeland Security; Van Susteren v. Orth
06/30/03: Rep. Patrick Kennedy: I've never worked a (bleeping) day in my life; Drudge's dressing down; Ken Lay's Kerry connection
06/26/03: Rapping the beat
06/23/03: Another Watergate scandal?; AL GORE TV!
06/19/03: Tony Snow, rocker?; that won't be crow on Mr. Carlson's plate
06/16/03: Missing dog, ransom demand, Hollywood ending
06/12/03: Giving both parties the needle
06/09/03: WHAT DID SHE KNOW, AND WHEN DID SHE KNOW IT?
06/05/03: Incoming from Barbara Bush?
06/02/03: Bob Dole's plan for fighting unemployment
05/29/03: Newt's new novel
05/27/03: Hitchens & Blumenthal, together again; He still believes in a man called Hope
05/09/03: Close, but no cigar; Romeo & Juliet with a happy ending?; Geraldo to help Heebs?
05/05/03: So Bill Gates and Tom Brokaw walk into a coffee bar . . .; hotel hell; more

© 2003, Creators Syndicate