Jewish World Review Dec. 3, 2003 / 8 Kislev, 5764

Lloyd Grove
Colombian grace under pressure; Lord of the Screwups; more
http://www.jewishworldreview.com | NEW YORK — When it comes to flying in the face of danger, Baghdad George can learn a thing or two from Colombian President Alvaro Uribe.

President Bush earned plaudits for his super-secret Thanksgiving Day visit with U.S. soldiers in Iraq. But the 51-year-old Uribe recently choppered deep into guerrilla territory as bullets and mortars whizzed through the air.

National Geographic Utlimate Explorer host Lisa Ling told me Tuesday that she had scheduled a late-August interview with the Colombian president, to take place after his noontime speech to thousands of peasants in the northern shantytown of Granada.

"This is a town that has been controlled by the guerrillas for the last 10 years — there are no police whatsoever," said Ling, who reports on the U.S.-sponsored war against Colombian narco-terrorism for Sunday's installment of "National Geographic Ultimate Explorer" on MSNBC. "President Uribe travels in a fully-armed Blackhawk helicopter," she went on, "and we waited for him in the town square with about 2,000 people and around 250 troops for security.

"Finally we heard his Blackhawk whirring overhead, and then suddenly Boom! Boom! Boom! coming from the nearby mountains. And then the sound of machine-gun fire coming from overhead. Basically, the guerrillas seemed to be firing small mortars at the helicopter, and the helicopter was firing back toward the mountains."

Producer-cameraman Dominic Cunningham Reid captured the ordinarily ladylike Ling cowering and mouthing a profane Anglo-Saxonism before they all took refuge in a concrete structure.

"The crowd pretty much dispersed along with the troops. I said to Dominic, 'There's no way he's going to land now,'" Ling recounted. "But 30 minutes later, he got out of the helicopter and was striding through the cheering crowd in his white pancho and his giant white hat, with no body armor."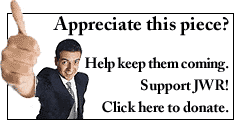 Later that night, Ling interviewed the English-speaking president for four hours in his high-walled compound in Medellin, where they did shots of aguadiente, a traditional Colombian liqueur.

Did Ling manage to stay sober?

"Let's put it this way," she answered. "I have a very low tolerance for alcohol."

THE BRIEFING

LORD OF THE SCREWUPS: I hear that New Line Cinema is out for blood over Monday's catastrophic Washington screening of its Christmas blockbuster, "The Lord of the Rings: The Return of the King." I'm told that the first full-dress battle scene, more than a hour into the three-hour and 15-minute epic, was run upside down for some 30 critics at the Loew's Georgetown. "At first I thought, wow, that's a totally cool camera-angle, from the perspective of someone who was felled in the battle," one witness told me Tuesday. Baltimore Sun movie critic Michael Sragow said: "It was the first massing of forces, and you got these elephant creatures coming on screen upside down. Obviously it was about the worst way to see a movie." Worse still, the influential audience had to wait 45 minutes while the projectionist rethreaded the film, only to restart it after a huge gap in the action. In due course an upside-down Frodo appeared, and the screening was halted again for another 45 minutes. "Obviously we're upset as anyone would be, and we're in discussions with Loew's," a chagrined New Line spokeswoman told me. "We want to know if Gollum was in the projection booth."

OSAMA BEEN LOITERING?: I'm told that the journalistic high-priests of Time Inc. convened behind closed doors Tuesday to weigh the issues of the day, and editorial director John Huey asked a panel of distinguished editors: "What is the one interview that you wish you could get?" Time managing editor Jim Kelly didn't miss a beat. "Well, it's a tossup between the two men that nobody has seen — Saddam Hussein and Dick Cheney." Knowing laughter all around.


Comment by clicking here.

12/02/03: Curb your anti-Semitism?; fame fatigue?; bowing to pressure?; more
12/01/03: Dennis the Menace strikes again; first literary feud of the holiday season; Norma Jean & Hef in heaven?; the fog of McNamara; more
11/26/03: Catherine Crier raps Jacko's TV defender, refuses on-air hint of racism; At 50, Tina's in full cry; STAY OUT OF HER WAY!; more
11/25/03: The mogul strikes back?; go ahead, make Harvey's day; more
11/24/03: Georgette's pilfered baubles; prosecutor of pop?; absent but not missed?; Norman Mailer's prescription for education reform; more
11/20/03: Is a movie career in store for Maria Bartiromo?; People for the Unethical Treatment of Humans?; more
11/19/03: Scientologists on Razor's edge?; picking a winner?; source on a hot tin roof?; more
11/18/03: Clay Aiken neuters PETA?; THEM'S FIGHTIN' WORDS!; a mural for Joe
11/17/03: When networks attack!; leaky Fawcett; forget the Paris Hilton video!; more
11/13/03: Publicity hounds; Prophetic priest; Dumb and Dumber
11/12/03: Not so Rosie; do you believe in miracles?; catalogue of sins; My Heart Belongs to Koppel
11/10/03: Gen. clark on the Subway diet; life of the party; MTV's Dumb and Dumber?; the hug issue; but does the $6,000 shower curtain convey?; red faces at Buckingham palace?
11/06/03: Let them eat pita?; verbal jousting; pretenders to the throne?
11/05/03: Will Harvey Weinstein and Gregg Easterbrook now be pals?; crazed Quentin; more
11/04/03: Herding off the hipsters; more
11/03/03: Dean's tell-all on himself?; Lisaraye vs. Mya?; the odd couple; no need to panic; just don't call him "Scooter"!; Rosie scenarios
10/30/03: Autumn of the editor?; Cynthia Nixon's split may be costly; 'Burning' questions
10/29/03: Ah-nold, unauthorized!; a dilemma for Melissa Gilbert? not even Frank Gifford can help him now!; nobody wanted Elizabeth Hurley
10/28/03: It's Cher calling!; Brown Alert
10/27/03: Paparazzi uncensored!; where's Aaron Brown?; postcards from the middle; invasion of the party snatchers?; House flooded when not afire?; suspenders of disbelief?
10/23/03: Ace up Howard Dean's sleeve; Woody's ordeal; Paul Simon's kid makes good; the non-beginning of a beautiful friendship?
10/22/03: Showing the flag; Joe Frazier, smokin'!; see Carville bruised-up — sort of
10/21/03: Morris & Jaci's charm offensive; Hell hath no fury; Wintertime for Hitler
10/20/03: Isn't it rich?; men (and the occasional woman) behaving badly; peacenik John Lennon supporting the U.S. military?; courageous Connie
10/16/03: George Clooney and intolerable Drudgery; Cameron goes native; and you thought the war in Iraq was nasty?; now it can be revealed; star wars?
10/15/03: Kerik into the breach?; holiday pander?; "the Dink" corrects the record; more
10/14/03: Madge gets mad, lips are sealed; the candidates who listen; he who hesitates is Beatty
10/13/03: Clothes, but no cigar; New Yorkers put a Sox in it; mad at Matalin?; more
10/09/03: Gray Davis goes to the movies; Ali Wentworth, working blue; Law & Order?; pot of gold at the end of the rainbow room?
10/08/03: Art-time for Hitler; the actress who hates movies; lying "Liam"
10/07/03: Pond scum of the rich and famous
07/24/03: Ali and George, living it up; Mel Gibson's Washington power play
07/21/03: White House smear?
07/17/03: Yet another intern scandal; it's her party and she can pay if she wants to
07/14/03: On the auction block: JFK'S boxer shorts; love bytes the maestro
07/10/03: A hairy situation at Homeland Security; Van Susteren v. Orth
06/30/03: Rep. Patrick Kennedy: I've never worked a (bleeping) day in my life; Drudge's dressing down; Ken Lay's Kerry connection
06/26/03: Rapping the beat
06/23/03: Another Watergate scandal?; AL GORE TV!
06/19/03: Tony Snow, rocker?; that won't be crow on Mr. Carlson's plate
06/16/03: Missing dog, ransom demand, Hollywood ending
06/12/03: Giving both parties the needle
06/09/03: WHAT DID SHE KNOW, AND WHEN DID SHE KNOW IT?
06/05/03: Incoming from Barbara Bush?
06/02/03: Bob Dole's plan for fighting unemployment
05/29/03: Newt's new novel
05/27/03: Hitchens & Blumenthal, together again; He still believes in a man called Hope
05/09/03: Close, but no cigar; Romeo & Juliet with a happy ending?; Geraldo to help Heebs?
05/05/03: So Bill Gates and Tom Brokaw walk into a coffee bar . . .; hotel hell; more

© 2003, Creators Syndicate