Jewish World Review Nov. 24, 2003 / 29 Mar-Cheshvan, 5764

Lloyd Grove
Georgette's pilfered baubles; prosecutor of pop?; absent but not missed?; Norman Mailer's prescription for education reform; more
http://www.jewishworldreview.com | NEW YORK — Republican fundraiser and socialite Georgette Mosbacher lost a rumored $500,000 worth of jewelry to a thief at a Paris airport last week.

Mosbacher told me that somebody stole her Louis Vuitton bag containing her laptop, her cell phone, her diamonds and her gold Tuesday morning as she was checking in to the Air France counter at Charles de Gaulle Airport to fly back to New York.

She had been in Paris for a couple of days on business, she said.

As for the half-million figure, "I don't want to put a number on it, but it was substantial," said the ex-wife of former Commerce Secretary Robert Mosbacher.

"The people at the Air France counter didn't seem too concerned," she added. "One of them told me, 'This kind of thing happens all the time.'"

Air France corporate communications director Jim Faulkner said: "We're very sorry that this happened, and I would encourage her to file a written report with our customer relations office in Fort Lauderdale, and they will look into it and see how they might be able to assist her."

Mosbacher laughed mirthlessly when I passed on Faulkner's suggestion, saying she has hired a private investigator to help the French police.

This is her second jewelry ordeal. In 1990, she was robbed at gunpoint of her wedding band, wristwatch and other baubles worth $30,000 as she stepped off on elevator in New York's Barbizon Hotel.

This time, Mosbacher declined to specify her jewelry losses, saying French authorities advised her that such publicity might hamper the search. She said she has filed an insurance claim, and cancelled her credit cards and cell phone account.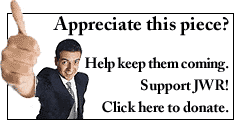 "Losing the cell phone and the laptop, which has all my information on it, is even worse than losing the jewelry," she said. "But really this is very difficult for me to talk about with everything that's going on in the world — the bombings in Turkey and the war in Iraq. Really, what happened to me was nothing. Who cares?"

PROSECUTOR OF POP?

We know that Santa Barbara County District Attorney Tom Sneddon isn't a Michael Jackson fan.

But what about New York State Attorney General Eliot Spitzer?

The night of Jackson's arrest for alleged child molestation, Spitzer and his wife Silda were dancing up a storm at the Fresh Air Fund Fall Benefit at Chelsea Piers — where the DJ was spinning "Thriller," "Billie Jean," and other hits from the onetime King of Pop.

"He can't recall the music that was being played, but he thought he was dancing," a Spitzer spokeswoman told me. "His wife might debate that point."

THE BRIEFING

ABSENT BUT NOT MISSED?: The Manhattan Institute's expensively printed program for last Wednesday's Wriston Lecture at the Pierre Hotel promised that "Lord Black, Chairman & CEO, Hollinger International Inc." would be giving the introduction to George Will's talk. But the beleaguered Conrad Black, now under investigation in the United States and Britain for $32.2 million in unauthorized payments to himself and other execs, didn't show up. Why? "We had a private event," Manhattan Institute spokeswoman Lindsay Young said. "It's not really appropriate to comment."

PAY UP OR GET OUT!: My spy in the House gymnasium in Washington tells me that there's an embarrassing letter for nonpayment of dues taped to Democratic presidential candidate Dennis Kucinich's locker. "Final Notice," warns the official letter from Kucinich's fellow Ohioan, Republican Rep. Mike Oxley, chairman of the gym committee. Kucinich's press secretary Doug Gordon told me: "Congressman Kucinich didn't know anything about this until we just discussed it. He has used the gym once in the past six years. Instead of running on a treadmill, he is running around the country."

BRIGHT IDEA?: Here's Norman Mailer's prescription for education reform, articulated in the upcoming Playboy: "It would probably do more good if a portion of the proposed funds for public school education could replace fluorescent lighting in just about every classroom with old-fashioned light bulbs. The unadmitted truth is that every human being alive loses personal appeal under the flat illumination of a fluorescent tube. Children can hardly feel as ready to learn when everyone around them, including their teacher, is a hint ghastly in skin tone."

A THOUSAND CURTAIN CALLS LATER: Actress Andrea McCardle, who starred in the original production of "Annie," was at Frank Campbell's Funeral Home Thursday to share warm and fuzzy memories of Dorothy Loudon (who won a 1977 Tony for her performance as the hilariously horrible Miss Hannigan). McCardle told the mourners about "one of the first things Dorothy Loudon ever said to me" when McCardle was a mere slip of a girl in the musical's title role. "She came over and said, 'If you ever move while I'm doing something funny on stage, you will not make it to the curtain call.'" Loudon died of cancer Nov. 15 at age 70.


Comment by clicking here.

11/20/03: Is a movie career in store for Maria Bartiromo?; People for the Unethical Treatment of Humans?; more
11/19/03: Scientologists on Razor's edge?; picking a winner?; source on a hot tin roof?; more
11/18/03: Clay Aiken neuters PETA?; THEM'S FIGHTIN' WORDS!; a mural for Joe
11/17/03: When networks attack!; leaky Fawcett; forget the Paris Hilton video!; more
11/13/03: Publicity hounds; Prophetic priest; Dumb and Dumber
11/12/03: Not so Rosie; do you believe in miracles?; catalogue of sins; My Heart Belongs to Koppel
11/10/03: Gen. clark on the Subway diet; life of the party; MTV's Dumb and Dumber?; the hug issue; but does the $6,000 shower curtain convey?; red faces at Buckingham palace?
11/06/03: Let them eat pita?; verbal jousting; pretenders to the throne?
11/05/03: Will Harvey Weinstein and Gregg Easterbrook now be pals?; crazed Quentin; more
11/04/03: Herding off the hipsters; more
11/03/03: Dean's tell-all on himself?; Lisaraye vs. Mya?; the odd couple; no need to panic; just don't call him "Scooter"!; Rosie scenarios
10/30/03: Autumn of the editor?; Cynthia Nixon's split may be costly; 'Burning' questions
10/29/03: Ah-nold, unauthorized!; a dilemma for Melissa Gilbert? not even Frank Gifford can help him now!; nobody wanted Elizabeth Hurley
10/28/03: It's Cher calling!; Brown Alert
10/27/03: Paparazzi uncensored!; where's Aaron Brown?; postcards from the middle; invasion of the party snatchers?; House flooded when not afire?; suspenders of disbelief?
10/23/03: Ace up Howard Dean's sleeve; Woody's ordeal; Paul Simon's kid makes good; the non-beginning of a beautiful friendship?
10/22/03: Showing the flag; Joe Frazier, smokin'!; see Carville bruised-up — sort of
10/21/03: Morris & Jaci's charm offensive; Hell hath no fury; Wintertime for Hitler
10/20/03: Isn't it rich?; men (and the occasional woman) behaving badly; peacenik John Lennon supporting the U.S. military?; courageous Connie
10/16/03: George Clooney and intolerable Drudgery; Cameron goes native; and you thought the war in Iraq was nasty?; now it can be revealed; star wars?
10/15/03: Kerik into the breach?; holiday pander?; "the Dink" corrects the record; more
10/14/03: Madge gets mad, lips are sealed; the candidates who listen; he who hesitates is Beatty
10/13/03: Clothes, but no cigar; New Yorkers put a Sox in it; mad at Matalin?; more
10/09/03: Gray Davis goes to the movies; Ali Wentworth, working blue; Law & Order?; pot of gold at the end of the rainbow room?
10/08/03: Art-time for Hitler; the actress who hates movies; lying "Liam"
10/07/03: Pond scum of the rich and famous
07/24/03: Ali and George, living it up; Mel Gibson's Washington power play
07/21/03: White House smear?
07/17/03: Yet another intern scandal; it's her party and she can pay if she wants to
07/14/03: On the auction block: JFK'S boxer shorts; love bytes the maestro
07/10/03: A hairy situation at Homeland Security; Van Susteren v. Orth
06/30/03: Rep. Patrick Kennedy: I've never worked a (bleeping) day in my life; Drudge's dressing down; Ken Lay's Kerry connection
06/26/03: Rapping the beat
06/23/03: Another Watergate scandal?; AL GORE TV!
06/19/03: Tony Snow, rocker?; that won't be crow on Mr. Carlson's plate
06/16/03: Missing dog, ransom demand, Hollywood ending
06/12/03: Giving both parties the needle
06/09/03: WHAT DID SHE KNOW, AND WHEN DID SHE KNOW IT?
06/05/03: Incoming from Barbara Bush?
06/02/03: Bob Dole's plan for fighting unemployment
05/29/03: Newt's new novel
05/27/03: Hitchens & Blumenthal, together again; He still believes in a man called Hope
05/09/03: Close, but no cigar; Romeo & Juliet with a happy ending?; Geraldo to help Heebs?
05/05/03: So Bill Gates and Tom Brokaw walk into a coffee bar . . .; hotel hell; more

© 2003, Creators Syndicate