Jewish World Review Dec. 1, 2003 / 6 Kislev, 5764

Lloyd Grove
Dennis the Menace strikes again; first literary feud of the holiday season; Norma Jean & Hef in heaven?; the fog of McNamara; more
http://www.jewishworldreview.com | NEW YORK — Tyco International robber baron Dennis Kozlowski — on trial for allegedly looting hundreds of millions of dollars from the company's stockholders — apparently speaks with forked tongue when it comes to his onetime home on Fifth Ave.

Kozlowski's defense team is swearing to jurors that the $18 million, 13-room duplex — with those infamous golden shower curtains and that $500,000 hand-painted wallpaper — was bought and paid for by Tyco, not Kozlowski, as a corporate asset. Now the apartment is for sale (asking price: $28 million).

But when Kozlowski applied to the seven-unit building to buy the apartment 3 1/2 years ago, I'm told he assured residents that it would be a personal purchase out of his own pocket — which co-op regulations require. Kozlowski's name, not Tyco's, was on the contract.

I hear that not only did Kozlowski's application to the co-op board promise that the apartment would be a personal purchase, he distributed to fellow residents a financial statement claiming liquid personal assets of around $400 million. Kozlowski's current position at his fraud trial — that the apartment was bought by Tyco for business purposes — is at odds with his reported stance last year, when Tyco was hoping to sell it. Then sources close to Kozlowski argued that the apartment belonged to him.

My call to co-op board president Jonathan Tisch was not returned Wednesday.

So did Kozlowski lie his way into the building?

"I have no comment on that," answered his criminal lawyer, Stephen Kaufman, who obviously has bigger worries than a possible breach of contract action by disgruntled co-op owners. "But let me just say this: There was no deception between him and the company. The company was the owner of that apartment."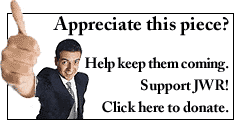 FIRST LITERARY FEUD OF THE HOLIDAY SEASON

The New York Observer has just tossed something unpleasant into The New Yorker's Thanksgiving punchbowl.

In an editorial Wednesday, the salmon-hued weekly demanded: "Is The New Yorker implicitly endorsing anti-Semitism in its pages?"

The Observer went on to scorch John Updike's description — in his Nov. 24 review of Peter Carey's novel "My Life as a Fake" — of one character as "a rich Jew."

"To say that the expression 'rich Jew' is loaded with historical anti-Semitism is an understatement," the Observer continued.

Updike had no comment Wednesday, but New Yorker Editor in Chief David Remnick was withering in his reply.

"There is genuine vigilance, which is real and necessary, and then there is self-admiring nonsense that pretends to be vigilance," Remnick e-mailed me. "In recent days synagogues were being bombed in Istanbul and defaced in France; many Jews in New York now worship in synagogues ringed with concrete barriers; and, meanwhile, the centuries-old tenets of anti-Semitism are thriving for countless people.

"This is a serious situation requiring the serious attention of serious people. And yet the editorialists of the Observer exercise concern about the phrase 'rich Jew' in a book review. Next week they will surely race to the barriers over a 'poor Catholic' or a 'middle-class African American.'"

Observer Editor in Chief Peter Kaplan responded: "That shows a lot of self-regard by David. But the fact is that he and I and everybody in journalism should be vigilant about the casual use of anti-Semitism."

Kaplan added: "If somebody used that phrase at a dinner party, even if it was said by someone I admire as deeply as John Updike, I would get my back up — and Remnick would, too."

THE BRIEFING

REVERSAL OF FORTUNE: Back in October, The New Yorker announced with great fanfare that it had recruited New York Times Jerusalem Bureau Chief James Bennet to become the magazine's new Washington bureau chief. Late Wednesday afternoon — six weeks after he accepted the job — Bennet told The New Yorker's editors that he has suddenly changed his mind. I hear folks at the magazine are, understandably, annoyed. "The New Yorker and David (Remnick) in particular have been nothing but decent toward me and my family," Bennet e-mailed me from Israel. "I felt, and feel, privileged to have been offered the chance to write for them, as any reporter would, and I deeply regret having let them down."

THE FOG OF MCNAMARA: When Robert S. McNamara was secretary of defense back in the 1960s, he was plagued by grave private doubts about the Vietnam War. Still, he energetically supervised the disaster-in-the-making, often going before the cameras to predict ultimate success, and for decades after he left the job, refused to discuss his misgivings — all out of loyalty to President Johnson, he explained. Now that he's the subject of "The Fog of War," a much-buzzed-about documentary coming out next month, the 87-year-old McNamara is being similarly discreet about the U.S. military operation in Iraq. "I'm asked my views by the press all over the world, and I haven't given them," he told me proudly, the morning after I screened the Errol Morris documentary. "I just think it's irresponsible for an ex-secretary of defense to comment on a president's policies. . . . I guess I'm just hard-headed."

NORMA JEAN & HEF IN HEAVEN?: The founder of Playboy, celebrating its 50th anniversary, never got to, uh, know First Playmate Marilyn Monroe. So Hugh Hefner is looking forward to meeting her in the afterlife. "I bought the vault next to Marilyn," he recently told ABC News correspondent Lynn Sherr, whose "20/20" report on Hef and his magazine airs Friday night. "When I learned that the vault was available next to Marilyn (at Westwood Village, Calif., Memorial Park) . . . you know, I appreciate those kind of connections." Sherr asked: "You want to catch up with her in the next life?" Hef replied: "Yeah. We have lots to talk about."


Comment by clicking here.

11/26/03: Catherine Crier raps Jacko's TV defender, refuses on-air hint of racism; At 50, Tina's in full cry; STAY OUT OF HER WAY!; more
11/25/03: The mogul strikes back?; go ahead, make Harvey's day; more
11/24/03: Georgette's pilfered baubles; prosecutor of pop?; absent but not missed?; Norman Mailer's prescription for education reform; more
11/20/03: Is a movie career in store for Maria Bartiromo?; People for the Unethical Treatment of Humans?; more
11/19/03: Scientologists on Razor's edge?; picking a winner?; source on a hot tin roof?; more
11/18/03: Clay Aiken neuters PETA?; THEM'S FIGHTIN' WORDS!; a mural for Joe
11/17/03: When networks attack!; leaky Fawcett; forget the Paris Hilton video!; more
11/13/03: Publicity hounds; Prophetic priest; Dumb and Dumber
11/12/03: Not so Rosie; do you believe in miracles?; catalogue of sins; My Heart Belongs to Koppel
11/10/03: Gen. clark on the Subway diet; life of the party; MTV's Dumb and Dumber?; the hug issue; but does the $6,000 shower curtain convey?; red faces at Buckingham palace?
11/06/03: Let them eat pita?; verbal jousting; pretenders to the throne?
11/05/03: Will Harvey Weinstein and Gregg Easterbrook now be pals?; crazed Quentin; more
11/04/03: Herding off the hipsters; more
11/03/03: Dean's tell-all on himself?; Lisaraye vs. Mya?; the odd couple; no need to panic; just don't call him "Scooter"!; Rosie scenarios
10/30/03: Autumn of the editor?; Cynthia Nixon's split may be costly; 'Burning' questions
10/29/03: Ah-nold, unauthorized!; a dilemma for Melissa Gilbert? not even Frank Gifford can help him now!; nobody wanted Elizabeth Hurley
10/28/03: It's Cher calling!; Brown Alert
10/27/03: Paparazzi uncensored!; where's Aaron Brown?; postcards from the middle; invasion of the party snatchers?; House flooded when not afire?; suspenders of disbelief?
10/23/03: Ace up Howard Dean's sleeve; Woody's ordeal; Paul Simon's kid makes good; the non-beginning of a beautiful friendship?
10/22/03: Showing the flag; Joe Frazier, smokin'!; see Carville bruised-up — sort of
10/21/03: Morris & Jaci's charm offensive; Hell hath no fury; Wintertime for Hitler
10/20/03: Isn't it rich?; men (and the occasional woman) behaving badly; peacenik John Lennon supporting the U.S. military?; courageous Connie
10/16/03: George Clooney and intolerable Drudgery; Cameron goes native; and you thought the war in Iraq was nasty?; now it can be revealed; star wars?
10/15/03: Kerik into the breach?; holiday pander?; "the Dink" corrects the record; more
10/14/03: Madge gets mad, lips are sealed; the candidates who listen; he who hesitates is Beatty
10/13/03: Clothes, but no cigar; New Yorkers put a Sox in it; mad at Matalin?; more
10/09/03: Gray Davis goes to the movies; Ali Wentworth, working blue; Law & Order?; pot of gold at the end of the rainbow room?
10/08/03: Art-time for Hitler; the actress who hates movies; lying "Liam"
10/07/03: Pond scum of the rich and famous
07/24/03: Ali and George, living it up; Mel Gibson's Washington power play
07/21/03: White House smear?
07/17/03: Yet another intern scandal; it's her party and she can pay if she wants to
07/14/03: On the auction block: JFK'S boxer shorts; love bytes the maestro
07/10/03: A hairy situation at Homeland Security; Van Susteren v. Orth
06/30/03: Rep. Patrick Kennedy: I've never worked a (bleeping) day in my life; Drudge's dressing down; Ken Lay's Kerry connection
06/26/03: Rapping the beat
06/23/03: Another Watergate scandal?; AL GORE TV!
06/19/03: Tony Snow, rocker?; that won't be crow on Mr. Carlson's plate
06/16/03: Missing dog, ransom demand, Hollywood ending
06/12/03: Giving both parties the needle
06/09/03: WHAT DID SHE KNOW, AND WHEN DID SHE KNOW IT?
06/05/03: Incoming from Barbara Bush?
06/02/03: Bob Dole's plan for fighting unemployment
05/29/03: Newt's new novel
05/27/03: Hitchens & Blumenthal, together again; He still believes in a man called Hope
05/09/03: Close, but no cigar; Romeo & Juliet with a happy ending?; Geraldo to help Heebs?
05/05/03: So Bill Gates and Tom Brokaw walk into a coffee bar . . .; hotel hell; more

© 2003, Creators Syndicate