Jewish World Review Dec. 31, 2003 / 6 Teves, 5764

Lloyd Grove
Disaster for the defense; no-war Omar; the shoe must go on; more
http://www.jewishworldreview.com | NEW YORK — CBS News star Ed Bradley scored big with his Michael Jackson interview on Sunday's "60 Minutes," but CBS News legal analyst Wendy Murphy says the appearance was an unmitigated disaster for the accused child molester.
"Mark Geragos must have taken leave of his senses to let that interview take place," Murphy, a New England School of Law professor and former Boston-area sex-crimes prosecutor, told me Monday. "I think it amounts to malpractice," she added.
Jackson's famous attorney didn't respond Monday to my message detailing Murphy's harsh criticisms.
"The interview exposed Jackson to the inevitable question: Did you really mean it when you said that it's fine to sleep with little boys?" said Murphy, the mother of five children aged 2 to 14. "It was crystal clear that Jackson thinks it's fine for a 45-year-old man to sleep with a 12-year-old boy. . . . He came across as a typical pedophile — sociopathic, narcissistic, self-centered and arrogant."
Murphy, who prosecuted hundreds of pedophiles in Massachusetts' Middlesex County, said that the onetime King of Pop came off as "manipulative" and told a series of "crazy lies" during the interview:
"Lie number one: He said he was locked in the toilet for 45 minutes — when the whole booking process took 30 minutes," Murphy said. "Lie number two: He said the injury on his upper forearm was caused by the handcuffs. I have seen many handcuff injuries — and they're all on the wrists. You would have to be a contortionist to get the cuffs up there. It's absurd."
Murphy continued: "Lie number three was that he dislocated his shoulder. But right after the booking process, he came out and raised one arm high above his head and made a peace sign for the cameras, and waved to fans with his other arm like Queen Elizabeth. Believe me, you couldn't do that if your shoulder was dislocated."
Murphy predicted that the prosecution will try to use the interview to impeach Jackson's credibility, "and I guarantee you, Geragos will fight to keep it out of the trial."
NO-WAR OMAR
Count Omar Sharif among the critics of President Bush's attempt to transform Iraq into a democracy.
"A democracy isn't good for everybody," the 71-year-old Egyptian-Lebanese actor warned on Sunday at the Capri-Hollywood Film & Music Fest on the Italian island of Capri. "A democracy is good for educated people. The moment the troops leave Iraq that culture will return to its old tribal governing ways."
Sharif, a master strategist in the game of bridge if not foreign policy, went on: "People who are poor worry about food for their families. That's true in any country. You give them five dollars and you can buy their vote. That's true everywhere — in Iraq and even here in Italy."
So was Bush wrong to invade Iraq and topple Saddam Hussein?
"If he went to Iraq to remove a tyrant, he was right," Sharif answered. "If he went to Iraq to achieve a democracy, he was wrong. If he went to Iraq to remove weapons of mass destruction, he was wrong because there never were any."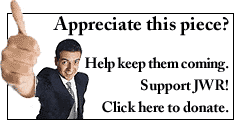 Sharif continued: "So many tyrants in this world, why this one? There is more reason to attack North Korea. And Pakistan has the atomic bomb."
Asked if he suspects that the United States' real reason was Iraqi oil, he vigorously nodded yes.
Sharif, who achieved stardom with memorable roles in "Lawrence of Arabia" and "Dr. Zhivago," is enjoying something of a career comeback. He is featured in the upcoming Viggo Mortensen vehicle, "Hidalgo," and Monday night received the Capri Legend Award for lifetime achievement.
THE BRIEFING
HOT FOR VOGUE: Is Drew Barrymore groveling before the altar of Anna Wintour? Back in September 2000, animal rights activist Barrymore made a fuss when Vogue magazine's editor-in-chief reportedly wanted her and "Charlie's Angels" co-stars Cameron Diaz and Lucy Liu to don dangerous leather and furs for the cover. Wintour had rejected the previous Herb Ritts photos of the trio swaddled in angelic white. But Barrymore, then a vegan, refused to wear animal products or the clothes of any designer who used dead fauna. The Vogue cover was scrapped.
But, according to Us Weekly, the actress later wrote Wintour a letter of apology. "She told Anna she was sorry for causing her so much trouble," a Barrymore friend tells the mag about the actress's campaign to get herself back in Wintour's good graces. "Drew still won't wear fur; however, she will now wear designers who use fur and leather in their lines."
The private letter was sent two years ago, but someone from the Barrymore camp apparently has just leaked it to Us. Meanwhile, the actress is now a carnivore. But her charm offensive has yet to bear meat: Instead of the cover of Vogue, I'm told she's being featured by Harper's Bazaar for her Valentine's Day movie co-starring Adam Sandler, "50 First Dates." If all else fails, I suggest the actress pose with succulent steak on the cover of Gourmet.
THE SHOE MUST GO ON: Women's footwear designer Steve Madden has been cooling his heels in a federal prison in Florida, serving a 41-month sentence on a stock fraud and money laundering conviction. But that hasn't stopped folks from buying Steve Madden shoes. In fact, Brand Name Blowout, which stages cut-rate sales, claims to have moved 10,000 pairs of Madden shoes (at $20 per) and boots ($40 per) in the past month. "It's been incredible," sale impresario Jimmy Ressler told this column. Madden's attorney, Joel Winograd, vowed that his client will be free in a few months and "working for the company as the creative director of style." As for the 46-year-old convict's reported $700,000 annual royalty payments behind bars, Winograd said: "If he has been getting that, I'd better start billing him."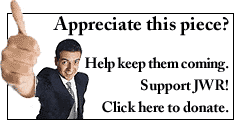 Comment by clicking here.

12/19/03: Bob Shapiro's free commercial?; Are sophisticated and hip New Yawkers easily duped?; Positive Saddam fallout?; Ratty insult?
12/17/03: Magic Mystery Tour?; Russell Simmons battles ink by the barrel; Would it have killed her to say 'get well soon'?; no Gest room
12/12/03: Karenna defends her dad; now she tells us!; say it ain't so, Mo!; more
12/10/03: Man & wife, interruptus; pepperoni has feelings, too; more
12/05/03: The knives are out; Who's sorry now?; JWR in the news
12/04/03: The war of the gest-minnellis; something borrowed, something cashmere; fashion trendsetter, nailed!
12/03/03: Colombian grace under pressure; Lord of the Screwups; more
12/02/03: Curb your anti-Semitism?; fame fatigue?; bowing to pressure?; more
12/01/03: Dennis the Menace strikes again; first literary feud of the holiday season; Norma Jean & Hef in heaven?; the fog of McNamara; more
11/26/03: Catherine Crier raps Jacko's TV defender, refuses on-air hint of racism; At 50, Tina's in full cry; STAY OUT OF HER WAY!; more
11/25/03: The mogul strikes back?; go ahead, make Harvey's day; more
11/24/03: Georgette's pilfered baubles; prosecutor of pop?; absent but not missed?; Norman Mailer's prescription for education reform; more
11/20/03: Is a movie career in store for Maria Bartiromo?; People for the Unethical Treatment of Humans?; more
11/19/03: Scientologists on Razor's edge?; picking a winner?; source on a hot tin roof?; more
11/18/03: Clay Aiken neuters PETA?; THEM'S FIGHTIN' WORDS!; a mural for Joe
11/17/03: When networks attack!; leaky Fawcett; forget the Paris Hilton video!; more
11/13/03: Publicity hounds; Prophetic priest; Dumb and Dumber
11/12/03: Not so Rosie; do you believe in miracles?; catalogue of sins; My Heart Belongs to Koppel
11/10/03: Gen. clark on the Subway diet; life of the party; MTV's Dumb and Dumber?; the hug issue; but does the $6,000 shower curtain convey?; red faces at Buckingham palace?
11/06/03: Let them eat pita?; verbal jousting; pretenders to the throne?
11/05/03: Will Harvey Weinstein and Gregg Easterbrook now be pals?; crazed Quentin; more
11/04/03: Herding off the hipsters; more
11/03/03: Dean's tell-all on himself?; Lisaraye vs. Mya?; the odd couple; no need to panic; just don't call him "Scooter"!; Rosie scenarios
10/30/03: Autumn of the editor?; Cynthia Nixon's split may be costly; 'Burning' questions
10/29/03: Ah-nold, unauthorized!; a dilemma for Melissa Gilbert? not even Frank Gifford can help him now!; nobody wanted Elizabeth Hurley
10/28/03: It's Cher calling!; Brown Alert
10/27/03: Paparazzi uncensored!; where's Aaron Brown?; postcards from the middle; invasion of the party snatchers?; House flooded when not afire?; suspenders of disbelief?
10/23/03: Ace up Howard Dean's sleeve; Woody's ordeal; Paul Simon's kid makes good; the non-beginning of a beautiful friendship?
10/22/03: Showing the flag; Joe Frazier, smokin'!; see Carville bruised-up — sort of
10/21/03: Morris & Jaci's charm offensive; Hell hath no fury; Wintertime for Hitler
10/20/03: Isn't it rich?; men (and the occasional woman) behaving badly; peacenik John Lennon supporting the U.S. military?; courageous Connie
10/16/03: George Clooney and intolerable Drudgery; Cameron goes native; and you thought the war in Iraq was nasty?; now it can be revealed; star wars?
10/15/03: Kerik into the breach?; holiday pander?; "the Dink" corrects the record; more
10/14/03: Madge gets mad, lips are sealed; the candidates who listen; he who hesitates is Beatty
10/13/03: Clothes, but no cigar; New Yorkers put a Sox in it; mad at Matalin?; more
10/09/03: Gray Davis goes to the movies; Ali Wentworth, working blue; Law & Order?; pot of gold at the end of the rainbow room?
10/08/03: Art-time for Hitler; the actress who hates movies; lying "Liam"
10/07/03: Pond scum of the rich and famous
07/24/03: Ali and George, living it up; Mel Gibson's Washington power play
07/21/03: White House smear?
07/17/03: Yet another intern scandal; it's her party and she can pay if she wants to
07/14/03: On the auction block: JFK'S boxer shorts; love bytes the maestro
07/10/03: A hairy situation at Homeland Security; Van Susteren v. Orth
06/30/03: Rep. Patrick Kennedy: I've never worked a (bleeping) day in my life; Drudge's dressing down; Ken Lay's Kerry connection
06/26/03: Rapping the beat
06/23/03: Another Watergate scandal?; AL GORE TV!
06/19/03: Tony Snow, rocker?; that won't be crow on Mr. Carlson's plate
06/16/03: Missing dog, ransom demand, Hollywood ending
06/12/03: Giving both parties the needle
06/09/03: WHAT DID SHE KNOW, AND WHEN DID SHE KNOW IT?
06/05/03: Incoming from Barbara Bush?
06/02/03: Bob Dole's plan for fighting unemployment
05/29/03: Newt's new novel
05/27/03: Hitchens & Blumenthal, together again; He still believes in a man called Hope
05/09/03: Close, but no cigar; Romeo & Juliet with a happy ending?; Geraldo to help Heebs?
05/05/03: So Bill Gates and Tom Brokaw walk into a coffee bar . . .; hotel hell; more

© 2003, Creators Syndicate