Jewish World Review Oct. 7, 2003 / 11 Tishrei, 5764

Lloyd Grove
Pond scum of the rich and famous
http://www.jewishworldreview.com | Maybe it's not a whodunit on a par with "Death on the Nile," but Vanity Fair gumshoe Michael Shnayerson spins a colorful yarn out of the mystery in which a wealthy East Hamptonite, in the dark of night last July, might have abruptly drained Georgica Pond.
On the evening of July 1, the 290-acre coastal lagoon — the environmentally protected home to endangered piping plovers — was so swollen that it flooded basements and lawns. But the next morning, the high water had somehow broken through a 50-foot-wide barrier of beach sand and drained into the Atlantic Ocean, leaving behind a muddy swamp of muck and pungent cesspool overflow.
"I'd like to know who did it myself," says pond neighbor Steven Spielberg, who mutters ominously: "Any minute something's going to come up from the bottom."
Shnayerson theorizes that someone took matters into their own hands, and risked a $700,000 fine, after the Georgica trustees repeatedly ignored their flooding complaints. When waterlogged philanthropist Arthur Ross said the pond was on his lawn, trustee Stuart Vorpahl told him: "I believe you have things backward here; your lawn is in our pond."
Shnayerson's suspects include the 90-something Ross, billionaire Ronald Perelman, embattled style queen Martha Stewart, former congressman Stuyvesant Wainwright and real estate developer Harry Macklowe.
Perelman has already proclaimed his innocence, writing to the East Hampton Star: "Every fledgling investigator should know that the first thing to look for in solving a crime . . . is motivation. Simply put, no motivation existed for me to lower Georgica Pond. My place is set on about the highest point on the Pond."
Ross also denies guilt ("Certainly not!"), and the 82-year-old Wainwright muses: "I was flattered that people thought I could have been out there digging away in the middle of the night. I'm recovering from a stroke; I can't even get to my garden with a shovel."
Stewart says: "No one is more respectful of the environment than I am. . . . I would never do anything like that."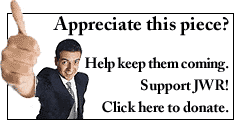 Shnayerson writes that Macklowe — who refused to comment to Vanity Fair — has a history of bending the rules. In 1985, the city fined him almost $5 million after he knocked down two Times Square hotels without a permit in the middle of the night, and this summer his manicured lawn was under water. On Monday, Macklowe's assistant told me: "When this guy called, Mr. Macklowe said it was just absurd. He's not going to comment."
SUN SETTING ON BRITISH EMPIRE
First the Brits ceded Hong Kong to the People's Republic of China. Then they decommissioned the royal yacht Britannia.
Now, on Oct. 24, they're killing the Concorde. Television interviewer David Frost plans to be on the final flight from Kennedy to Heathrow.
"It was really a club more than anything else — the atmosphere was always very friendly," says Frost, who has been a loyal Concorde passenger since British Airways and Air France jointly launched the supersonic transport in 1976. "I'm afraid I never saw anything really dramatic happen during a flight. The most dramatic event was when someone spilled his soup."
The workaholic Frost, who liked to leave London at 6 p.m. and arrive in New York three hours earlier, didn't even blink at the fare — these days $12,000 each way. But the Concorde's last hurrah will be a freebie for invited loyalists, who are apt to include Paul McCartney, Elton John and Rudy Giuliani, with Prime Minister Tony Blair on hand for the arrival.
British Airways is mum on the guest list. But spokesman Jeff Angel says: "It will be a hugely historic moment."
THE BRIEFING
FREE LIAM WITH ONE PINT OR MORE: It was touch-and-go at PM for Liam Neeson, who was forced to wait unrecognized outside the Meatpacking District nightspot in the wee hours Sunday, on the wrong side of the velvet rope, until club owner Unik intervened. "He was standing outside with a friend and the security guard came to get me," Unik recounted. "I said, 'of course, pull him in!' " The 51-year-old husband of Natasha Richardson and a pal were comped a bottle of Jack Daniels, which no doubt made up for the earlier indignity. A half-hour later, Vin Diesel had no trouble getting in and drinking for free. Howard Stern and girlfriend Beth Ostrosky paid for theirs.
SECRET AGENDA?: Members of Skull & Bones — the Yale secret society to which President Bush and host of other powerbrokers belong — were complaining that Sunday's big "60 Minutes" expose of their club left out a very interesting fact: Morley Safer's main interview subject, "Secrets of the Tomb" author Alexandra Robbins, is a member of the rival Yale society Scroll & Key. Robbins was unreachable Monday, and "60 Minutes" flack Kevin Tedesco laughed off the omission: "Everybody's got some old bones rattling around in their closet."
FILM CLASS SPIKED: Just because they're paying $29,540 a year in tuition, grad students at NYU's Tisch School of the Arts shouldn't expect prickly director Spike Lee to actually show up for scheduled classes. "I've been teaching for seven years, and I've never gone a semester without canceling classes," Lee said after he deep-sixed Thursday's "Master Series: Directing Strategies" minutes before the 2 p.m. start time. Lee declined to explain his absence. Instead he shouted into the phone: "Did you know that on Monday, I'm bringing the students on set to a MAJOR MOVIE PICTURE? So they'll be having class on set, not in some stuffy box? Did you know that?" Then he hung up.
READY FOR THEIR CLOSEUPS: Pulitzer prize-winning Vietnam War photographer Eddie Adams will be host to 100 aspiring photojournalists at his farm in Jeffersonville, N.Y., this weekend. Among the seasoned photogs leading free workshops will be old friends Gordon Clark, Carl Mydans and Harry Benson. Ninetysomething Joe Rosenthal (of Iwo Jima fame) is even leaving his California nursing home to put in a special appearance. Students will receive awards such as a week with Eric Draper, personal photographer to President Bush. As for Adams' personal politics? "The first time, I went to the White House hating Bush, but what really p-- me off is that I left liking him! I don't agree with a lot of things he's doing. I'd like to go out drinking with him though." Nonalcoholic beer all around, natch.
FLATULATION IN FASHION?: Presidential uncle Jonathan Bush isn't the only trendsetter with a remote-control whoopee cushion. Fashionista Annette de la Renta, wife of Oscar, also owns one. "I did get one as a gag gift once," she says. "But I don't know where it is anymore." What's more, Fart Machine inventor Fred Jarrow says 2,000 units were recently shipped to a palace in Saudi Arabia.


Comment by clicking here.

07/24/03: Ali and George, living it up; Mel Gibson's Washington power play
07/21/03: White House smear?
07/17/03: Yet another intern scandal; it's her party and she can pay if she wants to
07/14/03: On the auction block: JFK'S boxer shorts; love bytes the maestro
07/10/03: A hairy situation at Homeland Security; Van Susteren v. Orth
06/30/03: Rep. Patrick Kennedy: I've never worked a (bleeping) day in my life; Drudge's dressing down; Ken Lay's Kerry connection
06/26/03: Rapping the beat
06/23/03: Another Watergate scandal?; AL GORE TV!
06/19/03: Tony Snow, rocker?; that won't be crow on Mr. Carlson's plate
06/16/03: Missing dog, ransom demand, Hollywood ending
06/12/03: Giving both parties the needle
06/09/03: WHAT DID SHE KNOW, AND WHEN DID SHE KNOW IT?
06/05/03: Incoming from Barbara Bush?
06/02/03: Bob Dole's plan for fighting unemployment
05/29/03: Newt's new novel
05/27/03: Hitchens & Blumenthal, together again; He still believes in a man called Hope
05/09/03: Close, but no cigar; Romeo & Juliet with a happy ending?; Geraldo to help Heebs?
05/05/03: So Bill Gates and Tom Brokaw walk into a coffee bar . . .; hotel hell; more

© 2003, Creators Syndicate