Jewish World Review Nov. 25, 2003 / 30 Mar-Cheshvan, 5764

Lloyd Grove
The mogul strikes back?; go ahead, make Harvey's day; more
http://www.jewishworldreview.com | NEW YORK — Michael Wolff smells a Rattner. Steve Rattner is head of the Quadrangle Group media investment firm and chairman of public television's New York flagship station, WNET.
BR> Wolff is New York magazine's media critic and author of "Autumn of the Moguls."

He suspects that Rattner, a target of his buzzworthy book, somehow persuaded the "NewsHour With Jim Lehrer" to spike Wolff's interview with "NewsHour" correspondent Terence Smith.

Both Rattner and "NewsHour" executive producer Lester Crystal agreed Monday that Wolff's suspicions are unfounded.

"The truth of the matter," Crystal told me, "is we made an editorial decision not to broadcast the interview because we didn't think it was balanced. The idea that anyone outside the 'NewsHour' had anything to do with it is absolutely, utterly false."

A Rattner spokesman e-mailed: "This silly allegation probably results from the fact that his book is currently languishing at No. 6,682 on the Amazon.com sales list."

But Wolff insisted: "I think Rattner is a very powerful guy in PBS land. I think he's a very powerful guy in the media business in general."

Wolff — whose book personally attacks Rattner and his wife, Maureen White (he's "a social climber," Wolff writes, while she "presented herself with a certain austerity and sexlessness") — added: "Everywhere I go, people are always telling me how unhappy Steve Rattner is."

CNN pundit Margaret Carlson, a Rattner friend, initially offered to host a Washington book party for Wolff, but pulled out after reading Wolff's description in the book of how he "recruited" his 8-year-old son, Steven, to go on a playdate with Steve Rattner's son Izzy in order to "spy" on the Rattner household.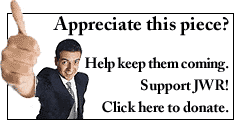 Two weeks ago, Wolff did a long on-camera interview with Smith. The eight-minute segment was to have aired by last week. But on Friday, Smith called to say that the piece had been killed.

Smith declined to comment Monday, but I hear he told Wolff that he had "gone to the mat" to get the interview on the air, but his bosses "were freaked out" by it.

"I'm kind of flabbergasted," Wolff said. "PBS is supposed to be the independent voice — independent from big media — and obviously it looks like they're just afraid of the big media guys. It's weird. It's sad."

Crystal said he didn't screen the piece until last week. But why, I asked, would he ever have thought that the sharply opinionated Wolff would give a "balanced" interview in the first place?

"I'm not sure that we gave that enough attention," Crystal answered. "But, whatever the case, it's the end result we needed to deal with."

A BLACK NIGHT

Monday night's book party for Conrad Black was a little like a mafia funeral.

Arriving at the Four Seasons Restaurant, ABC News journalist Barbara Walters stepped briskly away from this column's unfurled notebook and slipped inside, thus avoiding questions about Lord Black of Crossharbour and the blossoming scandal surrounding his media company, Hollinger Inc.

Working reporters of the type Lord Black employs at his media conglomerate — which reportedly paid $32 million in controversial payments to him and other top execs — were barred from the party for "Franklin Delano Roosevelt: Champion of Freedom."

Candace Bergen scurried past wordlessly. So did Joan Collins, Anna Wintour and boyfriend Shelby Bryan, Aileen Mehle, and co-host Jayne Wrightsman — all ignoring interview requests. Henry Kravis was reported to be somewhere inside, but it was unclear if wife Marie-Josee Kravis (who quit the Hollinger board as the scandal went public) was on hand to meet her co-hosting obligations.

Oscar de la Renta, arriving with wife Annette, another co-host, looked positively sheepish.

A quick look at the Grill Room revealed a grim little gathering — in high contrast to Bob Rubin's overflowing celebration in the Pool Room next door.

Tina Brown was more communicative. Are you here to support Lord Black, she was asked. "Yes, I am," she answered.

"I'm here because I'm interested in the book," said Ed Koch, who stood outside and posed for photos with David Dinkins.

And Pat Buckley, William F. Buckley's wife, told me: "I'm devoted to Conrad. He's an old friend."

THE BRIEFING

GO AHEAD, MAKE HARVEY'S DAY: Miramax honcho Harvey Weinstein has had some tense moments with Disney chairman Michael Eisner, head of Miramax's parent company. Just how tense? In an interview with National Public Radio scheduled for Tuesday's "Morning Edition," Weinstein gives some clues. "For Miramax, I think we can pretty much do what we want," he says concerning the Hollywood establishment's new ban on sending copies of movies to critics and other influential industry types. The ban is supposed to prevent piracy, but ends up hurting small art films, such as the ones Miramax produces, when it comes to winning Oscars. "I mean, there's always the case of Michael Eisner firing us," Weinstein continues, "but that might be a cause for celebration in all quarters. Ours included."


Comment by clicking here.

11/24/03: Georgette's pilfered baubles; prosecutor of pop?; absent but not missed?; Norman Mailer's prescription for education reform; more
11/20/03: Is a movie career in store for Maria Bartiromo?; People for the Unethical Treatment of Humans?; more
11/19/03: Scientologists on Razor's edge?; picking a winner?; source on a hot tin roof?; more
11/18/03: Clay Aiken neuters PETA?; THEM'S FIGHTIN' WORDS!; a mural for Joe
11/17/03: When networks attack!; leaky Fawcett; forget the Paris Hilton video!; more
11/13/03: Publicity hounds; Prophetic priest; Dumb and Dumber
11/12/03: Not so Rosie; do you believe in miracles?; catalogue of sins; My Heart Belongs to Koppel
11/10/03: Gen. clark on the Subway diet; life of the party; MTV's Dumb and Dumber?; the hug issue; but does the $6,000 shower curtain convey?; red faces at Buckingham palace?
11/06/03: Let them eat pita?; verbal jousting; pretenders to the throne?
11/05/03: Will Harvey Weinstein and Gregg Easterbrook now be pals?; crazed Quentin; more
11/04/03: Herding off the hipsters; more
11/03/03: Dean's tell-all on himself?; Lisaraye vs. Mya?; the odd couple; no need to panic; just don't call him "Scooter"!; Rosie scenarios
10/30/03: Autumn of the editor?; Cynthia Nixon's split may be costly; 'Burning' questions
10/29/03: Ah-nold, unauthorized!; a dilemma for Melissa Gilbert? not even Frank Gifford can help him now!; nobody wanted Elizabeth Hurley
10/28/03: It's Cher calling!; Brown Alert
10/27/03: Paparazzi uncensored!; where's Aaron Brown?; postcards from the middle; invasion of the party snatchers?; House flooded when not afire?; suspenders of disbelief?
10/23/03: Ace up Howard Dean's sleeve; Woody's ordeal; Paul Simon's kid makes good; the non-beginning of a beautiful friendship?
10/22/03: Showing the flag; Joe Frazier, smokin'!; see Carville bruised-up — sort of
10/21/03: Morris & Jaci's charm offensive; Hell hath no fury; Wintertime for Hitler
10/20/03: Isn't it rich?; men (and the occasional woman) behaving badly; peacenik John Lennon supporting the U.S. military?; courageous Connie
10/16/03: George Clooney and intolerable Drudgery; Cameron goes native; and you thought the war in Iraq was nasty?; now it can be revealed; star wars?
10/15/03: Kerik into the breach?; holiday pander?; "the Dink" corrects the record; more
10/14/03: Madge gets mad, lips are sealed; the candidates who listen; he who hesitates is Beatty
10/13/03: Clothes, but no cigar; New Yorkers put a Sox in it; mad at Matalin?; more
10/09/03: Gray Davis goes to the movies; Ali Wentworth, working blue; Law & Order?; pot of gold at the end of the rainbow room?
10/08/03: Art-time for Hitler; the actress who hates movies; lying "Liam"
10/07/03: Pond scum of the rich and famous
07/24/03: Ali and George, living it up; Mel Gibson's Washington power play
07/21/03: White House smear?
07/17/03: Yet another intern scandal; it's her party and she can pay if she wants to
07/14/03: On the auction block: JFK'S boxer shorts; love bytes the maestro
07/10/03: A hairy situation at Homeland Security; Van Susteren v. Orth
06/30/03: Rep. Patrick Kennedy: I've never worked a (bleeping) day in my life; Drudge's dressing down; Ken Lay's Kerry connection
06/26/03: Rapping the beat
06/23/03: Another Watergate scandal?; AL GORE TV!
06/19/03: Tony Snow, rocker?; that won't be crow on Mr. Carlson's plate
06/16/03: Missing dog, ransom demand, Hollywood ending
06/12/03: Giving both parties the needle
06/09/03: WHAT DID SHE KNOW, AND WHEN DID SHE KNOW IT?
06/05/03: Incoming from Barbara Bush?
06/02/03: Bob Dole's plan for fighting unemployment
05/29/03: Newt's new novel
05/27/03: Hitchens & Blumenthal, together again; He still believes in a man called Hope
05/09/03: Close, but no cigar; Romeo & Juliet with a happy ending?; Geraldo to help Heebs?
05/05/03: So Bill Gates and Tom Brokaw walk into a coffee bar . . .; hotel hell; more

© 2003, Creators Syndicate