Jewish World Review Oct. 20, 2003 / 24 Tishrei, 5764

Lloyd Grove
Isn't it rich?; men (and the occasional woman) behaving badly; peacenik John Lennon supporting the U.S. military?; courageous Connie
http://www.jewishworldreview.com | NEW YORK — The president of Southampton's venerable Bathing Corporation is defending the posh private beach club from a bit of unpleasantness in "Born Rich," the much-buzzed-about HBO documentary.
The film, which airs Oct. 27, contains a scene in which twenty-something Christina Floyd — the daughter of golf legend (and recent Bathing Corp. member) Raymond Floyd — is shown behind the wheel of her Mercedes Benz roadster while she implies that the club excludes Jews and African Americans.
"I think what you've got here is a young idiotic 24-year-old who's trying to self-aggrandize herself into posterity," said Montague Hackett Jr., who has been a member of the Bathing Corp. for much of the club's seven decades. "There is nothing worse than a self-aggrandizing banana-head."
Floyd says in the documentary: "I brought three or four Jewish friends to the Bathing Corporation today for lunch. And it's fine, I mean, actually I don't know, that's the first time I've ever broughten (sic) anyone, so who knows? I may get kicked out tomorrow. . . . I think the people at the club would probably not be that excited if someone came in with a black person, especially someone, not that I have any problem with it, please! But especially being that my parents, for example, are relatively new to the club, or to all of this in general, so like we're already on sort of like 'watch' you know, like everyone is already sort of like speculating on what we might do wrong, I feel like."
Hackett told me the 680-member club — which Bathing Corp. member Tom Wolfe fictionalized in his best-selling novel "Bonfire of the Vanities" — has had Jewish members for years. "We've never had an application from a black person," Hackett said, adding that his son has frequently brought an African American school chum to the club. "If we received such an application, we would be more than happy to entertain it."
As for Floyd, "I know her parents," Hackett said. "Her father joined three years ago, and I do think her parents should speak to her about this. I understand that they already have."
In the film, Christina Floyd also does a drive-by shooting of Southampton's Meadow Club. "This is extremely, extremely, like WASPiest of WASPs, but it's beautiful, as you can see," she says, as the camera pans to the tennis courts. "All the courts are grass. You have to wear white to even be here." As she passes a black man playing tennis, she explains: "He's probably a pro."
Meadow Club President William G. Mc Knight III didn't respond to a message left on his cellphone.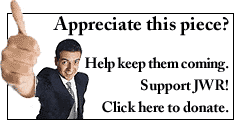 IMAGINE THAT!
Peacenik John Lennon supporting the U.S. military? Sounds incredible, but recently his namesake organization, the John Lennon Foundation, has been doing exactly that.
The late rock icon, who famously staged a "Bed-In for Peace" with wife Yoko Ono in 1969 to protest American involvement in Vietnam, would have been gobsmacked to learn that the John Lennon Educational Tour Bus has just been greeted by cheering crowds of military families at bases from New Jersey to Texas.
The bus is really a high-tech mobile recording studio. "The mission of the bus is to provide young people with hands-on opportunities with music so they can express themselves and get some ideas for how they might spend their lives," tour organizer Brian Rothschild explained. "Yoko's a big fan of the bus. She's honestly happy to have it out there spreading the message."
MEN (AND THE OCCASIONAL WOMAN) BEHAVING BADLY
It has been two years since social columnist Joan Jakobson, wife of financier John Jakobson, launched her jihad against ill-mannered men at dinner parties.
"Men who seem to be part of a new breed," Jakobson wrote in the New York Social Diary, "the rude silent type who display a total lack of interest in anything I have to say, unless it's a question directed at them. . . . I could have a heart attack and slide off my chair and under the table and they'd never notice I was gone."
Today Jakobson and a growing army of accomplished women — including "Preppy Handbook" author Lisa Birnbach, former Rolling Stone editor Loraine Alterman Boyle (wife of "Everybody Loves Raymond" star Peter Boyle) and Public Advocate Betsy Gotbaum (wife of labor official Victor Gotbaum) — are on the warpath against the loutish dinner-party behavior of some of New York's Alpha males.
So I asked what the problem is:
Jakobson: "I was at a dinner party once in East Hampton and on my right was (famous financial wizard, name deleted) and on my left was (famous foreign policy wizard, name deleted). The two of them have a conversation by leaning over me and talking past me. (Financial wizard) says, '(Name deleted), did you ever think of running for office?' And (foreign policy wizard) goes, 'No, (name deleted), I haven't.' Then (foreign policy wizard), who's really insufferable, starts talking to the man on his left. A lot of people in New York behave like that."
Boyle: "These men are naughty boys. I was seated at a dinner party next to somebody I have been seated next to on numerous occasions and had no problem talking to in the past. But this time, on the other side of him was a young woman with large boobs. That was the end of me ! He never said one word to me, except 'goodbye' at the end of the evening. In some cases, these guys are just self-absorbed and narcissistic. You just have to give in and work to find out about what they think. There are also women who don't want to talk to you, because they're talking to other people who are more important. I sometimes run into a situation where, because I'm married to a well-known actor, people don't know who I am unless I'm with Peter."
Gotbaum: "I know one woman who always tries to interrupt when she's sitting between two men who are talking to each other and won't talk to her. I wish I could do that. I once had to sit in the middle of two men having a long discussion about New York politics, something I know much more than them about, and they had not the slightest bit of interest in what I would have to say. It's really very irritating and just plain rude. Victor is getting better. When I first married him, he was terrible. He'd only talk to the men. But I trained him. When we came home from a dinner party, I would grill him about the woman who sat next to him, to see what he found out about her."
Birnbach: "The only thing that's worse than being ignored by a man is when a woman on the other side of the table ignores you. That happens to me all the time. There is a real epidemic of women being rough to other women. The men seem to want an audience and do a monologue, not a dialogue. We should do what we can to change this behavior. I think you shouldn't invite people to your dinner party who you can't trust to behave."
One dinner-party dissenter is art consultant Barbara Guggenheim (wife of entertainment lawyer Bert Fields): "In conversations, you have to hit the right note — you have to talk about what's interesting to them . But if you look at an etiquette book, the traditional role of women at dinner parties is to draw out their partners. I don't see it as a negative, necessarily. I already know about me. I'm happy to learn about somebody else."
And art consultant Jane Wyeth (ex-wife of art dealer Nicholas Wyeth) says: "When I've been seated next to the kind of men to whom you're referring, I haven't had a problem. Because I can talk to a tree."
COURAGEOUS CONNIE
Former CNN star Connie Chung and current CNN President Jim Walton haven't been in the same room since Walton marched into her office and fired her last March.
So folks were buzzing when Chung showed up for last Thursday's Courage in Journalism Awards lunch and took a seat two tables away from Walton at the Waldorf-Astoria.
"I can't believe she's here," a CNN type gasped when the terminated $2 million-a-year anchor of CNN's "Connie Chung Tonight" — whose ratings were nearly double what CNN's Paula Zahn draws in the 8 p.m. time slot — walked tentatively into the ballroom and sat down with her sister-in-law, Lynn Povich, co-chair of the annual event with CNN anchor Judy Woodruff.
Chung told me she schmoozed with Woodruff but not with Walton. "You just have to move on with your life," she said, adding that she has been "enjoying my 8-year-old son Matthew and my husband," Maury Povich, but has no career plans right now: "I don't know if I want to get arrested again."
As for that much-discussed ad that FOX News Chairman Roger Ailes recently ordered on the billboard opposite CNN's Atlanta headquarters — "COME HOME, CONNIE. CNN NEEDS YOU." — Chung laughed, "Roger has a wicked sense of humor. He's the best boss I never had."
THE BRIEFING
LARA CROFT, ZOO RAIDER?: Not really. At the Central Park Zoo on Friday, Angelina Jolie looked decidedly mellow, her hair pulled back and her jeans casual, as she went largely unrecognized pushing a stroller containing her 2-year-old adopted son, Maddox. "They went around the zoo and looked at the animals, and they sat in front of the sea lions," said PR type Deepa Shah, who showed them around the Dawn dishwashing liquid promotional event.
MODEL CITIZEN: It was the birthday party for a Victoria's Secret model named Bobette, so of course Benicio del Toro showed up at Hue Tuesday night, making the most of the 7-to-1 model-man ratio (unlike married guy Steven Soderbergh) and smoking a cigar until the party planner ordered him to snuff it. "This is one of the best parties I've been to in a while," del Toro announced. He stayed till 3 a.m., then gathered up half a dozen of the leggy Brazilian beauties, packed them into his Suburban and headed off to Bungalow 8.
BUT WHERE WAS HEF?: In the 90th-floor, 5,000-square-foot Esquire Apartment in the Trump World Plaza — decorated to resemble the ultimate bachelor pad — Katie Couric hosted a cocktail party Thursday for the National Colorectal Cancer Research Alliance. "If the Esquire boys can't score in this place," Couric joked to the crowd, including Esquire editor David Granger, "you're pathetic."
CLEAR AND PRESENT BABY: I'm told that potboiler novelist Tom Clancy and his second wife, Alexandra Llewellyn, 36, are expecting their first child after four years of marriage. The prolific Clancy has four children from his long first marriage to Wanda Thomas.
DANGEROUS WOMAN?: Wordsmith Tina Brown said it best at her book party for Westchester County District Attorney Jeanine Pirro, author of "To Punish and Protect: A DA's Fight Against a System That Coddles Criminals." Brown told the crowd: "She kicks a — , this lady, and she does it in Manolo Blahnik shoes!"


Comment by clicking here.

10/16/03: George Clooney and intolerable Drudgery; Cameron goes native; and you thought the war in Iraq was nasty?; now it can be revealed; star wars?
10/15/03: Kerik into the breach?; holiday pander?; "the Dink" corrects the record; more
10/14/03: Madge gets mad, lips are sealed; the candidates who listen; he who hesitates is Beatty
10/13/03: Clothes, but no cigar; New Yorkers put a Sox in it; mad at Matalin?; more
10/09/03: Gray Davis goes to the movies; Ali Wentworth, working blue; Law & Order?; pot of gold at the end of the rainbow room?
10/08/03: Art-time for Hitler; the actress who hates movies; lying "Liam"
10/07/03: Pond scum of the rich and famous
07/24/03: Ali and George, living it up; Mel Gibson's Washington power play
07/21/03: White House smear?
07/17/03: Yet another intern scandal; it's her party and she can pay if she wants to
07/14/03: On the auction block: JFK'S boxer shorts; love bytes the maestro
07/10/03: A hairy situation at Homeland Security; Van Susteren v. Orth
06/30/03: Rep. Patrick Kennedy: I've never worked a (bleeping) day in my life; Drudge's dressing down; Ken Lay's Kerry connection
06/26/03: Rapping the beat
06/23/03: Another Watergate scandal?; AL GORE TV!
06/19/03: Tony Snow, rocker?; that won't be crow on Mr. Carlson's plate
06/16/03: Missing dog, ransom demand, Hollywood ending
06/12/03: Giving both parties the needle
06/09/03: WHAT DID SHE KNOW, AND WHEN DID SHE KNOW IT?
06/05/03: Incoming from Barbara Bush?
06/02/03: Bob Dole's plan for fighting unemployment
05/29/03: Newt's new novel
05/27/03: Hitchens & Blumenthal, together again; He still believes in a man called Hope
05/09/03: Close, but no cigar; Romeo & Juliet with a happy ending?; Geraldo to help Heebs?
05/05/03: So Bill Gates and Tom Brokaw walk into a coffee bar . . .; hotel hell; more

© 2003, Creators Syndicate