Jewish World Review Oct. 13, 2003 / 17 Tishrei, 5764

Lloyd Grove
Clothes, but no cigar; New Yorkers put a Sox in it; mad at Matalin?; more
http://www.jewishworldreview.com | NEW YORK — For a gossip columnist, Monica Lewinsky really is the gift that keeps on giving.
Lewinsky's gifts of second-hand clothes and other items to Kate Nason, the ex-wife of a high school drama teacher with whom Lewinsky had an affair, are going on the market. Dealer John Reznikoff bought the whole lot from Nason — including autographed photos of Bill Clinton and a sheer black negligee that Lewinsky apparently used during trysts with Kate's husband Andy Bleiler. Now Reznikoff hopes to unload the cache for $75,000.
"History is interesting," Reznikoff told me. "But sex sells. This stuff represents the greatest presidential scandal in the history of the country — in my mind, bigger than Watergate."
Back before that impeachment business, Lewinsky was living in Portland, attending Lewis and Clark College and having sex with the married Bleiler, who had taught at Lewinsky's alma mater, Beverly Hills High School.
Before she left Portland for a White House internship in 1997 (in search of those notorious "presidential kneepads"), Lewinsky somehow managed to befriend Kate Bleiler, who divorced Andy in the aftermath of the scandal.
"I ask you please to respect my family's privacy," Nason said, adding: "I really don't have anything to say."
An e-mail to Lewinsky, meanwhile, got a response from Barbara Hutson, who identified herself as Lewinsky's "pr rep." Hutson didn't return my phone call.
SOME NEW YORKERS PUT A SOX IN IT
Call it courage. Call it madness. Or just call it a perverse need to be contrary. But certain Manhattanites are rooting for the Boston Red Sox in the earth-shaking playoffs against the Yankees.
A representative sampling:
Literary Agent Esther Newberg: "It's tough to be me. The night we won, I was walking into Yankee stadium with my Red Sox cap on, and this twenty-something young man spat on me! Also, a woman screamed at me as I was going up the escalator. She said, 'Go back to Boston!' I told her, 'The last time I thought about it this was called America, but you probably can't even spell the word.' I want to see the Yankees humiliated. Humiliated. That's the word I would choose."
Bloomingdale's Chairman Michael Gould: "I was born and raised in Brookline, Mass. If you are born in Brookline, you are a Sox fan. But I'm a New Yorker. I live here, my kids go to school here, and I run one of the great institutions of New York. But unlike the mayor, I don't have to be so political!"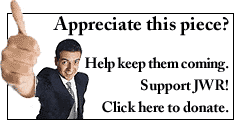 Public Relations doyenne Lois Smith: "I tell you it's a matter of survival, because my husband is from Boston. And the entire family, whether they like it or not, have to be for Boston teams — right down the line. . . . I know I'm going to hear from Billy Crystal about this!"
GQ Publisher Peter Hunsinger: "I'm a Red Sox fan because I'm a baseball fan. I got married the day the ball went through Bill Buckner's legs, and everything's been great since."
NBC 4 movie reviewer Jeffrey Lyons: "Red Sox are a mania. I'm not a puritan, but they are the one vice I have. My wife tolerates it. For our 15th wedding anniversary, she gave me a Carl Yastrzemski game-worn 'Yaz' uniform. He's my favorite player. I'm going to be buried in it. I also have a Red Sox yarmulke. "
COIN OF THE REALM
Pop lyricist Denise Rich is still famous for those lurid headlines over her alleged role in securing Bill Clinton's presidential pardon for her fugitive billionaire former husband.
But now, Marc Rich's ex is using her celeb status for something less fraught — raising money for cancer research through The Angel Ball, being held Oct. 27 at the New York Marriott Marquis in memory of her daughter Gabrielle, a 27-year-old Oxford grad who died of leukemia in 1996.
"I'm glad that I'm two years out that craziness," Rich told me, though she acknowledged that her notoriety now attracts attention for causes such as the ball, at which Marc Anthony, Patti LaBelle, Jessica Simpson and Shirley Bassey are scheduled to perform. "I would say that, like with everything, there are two sides to the coin — one side is positive and the other side is negative."
Speaking of coins, the British Royal Mint, of all things, has just struck a commemorative medal etched with Gabrielle's likeness. The mint's marketing director, Dafydd Jenkins, said from Wales that the mint has underwritten the $750,000 cost of producing 3,000 silver coins and 500 gold coins, with the idea of earning enough profit to turn over $300,000 to Rich's cancer research charity, the G & P Foundation.
THE NUN FROM HELL
I've known Hollywood screenwriter Elizabeth Anderson for 15 years and her husband, television producer Bob Stevens, for twice that long.
What I didn't know until last week — when I read Anderson's astonishing manuscript, "Storming The Gates of Heaven" — was that at age 7, she was sexually tortured and mutilated by a group of nuns at an exclusive Catholic girls' school in the Midwest, and that she and Stevens, the executive producer of "Malcolm in the Middle," have spent the past decade in a quest for justice and peace of mind.
Anderson's book is a harrowing, enraging and moving account of child abuse, cover-up, bureaucratic indifference and personal triumph. The narrative — factual, although "the names have been changed to protect the guilty" — details Anderson's 1993 miscarriage that apparently triggered repressed memories of her long-ago abuse (while she was polishing a remake of "Lassie" for director Daniel Petrie, ironically also the director of "Sybil").
Anderson reveals that she and Stevens ultimately hired a private detective to find her last surviving and most sadistic tormenter, "Sister Thomasina," who — shockingly — was living on the grounds of a Catholic school on the West Coast, where she could have an opportunity to indulge her pedophilia.
Anderson recounts her dramatic confrontation with Sister Thomasina and the surprising response of Church authorities when she tried to alert them to the danger. In July 2000, she wrote to the Most Rev. Alex J. Brunett, Archbishop of Seattle, and initially he responded that he had launched an investigation. "Again, thank you for writing to me about this painful matter," the archbishop added. "Please be assured that I will remember you in my prayers."
But ultimately Archbishop Brunett advised her to take her problems to Sister Thomasina's order, because there was nothing he could do. The order's top nun said her own investigation (for which Anderson was not even contacted) had concluded that there was nothing to worry about. When Anderson continued to write to Brunett, the general counsel of the Seattle Archdiocese sent her a letter advising: "Please stop contacting Archbishop Brunett."
Anderson's account includes her therapy sessions with Pasadena psychiatrist Laila Karme, and Father John Coleman, a Carmelite priest and social worker — who both vetted the book for accuracy.
"I am absolutely certain that the abuse occurred just as Elizabeth described it," Karme told me. Coleman, meanwhile, says he attempted to intercede with Church authorities, but his pleas have come to naught: "These people have been closing their eyes to the truth," he told me. "I have a difficult time understanding what would lead them to keep a dangerous person in a place where she could do more harm."
Seattle Archdiocese spokesman Greg Magnoni rejected that criticism. "Our first concern in an alleged abuse case is the protection of children and justice for everyone involved," he said. "If it involves a member of a religious community, the archdiocese immediately refers the case to the individual's superior — and that was what was done." Magnoni added that contrary to Anderson's assertion, "Sister Thomasina" doesn't live beside a school. "There is a church there," he said. "There is no school there."
Anderson says she wrote the book out of her "desire, as a professional writer, to give a voice, in a sense, to all victims who do not have the opportunity to speak in print for themselves. And there is another reason. This book examines an aspect of the clergy sex abuse crisis as yet untold: nuns. Catholic sisters . . . selfless Madonnas, teachers of children, ministers to the sick, celibate brides of Christ. . . . This book turns that image on its head."
Anderson's manuscript is being shopped to a dozen New York publishers by her Los Angeles agent, Irene Webb, and in recent days editors at Knopf, Bantam, Warner Books, Little Brown and Scribner have warmly praised the account but rejected it as too hot to handle. But "Storming The Gates of Heaven" deserves a wide audience — and I predict it will get one, and whip up a storm of controversy.
ADVENTURES WITH O'BRIEN
Should folks be concerned about Soledad O'Brien's sanity?
At Tuesday's Outward Bound gala honoring CNN founder Ted Turner, the 37-year-old mother of two and CNN "American Morning" host plans to rappel from the balcony of the Hammerstein Ballroom.
"I'm going to be rappelling down a wall," O'Brien told me. "I'm sure it's perfectly safe. I'll be in a harness. I'm in good shape. I've done it before. Two months ago, when I was still at NBC, I went to Wyoming with Outward Bound and rappelled off a 180-foot mountainside, and I'm sure the walls of the Hammerstein Ballroom are much shorter than that."
O'Brien said she'd been looking forward to wearing high heels and a sexy pink David Meister number to the fundraiser for the rigorous adventure group, "but now that rappelling is involved, I think lower heels and an Armani suit will work better."
If you say so, Soledad. THE BRIEFING
MAD AT MARY?: I'm told that some folks at the Republican National Committee are outraged and other folks at the White House are chagrined that "K Street" consultant Mary Matalin called the RNC last Tuesday to ask that George Clooney and Steven Soderbergh, the die-hard Dems who produce and direct the HBO show, be allowed to send a camera crew to Wednesday night's big presidential fundraiser in Washington. "Your source is probably outraged because they weren't asked to be on 'K Street,'" responded Dick Cheney adviser Matalin, noting that her request was granted (though "K Street" ended up not sending the crew). Matalin added: "I do question if the people who are chagrined and outraged are high-level. I wish they would call me instead of you. My phone number's listed. But I am profoundly apologetic, and it will never happen again."
IN THE MEDIA TRENCHES: Is the New York Observer raiding talent at the New York Sun? The lobster-colored weekly has just lured Sun city hall reporter Ben Smith and culture reporter Rachel Donadio from the small daily, to do similar jobs at higher salaries. "Raiding? That would be a terrible thing for anybody to do," Observer editor Peter Kaplan remarked archly. "We just think that they're two brilliant reporters and (Sun editor) Seth Lipsky has done a wonderful job preparing them for the outside world." Lipsky sounded unconcerned. "If they are (raiding us), they have good taste," he e-mailed.
A BLURB TOO FAR?: Washington Post reporter Dana Priest isn't afraid that the ethics cops will write her a ticket because Democratic presidential candidate Wesley Clark has acknowledged her in his new book, "Winning Modern Wars," in which he attacks President Bush's foreign policy. The author lists Priest, an NBC News analyst who recently wrote a book about the U.S. military, among those "who read my drafts and helped me set the tone." Priest says: "The book started and ended before he decided to run for office. My relationship with him was as someone trying to help analyze the world and the military. And I told him, 'If you become a candidate, we can't talk about that anymore.' "
If "Pieces of April" star Katie Holmes was trying to make her boyfriend Chris Klein jealous, it looks like she succeeded. A spy tells me that at the "Pieces of April" premiere party last Wednesday at Lansky Lounge, Holmes was flirting and touching an unidentified fellow sitting beside her, leaving "American Pie" actor Klein to storm off, drink a solitary whiskey and then sulk as he was relegated to a chair across the table from Holmes and the interloper. But shortly before midnight, Holmes and Klein left together.


Comment by clicking here.

10/09/03: Gray Davis goes to the movies; Ali Wentworth, working blue; Law & Order?; pot of gold at the end of the rainbow room?
10/08/03: Art-time for Hitler; the actress who hates movies; lying "Liam"
10/07/03: Pond scum of the rich and famous
07/24/03: Ali and George, living it up; Mel Gibson's Washington power play
07/21/03: White House smear?
07/17/03: Yet another intern scandal; it's her party and she can pay if she wants to
07/14/03: On the auction block: JFK'S boxer shorts; love bytes the maestro
07/10/03: A hairy situation at Homeland Security; Van Susteren v. Orth
06/30/03: Rep. Patrick Kennedy: I've never worked a (bleeping) day in my life; Drudge's dressing down; Ken Lay's Kerry connection
06/26/03: Rapping the beat
06/23/03: Another Watergate scandal?; AL GORE TV!
06/19/03: Tony Snow, rocker?; that won't be crow on Mr. Carlson's plate
06/16/03: Missing dog, ransom demand, Hollywood ending
06/12/03: Giving both parties the needle
06/09/03: WHAT DID SHE KNOW, AND WHEN DID SHE KNOW IT?
06/05/03: Incoming from Barbara Bush?
06/02/03: Bob Dole's plan for fighting unemployment
05/29/03: Newt's new novel
05/27/03: Hitchens & Blumenthal, together again; He still believes in a man called Hope
05/09/03: Close, but no cigar; Romeo & Juliet with a happy ending?; Geraldo to help Heebs?
05/05/03: So Bill Gates and Tom Brokaw walk into a coffee bar . . .; hotel hell; more

© 2003, Creators Syndicate