Jewish World Review Jan. 28, 2004 / 5 Shevat, 5764

Lloyd Grove
Eyebrow-raising politics; call him indescribable; Woods vs. Williams; more
http://www.jewishworldreview.com | NEW YORK — The down and dirty New Hampshire Primary race ended not a moment too soon for front-runner John Kerry.

Since the Massachusetts senator's Iowa victory Jan. 19, operatives for rival Democratic campaigns had been insinuating to political reporters that Kerry was getting Botox injections, paralyzing the muscles that produce worry lines.

On Monday — the same day I received such a call from a hardened spin doctor versed in the black arts of negative campaigning — Kerry spokeswoman Stephanie Cutter told me she's been busy denying the rumor for the past week.

"Have you looked at him?" Cutter demanded, referring to her creased, droopy-eyed candidate. "He looks like a 60-year-old man who has been working too hard running for president, with little time for sleep and no time to worry about what he looks like."

The Botox attack apparently wasn't dismissed from the get-go because Kerry's 65-year-old wife, Teresa Heinz Kerry, openly touts her regular use of the wrinkle-fighting treatments. The Chicago Tribune put the rumor into public circulation with a story last week, and the Boston Herald followed up with a Sunday editorial noting that "Kerry does look a darn bit shinier than usual."

But his comely spokeswoman explained the situation this way: "Our opponents can't attack us on the issues, so now they're attacking us on cosmetics. Pathetic."

FOOD FOR THOUGHT?

New York Mayor Michael Bloomberg has finally, reluctantly apologized to the widow of Dr. Robert Atkins for insulting the diet guru, who died last year, as "fat" — and claiming that Atkins' carbohydrate-light "food was inedible."

But Hizzoner's press secretary, Ed Skyler, is still stewing in his own juices over the incident.

Obviously very cheesed, Skyler told me Wednesday that he has a bone to pick with NY1 News reporter Michael Scotto, who managed to tape Bloomberg's private remarks last week during an off-the-record lunch with firefighters in Brooklyn.

"It was a blatant violation of long-standing ground rules and a cheap-shot that had nothing to do with journalism," Skyler said, insisting that the City Hall regular was totally off the menu when he brought a microphone into the photo-op.

Bloomberg — as quoted in a transcript e-mailed to scores of journalists by the NY1 News publicity department — tucked into a plate of Atkins-prohibited pasta as he mused deliciously:

"Atkins is dead. I don't believe that bull — — that he dropped dead slipping on a sidewalk. Yeah, right. I actually went to his house out in South Hampton for a Pataki fundraiser two years ago. The guy was fat — big guy — but heavy. And the food was inedible. I took one appetizer and I had to spit it into my napkin. It was just terrible."

Veronica Atkins promptly went on national television to demand that Bloomberg eat his words.

But Skyler has a bitter taste in his mouth.

Will Scotto (who didn't return my phone call Wednesday, though his bosses at NY1 stoutly defend his scoop) only get crumbs at City Hall from now on?

"We've never had a problem with news organizations following the reasonable traditional ground rules that are laid out," Skyler parried. "And those that have an objection don't have to cover the events."

Sounds like slim pickings.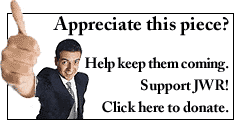 THE BRIEFING

CALL HIM INDESCRIBABLE: Demi Moore's young swain Ashton Kutcher — whose movie "The Butterfly Effect" is attracting decent box office numbers along with bad reviews — apparently has an unusual relationship with the three daughters Moore shares with ex-hubby Bruce Willis. "I don't see them as brothers or sisters," the 25-year-old Kutcher tells Steppin' Out magazine about Rumer, Tallulah Belle and Scout. "I just try to help them in their lives. I try to help them with the problems that they have, and they bring me a lot of joy. But to define what I am to them would be very difficult and unnecessary. I don't think they need to have a label for me to appreciate what I do for them, and I don't need a label for them to appreciate what they do for me." As for his much-hyped romance with the 41-year-old Moore, "my current significant other," Kutcher says this: "I wish people would focus more on their own lives. . . . Are people really saying that it's a 20 to 1 chance I'll get married this year? Hell, if those are the odds, I'll place a bet right now and fix the game!"

WHAT WOULD JESUS GROSS?: Mel Gibson has been accused of a lot of things since he made "The Passion," his controversial movie chronicling the crucifixion of Christ. But nobody accuses him of ignoring the Hollywood profit motive. National Public Radio is set to report that Gibson is planning a whole line of products timed to the film's release next month, including "Passion" T-shirts and other merchandise. Gibson flack Alan Nierob tells NPR that every studio licenses film-related tchotchkes, and his client would foolish to do otherwise.

WOODS VS. WILLIAMS: It's not often that we pick up a hot item from Golf Digest. The latest issue features this dishy quote from Earl Woods, Tiger's dad: "When Venus Williams won Wimbledon, there was her father, standing up with a sign that read, 'It's Venus' party, and no one's invited.' I couldn't imagine doing something like that. It would embarrass Tiger, and it would embarrass me. It infuriates me when people compare me to Richard Williams, because I don't respect him." Over to you, Mr. Williams!


Comment by clicking here.

01/23/04:Eyebrow-raising mystery; who's punk'd anyway?; don't curb your enthusiasm; more
01/21/04: Ridiculous lives of the self-important stars; long arm of the law; all's fair in love and literature
01/16/04: Global warming at a glacial pace; targeting pop culture; Is 'the price of loyalty' too high?
01/14/04: Busting on the "cult buster"; Sarsgaard thinks globally; one angry woman; more
01/08/04: Sitcom star won't be excused from Blake murder trial; fierstein on fire; Drudge & Blumenthal, together again
01/07/04: Bono hits a brick wall; Britney, before the nuttiness; the Arianna primary; more
01/02/04: Where have you gone, Joe DiMaggio!?; "Bachelor" bruises; Returning to the scene of the crime?
12/31/03: Disaster for the defense; no-war Omar; the shoe must go on; more
12/19/03: Bob Shapiro's free commercial?; Are sophisticated and hip New Yawkers easily duped?; Positive Saddam fallout?; Ratty insult?
12/17/03: Magic Mystery Tour?; Russell Simmons battles ink by the barrel; Would it have killed her to say 'get well soon'?; no Gest room
12/12/03: Karenna defends her dad; now she tells us!; say it ain't so, Mo!; more
12/10/03: Man & wife, interruptus; pepperoni has feelings, too; more
12/05/03: The knives are out; Who's sorry now?; JWR in the news
12/04/03: The war of the gest-minnellis; something borrowed, something cashmere; fashion trendsetter, nailed!
12/03/03: Colombian grace under pressure; Lord of the Screwups; more
12/02/03: Curb your anti-Semitism?; fame fatigue?; bowing to pressure?; more
12/01/03: Dennis the Menace strikes again; first literary feud of the holiday season; Norma Jean & Hef in heaven?; the fog of McNamara; more
11/26/03: Catherine Crier raps Jacko's TV defender, refuses on-air hint of racism; At 50, Tina's in full cry; STAY OUT OF HER WAY!; more
11/25/03: The mogul strikes back?; go ahead, make Harvey's day; more
11/24/03: Georgette's pilfered baubles; prosecutor of pop?; absent but not missed?; Norman Mailer's prescription for education reform; more
11/20/03: Is a movie career in store for Maria Bartiromo?; People for the Unethical Treatment of Humans?; more
11/19/03: Scientologists on Razor's edge?; picking a winner?; source on a hot tin roof?; more
11/18/03: Clay Aiken neuters PETA?; THEM'S FIGHTIN' WORDS!; a mural for Joe
11/17/03: When networks attack!; leaky Fawcett; forget the Paris Hilton video!; more
11/13/03: Publicity hounds; Prophetic priest; Dumb and Dumber
11/12/03: Not so Rosie; do you believe in miracles?; catalogue of sins; My Heart Belongs to Koppel
11/10/03: Gen. clark on the Subway diet; life of the party; MTV's Dumb and Dumber?; the hug issue; but does the $6,000 shower curtain convey?; red faces at Buckingham palace?
11/06/03: Let them eat pita?; verbal jousting; pretenders to the throne?
11/05/03: Will Harvey Weinstein and Gregg Easterbrook now be pals?; crazed Quentin; more
11/04/03: Herding off the hipsters; more
11/03/03: Dean's tell-all on himself?; Lisaraye vs. Mya?; the odd couple; no need to panic; just don't call him "Scooter"!; Rosie scenarios
10/30/03: Autumn of the editor?; Cynthia Nixon's split may be costly; 'Burning' questions
10/29/03: Ah-nold, unauthorized!; a dilemma for Melissa Gilbert? not even Frank Gifford can help him now!; nobody wanted Elizabeth Hurley
10/28/03: It's Cher calling!; Brown Alert
10/27/03: Paparazzi uncensored!; where's Aaron Brown?; postcards from the middle; invasion of the party snatchers?; House flooded when not afire?; suspenders of disbelief?
10/23/03: Ace up Howard Dean's sleeve; Woody's ordeal; Paul Simon's kid makes good; the non-beginning of a beautiful friendship?
10/22/03: Showing the flag; Joe Frazier, smokin'!; see Carville bruised-up — sort of
10/21/03: Morris & Jaci's charm offensive; Hell hath no fury; Wintertime for Hitler
10/20/03: Isn't it rich?; men (and the occasional woman) behaving badly; peacenik John Lennon supporting the U.S. military?; courageous Connie
10/16/03: George Clooney and intolerable Drudgery; Cameron goes native; and you thought the war in Iraq was nasty?; now it can be revealed; star wars?
10/15/03: Kerik into the breach?; holiday pander?; "the Dink" corrects the record; more
10/14/03: Madge gets mad, lips are sealed; the candidates who listen; he who hesitates is Beatty
10/13/03: Clothes, but no cigar; New Yorkers put a Sox in it; mad at Matalin?; more
10/09/03: Gray Davis goes to the movies; Ali Wentworth, working blue; Law & Order?; pot of gold at the end of the rainbow room?
10/08/03: Art-time for Hitler; the actress who hates movies; lying "Liam"
10/07/03: Pond scum of the rich and famous
07/24/03: Ali and George, living it up; Mel Gibson's Washington power play
07/21/03: White House smear?
07/17/03: Yet another intern scandal; it's her party and she can pay if she wants to
07/14/03: On the auction block: JFK'S boxer shorts; love bytes the maestro
07/10/03: A hairy situation at Homeland Security; Van Susteren v. Orth
06/30/03: Rep. Patrick Kennedy: I've never worked a (bleeping) day in my life; Drudge's dressing down; Ken Lay's Kerry connection
06/26/03: Rapping the beat
06/23/03: Another Watergate scandal?; AL GORE TV!
06/19/03: Tony Snow, rocker?; that won't be crow on Mr. Carlson's plate
06/16/03: Missing dog, ransom demand, Hollywood ending
06/12/03: Giving both parties the needle
06/09/03: WHAT DID SHE KNOW, AND WHEN DID SHE KNOW IT?
06/05/03: Incoming from Barbara Bush?
06/02/03: Bob Dole's plan for fighting unemployment
05/29/03: Newt's new novel
05/27/03: Hitchens & Blumenthal, together again; He still believes in a man called Hope
05/09/03: Close, but no cigar; Romeo & Juliet with a happy ending?; Geraldo to help Heebs?
05/05/03: So Bill Gates and Tom Brokaw walk into a coffee bar . . .; hotel hell; more

© 2003, Creators Syndicate