Jewish World Review Oct. 22, 2003 / 26 Tishrei, 5764

Lloyd Grove
Showing the flag; Joe Frazier, smokin'!; see Carville bruised-up — sort of
http://www.jewishworldreview.com | NEW YORK — Society stockbroker Peter Bacanovic has been lying very low since he and his onetime client, Martha Stewart, became embroiled in the ImClone insider-trading flap.
Other than court appearances concerning his federal indictment on conspiracy and obstruction of justice charges (to which he has pleaded innocent), this once-ubiquitous party animal just doesn't go out.
So folks at Monday's big Project ALS gala — which raised $1 million for medical research into Amyotrophic Lateral Sclerosis, aka Lou Gehrig's disease — were surprised to see the 41-year-old Bacanovic on the arm of dinner organizer Nancy Jarecki in the celeb-glutted Hammerstein Ballroom. Bacanovic, in the past a generous contributor to the annual dinner, declined to speak to me directly on Tuesday. But he let it be known that this was his first public outing in 18 months.
I'm told that Bacanovic, who had to give up his job at Merrill Lynch, has been unemployed and living on his savings, not to mention paying his high-priced lawyers, since the scandal exploded.
Some dinner-goers interpreted his appearance at the event — where the celebs included Katie Couric, Julianna Margulies, Rob Morrow and Kyle MacLachlan — as a signal that he won't be intimidated. His trial commences Jan. 12.
Jarecki — wife of former Moviefone mogul Andrew Jarecki, director of the acclaimed documentary "Capturing the Friedmans" — slipped Bacanovic past the paparazzi in front of the Hammerstein by whisking him through a secret entrance in the adjacent New Yorker Hotel.
"Despite what the rest of the world, the press included, thinks of Peter, he has always been a very caring and thoughtful person with no underlying pretension," Jarecki told me in an e-mail. "I was happy to make his night comfortable for him, avoiding the press, because I would rather have him around in a public setting with me than not have him."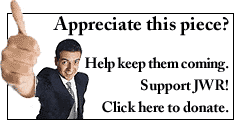 JOE FRAZIER, SMOKIN'!
Now that movie stars with funny accents can become major-state governors, I see no reason why former heavyweight champs can't be political pundits.
Thus Smokin' Joe Frazier confided Tuesday that he's worried Arnold Schwarzenegger might not be up to the job.
"I love his movies, but now he's stepping in another field," the 59-year-old Frazier said from his Philadelphia gym. "I would hope that he had someone who's been there and can sit beside him. . . . Everybody in politics seems like they want to be in show business."
The champ was on the phone to tout Guernsey's Auction House's offering of boxing mementos — including his two championship belts and the signed contract from the famed "Thrilla in Manila" — to benefit the Frazier Golden Gloves program for disadvantaged youth. The auction will be held Oct. 25-26 at the Borgata Hotel Casino & Spa in Atlantic City.
Frazier also went on record supporting President Bush and the war in Iraq. "They did a fine job, as far as I'm concerned," he said. "A lot of people don't like it, but we can't let this keep happening to us — we have to raise our kids, we can't have our buildings, our bridges, our homes, collapsing on us. I don't think the Lord would agree with that at all. The president of the U.S., he had to get the job done."
As for his longtime nemesis, Muhammad Ali, who beat him in two out of their three championship bouts while taunting him mercilessly, they're friends now.
"That stuff been dead," Frazier said. "We got sons, (and our) daughters fought each other. I talked to the Butterfly a couple weeks back. I call him Butterfly, you know! He's doing great."
Frazier added: "I saw that movie 'Ali.' I didn't think much of it. They didn't get things right. The producer — if he wanted things to be right — he could have asked me. The car was wrong. It was a gold Cadillac Coupe DeVille, but it was the wrong Cadillac. The wardrobe, too — I had the best wardrobe in the world. I didn't go anywhere unless I matched right. And the guy who played me (James Toney) looked like he had Down syndrome."
THE BRIEFING
SPOILING FOR A BRAWL?: Republicans might take a large measure of delight in the photo of a bruised, bandaged and beat-up James Carville on the cover of his upcoming screed, "Had Enough? A Handbook for Fighting Back." They should know, however, that the rabid Democrat's injuries are fake — applied by Simon & Schuster's makeup artists.
GIVING CREDIT WHERE DUE: Tuesday's item about dynamic duo Morris and Jaci Reid — who have been presiding over New York dinner parties paid for by Morris Reid's corporate client Martell Cognac — prompted an aggrieved e-mail from Wall Street investment banker Merv Matheson. Matheson, of Utendahl Capital Partners, L.P., told me that he and his wife, Valentino retailing honcho June Haynes — not Morris and Jaci — hosted their pals Howard Stern, Beth Ostrosky and Lachlan Murdoch, among others, for a Martell-sponsored party at their East Hampton mansion. What's more, Matheson said, the Reids don't even know these worthies and in any case didn't show up till after dinner. Morris's PR rep, Jonathan Cutler — who provided me with the guest list of "Morris and Jaci's summer dinner party series" — insisted Tuesday that they were the hosts. "How can you be the hosts when you arrive an hour before it's over?" Matheson countered. Morris, meanwhile, told me: "Merv and June are friends. We reached out to them to hold one of the dinner parties at their house because we wanted to spread the love."


Comment by clicking here.

10/21/03: Morris & Jaci's charm offensive; Hell hath no fury; Wintertime for Hitler
10/20/03: Isn't it rich?; men (and the occasional woman) behaving badly; peacenik John Lennon supporting the U.S. military?; courageous Connie
10/16/03: George Clooney and intolerable Drudgery; Cameron goes native; and you thought the war in Iraq was nasty?; now it can be revealed; star wars?
10/15/03: Kerik into the breach?; holiday pander?; "the Dink" corrects the record; more
10/14/03: Madge gets mad, lips are sealed; the candidates who listen; he who hesitates is Beatty
10/13/03: Clothes, but no cigar; New Yorkers put a Sox in it; mad at Matalin?; more
10/09/03: Gray Davis goes to the movies; Ali Wentworth, working blue; Law & Order?; pot of gold at the end of the rainbow room?
10/08/03: Art-time for Hitler; the actress who hates movies; lying "Liam"
10/07/03: Pond scum of the rich and famous
07/24/03: Ali and George, living it up; Mel Gibson's Washington power play
07/21/03: White House smear?
07/17/03: Yet another intern scandal; it's her party and she can pay if she wants to
07/14/03: On the auction block: JFK'S boxer shorts; love bytes the maestro
07/10/03: A hairy situation at Homeland Security; Van Susteren v. Orth
06/30/03: Rep. Patrick Kennedy: I've never worked a (bleeping) day in my life; Drudge's dressing down; Ken Lay's Kerry connection
06/26/03: Rapping the beat
06/23/03: Another Watergate scandal?; AL GORE TV!
06/19/03: Tony Snow, rocker?; that won't be crow on Mr. Carlson's plate
06/16/03: Missing dog, ransom demand, Hollywood ending
06/12/03: Giving both parties the needle
06/09/03: WHAT DID SHE KNOW, AND WHEN DID SHE KNOW IT?
06/05/03: Incoming from Barbara Bush?
06/02/03: Bob Dole's plan for fighting unemployment
05/29/03: Newt's new novel
05/27/03: Hitchens & Blumenthal, together again; He still believes in a man called Hope
05/09/03: Close, but no cigar; Romeo & Juliet with a happy ending?; Geraldo to help Heebs?
05/05/03: So Bill Gates and Tom Brokaw walk into a coffee bar . . .; hotel hell; more

© 2003, Creators Syndicate