Jewish World Review March 3, 2004 / 10 Adar, 5764

Lloyd Grove
Oscars memorialize Hitler's fave filmmaker; baubles, bangles and Kelly Osbourne; moonwalking through cyberspace; more
http://www.jewishworldreview.com | There she was on the Oscar night honor roll of recently departed movie folk — Adolf Hitler's favorite filmmaker being officially mourned by the Academy of Motion Picture Arts and Sciences.

> When the late Leni Riefenstahl's name scrolled down the giant "In Memoriam" screen at the Kodak Theatre in Hollywood, there was muffled applause and scattered boos.

A few miles away at Morton's in Beverly Hills, some of Vanity Fair editor Graydon Carter's dinner guests loudly hissed.

And in Abraham Foxman's Manhattan apartment, where the Anti-Defamation League honcho watched the broadcast with his wife, there was utter disbelief.

"I said to my wife, 'Oh, G-d! What is she doing up there?'" Foxman told me Monday. "Are we now giving equal time to Hitler? I don't know what could have been in the mind of the Academy to include her as one of our greatest filmmakers. There are a lot of other dead bigots who don't get honored by putting them on such a list."

Hollywood producer Sid Ganis, an Academy vice president, said there's a very simple reason for honoring Riefenstahl, who died last September at her home near Munich at the ripe age of 101.

"She was there because she was an artist and she's gone," Ganis told me. "She had a greatness to her and she had amazing longevity. There was no special debate whatsoever in the decision to include her on the list, and I personally agree with it."

Riefenstahl was perhaps the Third Reich's most effective propagandist. Her classic documentaries, "Triumph of the Will," capturing the drama and grandeur of a 1934 Nazi rally in Nuremberg, and her two-part epic "Olympia," about the 1936 Olympics in Munich, cemented her reputation as a brilliant and imaginative filmmaker who eagerly put her talent at the service of evil.

After World War II, she never apologized for her close association with Hitler, though she later claimed, along with millions of other Germans, that she was ignorant of the Nazi atrocities and mass murders.

From my post-Oscar soundings of the Hollywood elite — who have been riveted in recent weeks on "The Passion" of Mel Gibson — it seems that Riefenstahl has been largely forgiven for sins of the distant past.

"Yes, Hitler was evil, but I think it was proper to have her name there," Elton John told me at his AIDS charity party up the street the Morton's. "She was a great filmmaker, and as an artist myself, I think she deserved to be there."

At the Vanity Fair party, megaproducer Jerry Bruckheimer told me: "I don't have a problem with it. She was a genius, and her movies were innovative and still copied today. . . . When I was making commercials years ago, I remember one where the director stole directly from 'Triumph of the Will.'"

Academy board member Tom Hanks — who said "my role is to crack wise at the meetings and make people laugh" — declined either to boo or cheer for the decision to memorialize Riefenstahl.

But Hanks quipped : "Maybe people were applauding because they're glad she's dead."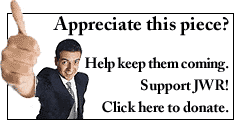 BAUBLES, BANGLES AND KELLY OSBOURNE.
Say what you will about those wacky Osbournes, they're very serious about their bling bling.

"I can't believe I just won $25,000 worth of jewelry!" Kelly Osbourne crowed at Elton John/In Style Oscar party benefiting the pop star's AIDS foundation, where everyone from Rebecca Romijn-Stamos to Donald Trump basked in the sparkle of their reflected glitter.

"I just won a Cartier watch and some Chopard stuff," Kelly told me. "It was a $500 raffle ticket, and I just thought, what the h-ll, it all goes to charity."

Mom Sharon Osbourne confided that she'll want to borrow the wristwatch in the near future. Sharon famously got into an ugly feud with Hollywood agent Renee Tab over an allegedly purloined diamond necklace — resulting in a scratch-and-spit fest last year when they chanced upon each other in a Hollywood restaurant — so I'd advise Kelly to give it up.

THE BRIEFING
SOUNDS LIKE LOVE: Musical newlyweds Elvis Costello and Diana Krall held tight to each other as they moved through the throng at the Vanity Fair party. In the upcoming W magazine, the acclaimed jazz singer explains her attachment to the aging rocker, who received a Best Original Song nomination for his tune in "Cold Mountain": "I love being married to him. I know. It's syrupy. Get out the pancakes! I never thought I would get married — I sort of accepted that I probably wouldn't. I was sad about it, that's for sure. I was lonely. It's almost like as soon as my mom died, Elvis came into my life. It's amazing how one person can leave and this huge other force comes in."

MOONWALKING THROUGH CYBERSPACE: Accused child molester Michael Jackson Monday launched his long-promised personal Web site, explaining on www.mjsource.com: "The theme of this Web site is called, 'A New Beginning.' For months, I have listened to reports that are inaccurate because they have been based on hearsay, not fact . . . I will use this site as one of the mediums for speaking out on my own behalf." Maybe he can explain why he was wearing that suspicious-looking ski-mask at the Wal Mart in Aspen, Colo., the other day. Oh, never mind. NEW YORK —


Comment by clicking here.

02/27/04: Regan rebellion; Ed Limato strikes again!; tears for Tom; more
02/26/04: McCain predicts a nasty campaign; the misdirected missive; Janet Jackson, the interview; more
02/20/04: Introducing the Kerry sisters; cyberflap!; Snoop Dogg v. O'Reilly?; more
02/18/04: John Kerry's Friendster?; On the mend?; food for fraughtm; more
02/13/04: John & Carolyn, redux; Zell Miller shows the flag; kill Quentin?; more
02/11/04: HE FEELS BAD!; Dick Cheney, still not dead; more
02/06/04: Glittering Grammys; a laurel for Janet; Haryl's heart
02/04/04: Shriver quits NBC; "Marshmallow" Mike Tyson?; Super Bowl propriety?; MTV's next production?; more
01/30/04: The political forehead front; Alies meets Franken; the art of the hype; arrested career development?
01/28/04: Eyebrow-raising politics; call him indescribable; Woods vs. Williams; more
01/23/04: Eyebrow-raising mystery; who's punk'd anyway?; don't curb your enthusiasm; more
01/21/04: Ridiculous lives of the self-important stars; long arm of the law; all's fair in love and literature
01/16/04: Global warming at a glacial pace; targeting pop culture; Is 'the price of loyalty' too high?
01/14/04: Busting on the "cult buster"; Sarsgaard thinks globally; one angry woman; more
01/08/04: Sitcom star won't be excused from Blake murder trial; fierstein on fire; Drudge & Blumenthal, together again
01/07/04: Bono hits a brick wall; Britney, before the nuttiness; the Arianna primary; more
01/02/04: Where have you gone, Joe DiMaggio!?; "Bachelor" bruises; Returning to the scene of the crime?
12/31/03: Disaster for the defense; no-war Omar; the shoe must go on; more
12/19/03: Bob Shapiro's free commercial?; Are sophisticated and hip New Yawkers easily duped?; Positive Saddam fallout?; Ratty insult?
12/17/03: Magic Mystery Tour?; Russell Simmons battles ink by the barrel; Would it have killed her to say 'get well soon'?; no Gest room
12/12/03: Karenna defends her dad; now she tells us!; say it ain't so, Mo!; more
12/10/03: Man & wife, interruptus; pepperoni has feelings, too; more
12/05/03: The knives are out; Who's sorry now?; JWR in the news
12/04/03: The war of the gest-minnellis; something borrowed, something cashmere; fashion trendsetter, nailed!
12/03/03: Colombian grace under pressure; Lord of the Screwups; more
12/02/03: Curb your anti-Semitism?; fame fatigue?; bowing to pressure?; more
12/01/03: Dennis the Menace strikes again; first literary feud of the holiday season; Norma Jean & Hef in heaven?; the fog of McNamara; more
11/26/03: Catherine Crier raps Jacko's TV defender, refuses on-air hint of racism; At 50, Tina's in full cry; STAY OUT OF HER WAY!; more
11/25/03: The mogul strikes back?; go ahead, make Harvey's day; more
11/24/03: Georgette's pilfered baubles; prosecutor of pop?; absent but not missed?; Norman Mailer's prescription for education reform; more
11/20/03: Is a movie career in store for Maria Bartiromo?; People for the Unethical Treatment of Humans?; more
11/19/03: Scientologists on Razor's edge?; picking a winner?; source on a hot tin roof?; more
11/18/03: Clay Aiken neuters PETA?; THEM'S FIGHTIN' WORDS!; a mural for Joe
11/17/03: When networks attack!; leaky Fawcett; forget the Paris Hilton video!; more
11/13/03: Publicity hounds; Prophetic priest; Dumb and Dumber
11/12/03: Not so Rosie; do you believe in miracles?; catalogue of sins; My Heart Belongs to Koppel
11/10/03: Gen. clark on the Subway diet; life of the party; MTV's Dumb and Dumber?; the hug issue; but does the $6,000 shower curtain convey?; red faces at Buckingham palace?
11/06/03: Let them eat pita?; verbal jousting; pretenders to the throne?
11/05/03: Will Harvey Weinstein and Gregg Easterbrook now be pals?; crazed Quentin; more
11/04/03: Herding off the hipsters; more
11/03/03: Dean's tell-all on himself?; Lisaraye vs. Mya?; the odd couple; no need to panic; just don't call him "Scooter"!; Rosie scenarios
10/30/03: Autumn of the editor?; Cynthia Nixon's split may be costly; 'Burning' questions
10/29/03: Ah-nold, unauthorized!; a dilemma for Melissa Gilbert? not even Frank Gifford can help him now!; nobody wanted Elizabeth Hurley
10/28/03: It's Cher calling!; Brown Alert
10/27/03: Paparazzi uncensored!; where's Aaron Brown?; postcards from the middle; invasion of the party snatchers?; House flooded when not afire?; suspenders of disbelief?
10/23/03: Ace up Howard Dean's sleeve; Woody's ordeal; Paul Simon's kid makes good; the non-beginning of a beautiful friendship?
10/22/03: Showing the flag; Joe Frazier, smokin'!; see Carville bruised-up — sort of
10/21/03: Morris & Jaci's charm offensive; Hell hath no fury; Wintertime for Hitler
10/20/03: Isn't it rich?; men (and the occasional woman) behaving badly; peacenik John Lennon supporting the U.S. military?; courageous Connie
10/16/03: George Clooney and intolerable Drudgery; Cameron goes native; and you thought the war in Iraq was nasty?; now it can be revealed; star wars?
10/15/03: Kerik into the breach?; holiday pander?; "the Dink" corrects the record; more
10/14/03: Madge gets mad, lips are sealed; the candidates who listen; he who hesitates is Beatty
10/13/03: Clothes, but no cigar; New Yorkers put a Sox in it; mad at Matalin?; more
10/09/03: Gray Davis goes to the movies; Ali Wentworth, working blue; Law & Order?; pot of gold at the end of the rainbow room?
10/08/03: Art-time for Hitler; the actress who hates movies; lying "Liam"
10/07/03: Pond scum of the rich and famous
07/24/03: Ali and George, living it up; Mel Gibson's Washington power play
07/21/03: White House smear?
07/17/03: Yet another intern scandal; it's her party and she can pay if she wants to
07/14/03: On the auction block: JFK'S boxer shorts; love bytes the maestro
07/10/03: A hairy situation at Homeland Security; Van Susteren v. Orth
06/30/03: Rep. Patrick Kennedy: I've never worked a (bleeping) day in my life; Drudge's dressing down; Ken Lay's Kerry connection
06/26/03: Rapping the beat
06/23/03: Another Watergate scandal?; AL GORE TV!
06/19/03: Tony Snow, rocker?; that won't be crow on Mr. Carlson's plate
06/16/03: Missing dog, ransom demand, Hollywood ending
06/12/03: Giving both parties the needle
06/09/03: WHAT DID SHE KNOW, AND WHEN DID SHE KNOW IT?
06/05/03: Incoming from Barbara Bush?
06/02/03: Bob Dole's plan for fighting unemployment
05/29/03: Newt's new novel
05/27/03: Hitchens & Blumenthal, together again; He still believes in a man called Hope
05/09/03: Close, but no cigar; Romeo & Juliet with a happy ending?; Geraldo to help Heebs?
05/05/03: So Bill Gates and Tom Brokaw walk into a coffee bar . . .; hotel hell; more

© 2003, Creators Syndicate