Jewish World Review Jan. 14, 2004 / 20 Teves, 5764

Lloyd Grove
Busting on the "cult buster"; Sarsgaard thinks globally; one angry woman; more
http://www.jewishworldreview.com | NEW YORK — Self-styled "cult buster" Rick Ross stirred up a hornet's nest last week with his warning to Madonna's favorite presidential candidate, retired Gen. Wesley Clark, to keep his distance from Madonna's spiritual home, the Kabbalah Centre in Los Angeles.
One apparent supporter of Kabbalah Centre founder Philip Berg e-mailed me Monday to describe Ross — who runs a New Jersey-based nonprofit institute that describes its mission as the study of cults — as "disreputable."
The e-mailer then recounted the 51-year-old Ross' childhood psychiatric history and various brushes with the law as a young man in Arizona — notably his guilty plea to a felony for the theft of diamonds from a jewelry store.
On Monday, Ross told me that he has always been open about his troubled past: "It happened almost 30 years ago. I was young and foolish and made mistakes that I deeply regret. I did whatever the court required, completed my probation in 1979, and the guilty verdicts were vacated in 1983. I have gone on with my life and never again got in that kind of trouble."
In August 2001, Nevada Kabbalah Centre official Moshe Omer attacked Ross when the latter was invited by a local synagogue to speak on religious cults. "Rick Ross is a convicted felon who has a history of psychiatric problems," Omer complained to the Las Vegas Sun.
Ross told me: "It's the same old, same old. It's just the same recasting of a Scientology attack that I've heard many times."
Ross said the Church of Scientology has waged a hardball PR campaign against him for years.
Scientology International spokeswoman Linda Simmons Hight, meanwhile, told me there is no cooperation between the church and the Kabbalah Centre to put out the word on Ross.
"I'm just glad that the information is getting around," she said. "I don't care who sends it. . . . It comes from Christian groups and now apparently the Kabbalah Centre as well. All kinds of people are writing about Rick Ross."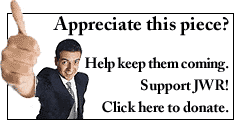 SARSGAARD THINKS GLOBALLY
So just how hot is the Hollywood prize competition?
So hot that Golden Globes contender Peter Sarsgaard interrupted his Italian vacation with girlfriend Maggie Gyllenhaal last week to get on the phone and chat about his life as a budding movie star.
"You're my first interview — I've managed to stay low until now," the 32-year-old Illinois native told me from Rome. He's up for the Best Supporting Actor Golden Globe for his portrayal of New Republic editor Charles Lane in "Shattered Glass," the media psychodrama about notorious journalistic fabricator Stephen Glass.
Sarsgaard's performance, opposite Hayden Christensen as Glass, is so intense and compelling that he might even have deserved a Best Actor nod.
"But I'm not really in the first half of the movie," he demurred. "I guess those definitions for acting are always very tricky. What is a 'character actor'? What is a 'lead'? What is 'supporting'? Who does the studio want to market? Is it better to go for 'supporting' than 'best'? . . . It drives me nuts, really."
Would Sarsgaard like to cross over the definitional divide from "actor" to "movie star"?
"Yeah, I would," he answered. "I would like to have enough power to be able to do the obscure things I enjoy, and be able to get financing for them. . . . It says a lot about our culture, and about acting — our need for superstars. Even superstar journalists who are as big a star as the news itself. That's the story of 'Shattered Glass.' I'm not so much interested in why Stephen Glass lied as I am in why he was believed."
Sarsgaard said he has relied on Gyllenhaal, whom he's been dating for about a year, for Golden Globe pointers. She received a 2002 Best Actress nomination for the indie movie "Secretary."
"The best piece of advice Maggie has given me is to enjoy it," Sarsgaard said. "There's always an attitude about how you're going to respond. If you listen to people and it doesn't happen for them, it's always, 'I value the performance I've given more than a nomination.' Somehow I don't really believe that. Awards are fun!"
THE BRIEFING
ONE ANGRY WOMAN: Hollywood vixen Christina Applegate is still in Robert Blake Jury Pool Hell. Applegate has been trying since last week to be excused from jury selection in the high-profile murder case, arguing that professional obligations prevent her from serving on a four- to five-month trial. But Los Angeles County Superior Court Judge Darlene Schempp has yet to set her free. "It's still ongoing," Applegate's manager, Tami Lynn, told us Monday. "We expect to know later in the week."
LOVE OVER LUNCH?: That was "It" couple Uma Thurman and Andre Balazs swimming in each other's limpid pools at Balthazar Sunday afternoon. Cozily ensconced in a back-wall booth, at one point performing a little mouth-to-mouth, the actress and the hotelier couldn't keep their eyes off each other. She sipped red wine. He abstained. He looked tan, rested and ready. She looked fabulous in a black turtleneck, green blazer and no makeup. Every so often she looked up at him and flashed a little grin.
THAT'S A JOKE, SON!: Bantering backstage during The New York Times' Arts & Leisure Weekend at the City University of New York Graduate Center, "Producers" stars Nathan Lane and Matthew Broderick got to talking about 1-year-old James Broderick, whose mother is Sarah Jessica Parker. "He has started singing," the proud father reported. "He likes 'Baa, Baa, Black Sheep' and 'The Sound of Music.'" Lane asked: "You only play him show tunes?" Broderick replied: "No. We play him Springsteen and other things. He just seems to have gravitated to 'The Sound of Music.'" Not missing a beat, Lane announced: "Mary Martin! That's it. He's gay!" (Martin was the star of the original Broadway production.)


Comment by clicking here.

01/08/04: Sitcom star won't be excused from Blake murder trial; fierstein on fire; Drudge & Blumenthal, together again
01/07/04: Bono hits a brick wall; Britney, before the nuttiness; the Arianna primary; more
01/02/04: Where have you gone, Joe DiMaggio!?; "Bachelor" bruises; Returning to the scene of the crime?
12/31/03: Disaster for the defense; no-war Omar; the shoe must go on; more
12/19/03: Bob Shapiro's free commercial?; Are sophisticated and hip New Yawkers easily duped?; Positive Saddam fallout?; Ratty insult?
12/17/03: Magic Mystery Tour?; Russell Simmons battles ink by the barrel; Would it have killed her to say 'get well soon'?; no Gest room
12/12/03: Karenna defends her dad; now she tells us!; say it ain't so, Mo!; more
12/10/03: Man & wife, interruptus; pepperoni has feelings, too; more
12/05/03: The knives are out; Who's sorry now?; JWR in the news
12/04/03: The war of the gest-minnellis; something borrowed, something cashmere; fashion trendsetter, nailed!
12/03/03: Colombian grace under pressure; Lord of the Screwups; more
12/02/03: Curb your anti-Semitism?; fame fatigue?; bowing to pressure?; more
12/01/03: Dennis the Menace strikes again; first literary feud of the holiday season; Norma Jean & Hef in heaven?; the fog of McNamara; more
11/26/03: Catherine Crier raps Jacko's TV defender, refuses on-air hint of racism; At 50, Tina's in full cry; STAY OUT OF HER WAY!; more
11/25/03: The mogul strikes back?; go ahead, make Harvey's day; more
11/24/03: Georgette's pilfered baubles; prosecutor of pop?; absent but not missed?; Norman Mailer's prescription for education reform; more
11/20/03: Is a movie career in store for Maria Bartiromo?; People for the Unethical Treatment of Humans?; more
11/19/03: Scientologists on Razor's edge?; picking a winner?; source on a hot tin roof?; more
11/18/03: Clay Aiken neuters PETA?; THEM'S FIGHTIN' WORDS!; a mural for Joe
11/17/03: When networks attack!; leaky Fawcett; forget the Paris Hilton video!; more
11/13/03: Publicity hounds; Prophetic priest; Dumb and Dumber
11/12/03: Not so Rosie; do you believe in miracles?; catalogue of sins; My Heart Belongs to Koppel
11/10/03: Gen. clark on the Subway diet; life of the party; MTV's Dumb and Dumber?; the hug issue; but does the $6,000 shower curtain convey?; red faces at Buckingham palace?
11/06/03: Let them eat pita?; verbal jousting; pretenders to the throne?
11/05/03: Will Harvey Weinstein and Gregg Easterbrook now be pals?; crazed Quentin; more
11/04/03: Herding off the hipsters; more
11/03/03: Dean's tell-all on himself?; Lisaraye vs. Mya?; the odd couple; no need to panic; just don't call him "Scooter"!; Rosie scenarios
10/30/03: Autumn of the editor?; Cynthia Nixon's split may be costly; 'Burning' questions
10/29/03: Ah-nold, unauthorized!; a dilemma for Melissa Gilbert? not even Frank Gifford can help him now!; nobody wanted Elizabeth Hurley
10/28/03: It's Cher calling!; Brown Alert
10/27/03: Paparazzi uncensored!; where's Aaron Brown?; postcards from the middle; invasion of the party snatchers?; House flooded when not afire?; suspenders of disbelief?
10/23/03: Ace up Howard Dean's sleeve; Woody's ordeal; Paul Simon's kid makes good; the non-beginning of a beautiful friendship?
10/22/03: Showing the flag; Joe Frazier, smokin'!; see Carville bruised-up — sort of
10/21/03: Morris & Jaci's charm offensive; Hell hath no fury; Wintertime for Hitler
10/20/03: Isn't it rich?; men (and the occasional woman) behaving badly; peacenik John Lennon supporting the U.S. military?; courageous Connie
10/16/03: George Clooney and intolerable Drudgery; Cameron goes native; and you thought the war in Iraq was nasty?; now it can be revealed; star wars?
10/15/03: Kerik into the breach?; holiday pander?; "the Dink" corrects the record; more
10/14/03: Madge gets mad, lips are sealed; the candidates who listen; he who hesitates is Beatty
10/13/03: Clothes, but no cigar; New Yorkers put a Sox in it; mad at Matalin?; more
10/09/03: Gray Davis goes to the movies; Ali Wentworth, working blue; Law & Order?; pot of gold at the end of the rainbow room?
10/08/03: Art-time for Hitler; the actress who hates movies; lying "Liam"
10/07/03: Pond scum of the rich and famous
07/24/03: Ali and George, living it up; Mel Gibson's Washington power play
07/21/03: White House smear?
07/17/03: Yet another intern scandal; it's her party and she can pay if she wants to
07/14/03: On the auction block: JFK'S boxer shorts; love bytes the maestro
07/10/03: A hairy situation at Homeland Security; Van Susteren v. Orth
06/30/03: Rep. Patrick Kennedy: I've never worked a (bleeping) day in my life; Drudge's dressing down; Ken Lay's Kerry connection
06/26/03: Rapping the beat
06/23/03: Another Watergate scandal?; AL GORE TV!
06/19/03: Tony Snow, rocker?; that won't be crow on Mr. Carlson's plate
06/16/03: Missing dog, ransom demand, Hollywood ending
06/12/03: Giving both parties the needle
06/09/03: WHAT DID SHE KNOW, AND WHEN DID SHE KNOW IT?
06/05/03: Incoming from Barbara Bush?
06/02/03: Bob Dole's plan for fighting unemployment
05/29/03: Newt's new novel
05/27/03: Hitchens & Blumenthal, together again; He still believes in a man called Hope
05/09/03: Close, but no cigar; Romeo & Juliet with a happy ending?; Geraldo to help Heebs?
05/05/03: So Bill Gates and Tom Brokaw walk into a coffee bar . . .; hotel hell; more

© 2003, Creators Syndicate