Jewish World Review March 5, 2004 / 12 Adar, 5764

Lloyd Grove
Bush vs. Kerry: a Skull session; Kramer vs. The Times, scorch session; enthusiasm curbed; (Tina) Brown-nosing?
http://www.jewishworldreview.com | NEW YORK — Never mind Iraq, terrorism and the economy.

For some conspiracy-minded voters, the real issue of the 2004 presidential campaign is the allegedly sinister influence of Skull and Bones.

Both President Bush and his all-but-certain Democratic opponent, Sen. John Kerry of Massachusetts, were members of the elite and secretive club that meets in a windowless mausoleum on the Yale campus in New Haven.

And both Kerry, Yale Class of '66, and Bush, Yale Class of '68, are extremely reluctant to discuss their common ties to what Skull and Bones expert Ron Rosenbaum calls "the most powerful of all secret societies in the strange Yale secret-society system."

Back in August, "Meet the Press" moderator Tim Russert gave Kerry the third degree on his Bones connection.

"What does that tell us?" Russert demanded.

"Not much, because it's a secret," Kerry parried.

"Is there a secret handshake? Is there a secret code?"

"I wish there were something secret I could manifest there."

On the Feb. 8 installment of "Meet the Press," the president was similarly uncommunicative.

"It's so secret we can't talk about it," he told Russert.

"What does that mean for America?" Russert pressed. "The conspiracy theorists are going to go wild."

"I'm sure they are," Bush agreed with a nervous giggle.

Since its founding in 1832, Skull and Bones has had fewer than 2,000 members, including three presidents — Bush, his father and William Howard Taft — and such powerbrokers as W. Averell Harriman, Henry Stimson and Henry Luce, who all engaged in what Rosenbaum calls "certain occult rituals of the ruling class."

Bonesmen tend to help other Bonesmen. The current president has staffed his administration with such Bones brothers as Securities and Exchange Commission Chairman William H. Donaldson, Assistant Attorney General Robert McCallum, Ambassador to Trinidad and Tobago Roy Austin, and Edward McNally, general counsel to the Office of Homeland Security.

Skull and Bones investigator Alexandra Robbins, author of the book "Secrets of the Tomb," told this column Wednesday that the secret society is positively gleeful over the Bush-Kerry contest.

"Individual Bonesmen will sway according to their personal affiliations," she said, "but the Bonesmen I've spoken to have said it's a win-win situation."

In what might be eerie coincidence or further disturbing evidence of a scheme for world domination, The Washington Post has assigned Bonesman Dana Milbank to chronicle the battle between Bush and Kerry.

"I have been assigned to monitor all secret hand signals during the debates," Milbank told me — half in jest but wholly in earnest? "I have it on good information that if this one gets tied up in a recount, (late Supreme Court Justice and Bonesman) Potter Stewart will return from the grave to write the majority opinion."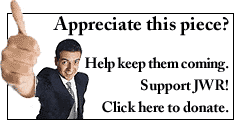 KRAMER VS. THE TIMES, SCORCH SESSION

Gay activist Larry Kramer, who gained celebrity status as founder of the militant AIDS awareness group ACT UP, has flamed the New York Times in a scorching e-mail in defense of fired stringer Jay Blotcher.

In an open letter to Times CEO Arthur Sulzberger Jr. — which he copied to scores of opinion-leaders inside and outside the Times, including several openly gay reporters — Kramer protested "the ridiculous dismissal of Jay Blotcher . . . because he had once been a member of ACT UP." Fourteen years ago, Blotcher spent eight months as spokesman for ACT UP, but has repped other groups more recently, before turning to journalism full time in 2001.

Times Metro Editor Susan Edgerley explained to the Gay City News that she dropped Blotcher, who wrote four stories and contributed reporting to three others during his three years as a stringer, "to protect against any appearance of conflict of interest."

Kramer raged at Sulzberger: "You do not dismiss Larry Altman from writing for you because of conflict of interest; he writes about the (Centers for Disease Control) all the time and he once worked for them. Bernard Weinraub writes about Hollywood and his wife (Amy Pascal) heads Columbia Pictures. Talk about conflict of interest."

The Times has curtailed Weinraub's coverage of the movie industry in recent years, and spokeswoman Catherine Mathis says that Altman, a physician, hasn't worked for the government since 1966.

"We try to avoid employing people who are identified with a cause," Mathis explained, "because it creates the possibility that readers may wonder if their copy is written in pursuit of that cause."

On Wednesday, Blotcher told me he isn't seeking reinstatement, but is grateful for Kramer's support. "G-d bless Larry," he said.

THE BRIEFING

ENTHUSIASM CURBED: HBO star and "Seinfeld" co-creator Larry David sounds less than thrilled with wife Laurie's high profile as a political activist. "It's bad for comedy!" he tells — or, rather yells — in an interview with Elle magazine. "I've begged her to go back to her maiden name. I don't need all the attention from it," he adds. "Stop dragging me in!"

BROWN-NOSING?: In a footnote to the exciting personnel changes at New York magazine, I hear that a few weeks before Adam Moss was named editor in chief, new owner Bruce Wasserstein was in very serious discussions with none other than Tina Brown. A knowledgeable source told me that the former Talk and New Yorker editor and the billionaire financier were even talking about contract language — but that negotiations collapsed over Brown's insistence that Wasserstein agree never to interfere with her editorial decisions. "Wildly exaggerated," Brown called this account Wednesday, adding that her contractual obligations to CNBC and The Washington Post would have prevented her from taking on the New York job anyway. "Adam Moss was always the first choice," she added.


Comment by clicking here.

03/03/04: Oscars memorialize Hitler's fave filmmaker; baubles, bangles and Kelly Osbourne; moonwalking through cyberspace; more
02/27/04: Regan rebellion; Ed Limato strikes again!; tears for Tom; more
02/26/04: McCain predicts a nasty campaign; the misdirected missive; Janet Jackson, the interview; more
02/20/04: Introducing the Kerry sisters; cyberflap!; Snoop Dogg v. O'Reilly?; more
02/18/04: John Kerry's Friendster?; On the mend?; food for fraughtm; more
02/13/04: John & Carolyn, redux; Zell Miller shows the flag; kill Quentin?; more
02/11/04: HE FEELS BAD!; Dick Cheney, still not dead; more
02/06/04: Glittering Grammys; a laurel for Janet; Haryl's heart
02/04/04: Shriver quits NBC; "Marshmallow" Mike Tyson?; Super Bowl propriety?; MTV's next production?; more
01/30/04: The political forehead front; Alies meets Franken; the art of the hype; arrested career development?
01/28/04: Eyebrow-raising politics; call him indescribable; Woods vs. Williams; more
01/23/04: Eyebrow-raising mystery; who's punk'd anyway?; don't curb your enthusiasm; more
01/21/04: Ridiculous lives of the self-important stars; long arm of the law; all's fair in love and literature
01/16/04: Global warming at a glacial pace; targeting pop culture; Is 'the price of loyalty' too high?
01/14/04: Busting on the "cult buster"; Sarsgaard thinks globally; one angry woman; more
01/08/04: Sitcom star won't be excused from Blake murder trial; fierstein on fire; Drudge & Blumenthal, together again
01/07/04: Bono hits a brick wall; Britney, before the nuttiness; the Arianna primary; more
01/02/04: Where have you gone, Joe DiMaggio!?; "Bachelor" bruises; Returning to the scene of the crime?
12/31/03: Disaster for the defense; no-war Omar; the shoe must go on; more
12/19/03: Bob Shapiro's free commercial?; Are sophisticated and hip New Yawkers easily duped?; Positive Saddam fallout?; Ratty insult?
12/17/03: Magic Mystery Tour?; Russell Simmons battles ink by the barrel; Would it have killed her to say 'get well soon'?; no Gest room
12/12/03: Karenna defends her dad; now she tells us!; say it ain't so, Mo!; more
12/10/03: Man & wife, interruptus; pepperoni has feelings, too; more
12/05/03: The knives are out; Who's sorry now?; JWR in the news
12/04/03: The war of the gest-minnellis; something borrowed, something cashmere; fashion trendsetter, nailed!
12/03/03: Colombian grace under pressure; Lord of the Screwups; more
12/02/03: Curb your anti-Semitism?; fame fatigue?; bowing to pressure?; more
12/01/03: Dennis the Menace strikes again; first literary feud of the holiday season; Norma Jean & Hef in heaven?; the fog of McNamara; more
11/26/03: Catherine Crier raps Jacko's TV defender, refuses on-air hint of racism; At 50, Tina's in full cry; STAY OUT OF HER WAY!; more
11/25/03: The mogul strikes back?; go ahead, make Harvey's day; more
11/24/03: Georgette's pilfered baubles; prosecutor of pop?; absent but not missed?; Norman Mailer's prescription for education reform; more
11/20/03: Is a movie career in store for Maria Bartiromo?; People for the Unethical Treatment of Humans?; more
11/19/03: Scientologists on Razor's edge?; picking a winner?; source on a hot tin roof?; more
11/18/03: Clay Aiken neuters PETA?; THEM'S FIGHTIN' WORDS!; a mural for Joe
11/17/03: When networks attack!; leaky Fawcett; forget the Paris Hilton video!; more
11/13/03: Publicity hounds; Prophetic priest; Dumb and Dumber
11/12/03: Not so Rosie; do you believe in miracles?; catalogue of sins; My Heart Belongs to Koppel
11/10/03: Gen. clark on the Subway diet; life of the party; MTV's Dumb and Dumber?; the hug issue; but does the $6,000 shower curtain convey?; red faces at Buckingham palace?
11/06/03: Let them eat pita?; verbal jousting; pretenders to the throne?
11/05/03: Will Harvey Weinstein and Gregg Easterbrook now be pals?; crazed Quentin; more
11/04/03: Herding off the hipsters; more
11/03/03: Dean's tell-all on himself?; Lisaraye vs. Mya?; the odd couple; no need to panic; just don't call him "Scooter"!; Rosie scenarios
10/30/03: Autumn of the editor?; Cynthia Nixon's split may be costly; 'Burning' questions
10/29/03: Ah-nold, unauthorized!; a dilemma for Melissa Gilbert? not even Frank Gifford can help him now!; nobody wanted Elizabeth Hurley
10/28/03: It's Cher calling!; Brown Alert
10/27/03: Paparazzi uncensored!; where's Aaron Brown?; postcards from the middle; invasion of the party snatchers?; House flooded when not afire?; suspenders of disbelief?
10/23/03: Ace up Howard Dean's sleeve; Woody's ordeal; Paul Simon's kid makes good; the non-beginning of a beautiful friendship?
10/22/03: Showing the flag; Joe Frazier, smokin'!; see Carville bruised-up — sort of
10/21/03: Morris & Jaci's charm offensive; Hell hath no fury; Wintertime for Hitler
10/20/03: Isn't it rich?; men (and the occasional woman) behaving badly; peacenik John Lennon supporting the U.S. military?; courageous Connie
10/16/03: George Clooney and intolerable Drudgery; Cameron goes native; and you thought the war in Iraq was nasty?; now it can be revealed; star wars?
10/15/03: Kerik into the breach?; holiday pander?; "the Dink" corrects the record; more
10/14/03: Madge gets mad, lips are sealed; the candidates who listen; he who hesitates is Beatty
10/13/03: Clothes, but no cigar; New Yorkers put a Sox in it; mad at Matalin?; more
10/09/03: Gray Davis goes to the movies; Ali Wentworth, working blue; Law & Order?; pot of gold at the end of the rainbow room?
10/08/03: Art-time for Hitler; the actress who hates movies; lying "Liam"
10/07/03: Pond scum of the rich and famous
07/24/03: Ali and George, living it up; Mel Gibson's Washington power play
07/21/03: White House smear?
07/17/03: Yet another intern scandal; it's her party and she can pay if she wants to
07/14/03: On the auction block: JFK'S boxer shorts; love bytes the maestro
07/10/03: A hairy situation at Homeland Security; Van Susteren v. Orth
06/30/03: Rep. Patrick Kennedy: I've never worked a (bleeping) day in my life; Drudge's dressing down; Ken Lay's Kerry connection
06/26/03: Rapping the beat
06/23/03: Another Watergate scandal?; AL GORE TV!
06/19/03: Tony Snow, rocker?; that won't be crow on Mr. Carlson's plate
06/16/03: Missing dog, ransom demand, Hollywood ending
06/12/03: Giving both parties the needle
06/09/03: WHAT DID SHE KNOW, AND WHEN DID SHE KNOW IT?
06/05/03: Incoming from Barbara Bush?
06/02/03: Bob Dole's plan for fighting unemployment
05/29/03: Newt's new novel
05/27/03: Hitchens & Blumenthal, together again; He still believes in a man called Hope
05/09/03: Close, but no cigar; Romeo & Juliet with a happy ending?; Geraldo to help Heebs?
05/05/03: So Bill Gates and Tom Brokaw walk into a coffee bar . . .; hotel hell; more

© 2003, Creators Syndicate