Jewish World Review Dec. 2, 2003 / 7 Kislev, 5764

Lloyd Grove
Curb your anti-Semitism?; fame fatigue?; bowing to pressure?;
http://www.jewishworldreview.com | NEW YORK — Hollywood liberal Laurie David, wife of "Curb Your Enthusiasm" and "Seinfeld" creator Larry David, found herself fielding abusive faxes and other messages yesterday after cybergossip Matt Drudge scorched her for holding a high-level strategy session in Beverly Hills tonight on how Democrats might defeat President Bush.

Drudge claimed on his Web site — erroneously, I've concluded — that David titled an e-mail about the event at the Beverly Hilton, to be co-hosted by the likes of superagent Ari Emanuel and "Seinfeld" star Julia Louis-Dreyfus, "with the bold heading: 'Hate Bush 12/2 — Event.' "

In response, David told me Monday, she was subjected to a barrage "of ugly messages," including this one from an Akron, Ohio, man who somehow managed to obtain her private fax number:

"Dear Laurie David: Thanks for revealing how Compassionate Liberals such as yourself would initiate a Hate Bush campaign. And some wonder why there is increasing anti-Semitism. I'm not."

David told me: "The last time I looked, people are still allowed to have meetings, aren't they?" She vehemently denied that she ever used the phrase "Hate Bush" on any e-mail, but noted that she sent out e-mails to Democratic friends, who in turn sent forwarded e-mails to their friends, and so on, producing probably hundreds of e-mails for which she is not responsible.

"I don't hate Bush," she said. "I hate his administration's policies — especially what they have done concerning the environment. But for all I know, he is personally a lovely man."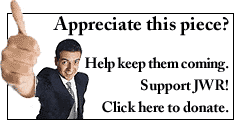 Late Monday, after Drudge forwarded me the smoking e-mail with the "Hate Bush" subject line, I sent an e-mail to the author, and a man phoned me to identify himself as the culprit.

"This is all very unfortunate," the man told me, saying he lives somewhere in the Midwest but declining to reveal his name. "Laurie David should not be held responsible. I got an e-mail and forwarded it to a friend, and I thought I was being kind of amusing."

Acknowledging that he doesn't like Bush, the man added: "I don't want to tell you who I am because I don't want this to go any further."

Drudge was unapologetic.

"Welcome to the wonderful world of the Internet," he told me. As for anti-Semitic reaction, "Speaking as a Jew myself, I think Laurie David is trying equate the Drudge Report with Jew haters. I know what she's doing. I also think that the Bush-hating organizers of this event need to get better organized."

BOWING TO PRESSURE?

Christmas ended early for the Abercrombie & Fitch Christmas Field Guide — a soft-porn marketing gimmick rife with full-color photos of naked boys and girls in sexually suggestive poses.

On Monday, National Review Online reported that the company has caved to pressure from Christian conservatives — who besieged corporate headquarters with angry phone calls after this column's item last month.

Last Tuesday, writer Anne Morse reports, A&F pulled the saucy catalogue off shelves in stores around the country.

A&F spokesman Hampton Carney dismissed the report — which quotes various store managers as saying they were ordered to pull the mag by execs on high — as "completely untrue."

But he confirmed that the quarterly mag is no longer available for $7 at stores, but only by subscription — two weeks earlier than last year's Christmas catalogue.

"It was moved to make room for a new A&F fragrance, called 'Now,' for the holiday season — in time for Black Friday, which is the day after Thanksgiving and one of the biggest shopping days of the year," Carney told me. "End of story."

As if.

Morse contends in her story that the threat of a nationwide boycott compelled the Christmas catalogue's removal.

"I called Abercrombie's national headquarters in New Albany, Ohio, to confirm this," Morse writes. "CEO Mike Jeffries and his staff were not available, but an employee who gave his name as 'Brennan' said the company had, over the last two weeks, received 300 calls per hour from people announcing they were boycotting A&F stores. . . . The decision to yank the Christmas issue from stores was made at the beginning of Thanksgiving week, he added."

This single-named A&F employee attributed the boycotts to conservative radio host James Dobson and an army of like-minded folks who peppered A&F and its corporate partners with complaints.

But Carney told me: "It wasn't 300 calls per hour. It was 300 calls over a single weekend. But there has been no change in policy. Just wait for the 'spring break' issue of the quarterly, which will be out soon. It will be every bit as sexy and exciting as the Christmas issue."

THE BRIEFING

FAME FATIGUE?: For the past two weeks, the folks at IWantMedia.com have been inviting readers to nominate candidates for their annual "Media Person of the Year" poll. The most buzzed-about media type of 2003 will receive a personality profile in Felix Dennis's The Week magazine. Yet so far, surprisingly, nobody has nominated New York Times publisher Arthur Sulzberger Jr. or Executive Editor Bill Keller, nor Keller's predecessor Howell Raines or ex-managing editor Gerald Boyd. Other excluded worthies include Martha Stewart (last year's Media Person), Tina Brown, Rosie O'Donnell and Oprah Winfrey. "While some of them surely deserve to be recognized," IWantMedia.com's Patrick Phillips told me, "maybe people are tired of hearing about them."

BLACK ON BLACK: Before a financial scandal forced him out as CEO of the newspaper conglomerate Hollinger International, Lord Black of Crossharbour preened for the upcoming issue of W magazine, musing about his life and times and the act of writing a 1,280-page biography of Franklin Delano Roosevelt. "The time other people would dedicate to playing tennis or golf or something like watching television, I was writing a book," Conrad Black confides. In a wide-ranging chat, he opines that his wife, conservative pundit Barbara Amiel, "is preternaturally beautiful" and that Palm Beach is "ridiculous and vulgar and absurd" but "very well organized." He calls the House of Lords, which he relinquished his Canadian citizenship to join, "the most talented parliamentary body in the world." As for the United States, "This is, relatively speaking, a forgiving country." he maintains. While Black is under investigation for $32 million in unauthorized payments to Hollinger execs, including $7 million to himself, W reports that he received an advance in the mere "mid-five figures" for his FDR bio.


Comment by clicking here.

12/01/03: Dennis the Menace strikes again; first literary feud of the holiday season; Norma Jean & Hef in heaven?; the fog of McNamara; more
11/26/03: Catherine Crier raps Jacko's TV defender, refuses on-air hint of racism; At 50, Tina's in full cry; STAY OUT OF HER WAY!; more
11/25/03: The mogul strikes back?; go ahead, make Harvey's day; more
11/24/03: Georgette's pilfered baubles; prosecutor of pop?; absent but not missed?; Norman Mailer's prescription for education reform; more
11/20/03: Is a movie career in store for Maria Bartiromo?; People for the Unethical Treatment of Humans?; more
11/19/03: Scientologists on Razor's edge?; picking a winner?; source on a hot tin roof?; more
11/18/03: Clay Aiken neuters PETA?; THEM'S FIGHTIN' WORDS!; a mural for Joe
11/17/03: When networks attack!; leaky Fawcett; forget the Paris Hilton video!; more
11/13/03: Publicity hounds; Prophetic priest; Dumb and Dumber
11/12/03: Not so Rosie; do you believe in miracles?; catalogue of sins; My Heart Belongs to Koppel
11/10/03: Gen. clark on the Subway diet; life of the party; MTV's Dumb and Dumber?; the hug issue; but does the $6,000 shower curtain convey?; red faces at Buckingham palace?
11/06/03: Let them eat pita?; verbal jousting; pretenders to the throne?
11/05/03: Will Harvey Weinstein and Gregg Easterbrook now be pals?; crazed Quentin; more
11/04/03: Herding off the hipsters; more
11/03/03: Dean's tell-all on himself?; Lisaraye vs. Mya?; the odd couple; no need to panic; just don't call him "Scooter"!; Rosie scenarios
10/30/03: Autumn of the editor?; Cynthia Nixon's split may be costly; 'Burning' questions
10/29/03: Ah-nold, unauthorized!; a dilemma for Melissa Gilbert? not even Frank Gifford can help him now!; nobody wanted Elizabeth Hurley
10/28/03: It's Cher calling!; Brown Alert
10/27/03: Paparazzi uncensored!; where's Aaron Brown?; postcards from the middle; invasion of the party snatchers?; House flooded when not afire?; suspenders of disbelief?
10/23/03: Ace up Howard Dean's sleeve; Woody's ordeal; Paul Simon's kid makes good; the non-beginning of a beautiful friendship?
10/22/03: Showing the flag; Joe Frazier, smokin'!; see Carville bruised-up — sort of
10/21/03: Morris & Jaci's charm offensive; Hell hath no fury; Wintertime for Hitler
10/20/03: Isn't it rich?; men (and the occasional woman) behaving badly; peacenik John Lennon supporting the U.S. military?; courageous Connie
10/16/03: George Clooney and intolerable Drudgery; Cameron goes native; and you thought the war in Iraq was nasty?; now it can be revealed; star wars?
10/15/03: Kerik into the breach?; holiday pander?; "the Dink" corrects the record; more
10/14/03: Madge gets mad, lips are sealed; the candidates who listen; he who hesitates is Beatty
10/13/03: Clothes, but no cigar; New Yorkers put a Sox in it; mad at Matalin?; more
10/09/03: Gray Davis goes to the movies; Ali Wentworth, working blue; Law & Order?; pot of gold at the end of the rainbow room?
10/08/03: Art-time for Hitler; the actress who hates movies; lying "Liam"
10/07/03: Pond scum of the rich and famous
07/24/03: Ali and George, living it up; Mel Gibson's Washington power play
07/21/03: White House smear?
07/17/03: Yet another intern scandal; it's her party and she can pay if she wants to
07/14/03: On the auction block: JFK'S boxer shorts; love bytes the maestro
07/10/03: A hairy situation at Homeland Security; Van Susteren v. Orth
06/30/03: Rep. Patrick Kennedy: I've never worked a (bleeping) day in my life; Drudge's dressing down; Ken Lay's Kerry connection
06/26/03: Rapping the beat
06/23/03: Another Watergate scandal?; AL GORE TV!
06/19/03: Tony Snow, rocker?; that won't be crow on Mr. Carlson's plate
06/16/03: Missing dog, ransom demand, Hollywood ending
06/12/03: Giving both parties the needle
06/09/03: WHAT DID SHE KNOW, AND WHEN DID SHE KNOW IT?
06/05/03: Incoming from Barbara Bush?
06/02/03: Bob Dole's plan for fighting unemployment
05/29/03: Newt's new novel
05/27/03: Hitchens & Blumenthal, together again; He still believes in a man called Hope
05/09/03: Close, but no cigar; Romeo & Juliet with a happy ending?; Geraldo to help Heebs?
05/05/03: So Bill Gates and Tom Brokaw walk into a coffee bar . . .; hotel hell; more

© 2003, Creators Syndicate