Jewish World Review July 24, 2003 / 24 Tamuz, 5763

Lloyd Grove
Ali and George, living it up; Mel Gibson's Washington power play
http://www.jewishworldreview.com | WASHINGTON Future daytime television host Ali Wentworth is slapping down the New York Post's attempt to drive a wedge between her and ABC News "This Week" anchor George Stephanopoulos, her husband of 1 and 1/2 years.
"My first reaction was to laugh. . . . This stuff is for wrapping fish," the 37-year-old Washington resident told us in response to Tuesday's story headlined "Success Strains Ali & George." The tabloid claimed the parents of 10-month-old Elliott Anastasia are wracked by competitive discord over the 42-year-old Stephanopoulos's sinking ratings and Wentworth's potential hit, "Living It Up With Ali & Jack," scheduled for a Sept. 15 debut with co-host Jack Ford. The story added that Stephanopoulos "got really annoyed" when the paparazzi at Sen. Hillary Rodham Clinton's New York book party last month asked him to move out of the way so they could take pictures of Wentworth.
"George was laughing about that," she told us. "He's really excited about my show. He's the one who persuaded me to do it when I was eight months pregnant. . . . How many people do you know in a strained marriage who are making love twice a day?"
Really? We're impressed.
"Well, let me tell you, we're still in our honeymoon phase."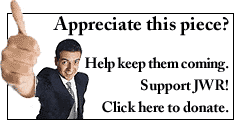 MEL GIBSON'S WASHINGTON POWER PLAY
Movie star Mel Gibson — under fire for his still-unreleased film that graphically portrays the crucifixion of Jesus — this week screened a rough cut of "The Passion" for a select group of Washington pundits, clergymen and at least one White House staffer.
"I've heard people talking about how I can't get a distributor," the casually dressed Gibson — sporting sandals and white socks — told the four-dozen audience members. "Believe me, I can get a distributor."
A vocal conservative and devout Catholic, the 47-year-old Academy Award winner has weathered accusations of anti-Semitism for the movie, which is being produced by his company, Icon Productions. The influential Anti-Defamation League, which monitors incidents of anti-Semitism, has been especially critical, pointing out on its Web site the long historical relationship between passion plays and attacks on Jews: "ADL has serious concerns regarding Mr. Gibson's 'The Passion' and asks: Will the final version of 'The Passion' continue to portray Jews as blood-thirsty, sadistic and money-hungry enemies of Jesus?"
Monday's secret two-hour screening at the Motion Picture Association of America included columnists Peggy Noonan, Cal Thomas and Kate O'Beirne; conservative essayist Michael Novak; President Bush's abortive nominee for labor secretary, Linda Chavez; staff director Mark Rodgers of the Senate Republican conference chaired by Sen. Rick Santorum, R-Pa.; former Republican House member Mark Siljander of Michigan; and White House staffer David Kuo, deputy director of the Office of Faith-Based and Community Initiatives.
"I find this sad," said ADL National Director Abraham Foxman, who hasn't been permitted to see the movie. "Here's a man who appeals to the mass audience, but he feels he has to surround himself with a cordon sanitaire of people who back him theologically."
When the lights came up, many in the audience — who were required to sign a confidentiality agreement before being admitted to the screening room — were in tears. Some were sobbing, we hear.
"Heartbreaking," Michael Novak told Gibson. MPAA President Jack Valenti was perhaps the most enthusiastic. "I don't see what the controversy is all about," he told fellow audience members. "This is a compelling piece of art. I just called Kirk Douglas and told him that this is the movie to beat."
Another invitee, right-wing radio host Laura Ingraham, told us: "I want to see any movie that drives the anti-Christian entertainment elite crazy."
THIS JUST IN . . .
Getting their stories straight: We hear that Iraq war heroine Jessica Lynch, who is suffering from memory loss concerning her ordeal in combat, is cooperating with Pulitzer Prize-winning reporter Rick Bragg on a $1 million book deal for Knopf. This would be a big get for Bragg, who resigned from The New York Times over questions about his reporting methods in the wake of the Jayson Blair scandal.
Class Warfare: Passengers on Sunday's United Airlines Flight 844 from San Francisco to Dulles got a glimpse of the Washington pecking order. Scrunched back in coach, their knees knocking up against the seats in front of them, were White House political guru Karl Rove and Commerce Secretary Don Evans. Stretching out his legs in business class up front was Senate Minority Leader Tom Daschle, D-S.D. "Who says Democrats are anti-business?" Daschle spokesman Jay Carson demanded.


Comment by clicking here.

07/21/03: White House smear?
07/17/03: Yet another intern scandal; it's her party and she can pay if she wants to
07/14/03: On the auction block: JFK'S boxer shorts; love bytes the maestro
07/10/03: A hairy situation at Homeland Security; Van Susteren v. Orth
06/30/03: Rep. Patrick Kennedy: I've never worked a (bleeping) day in my life; Drudge's dressing down; Ken Lay's Kerry connection
06/26/03: Rapping the beat
06/23/03: Another Watergate scandal?; AL GORE TV!
06/19/03: Tony Snow, rocker?; that won't be crow on Mr. Carlson's plate
06/16/03: Missing dog, ransom demand, Hollywood ending
06/12/03: Giving both parties the needle
06/09/03: WHAT DID SHE KNOW, AND WHEN DID SHE KNOW IT?
06/05/03: Incoming from Barbara Bush?
06/02/03: Bob Dole's plan for fighting unemployment
05/29/03: Newt's new novel
05/27/03: Hitchens & Blumenthal, together again; He still believes in a man called Hope
05/09/03: Close, but no cigar; Romeo & Juliet with a happy ending?; Geraldo to help Heebs?
05/05/03: So Bill Gates and Tom Brokaw walk into a coffee bar . . .; hotel hell; more

© 2003, Creators Syndicate