Jewish World Review Oct. 15, 2003 / 19 Tishrei, 5764

Lloyd Grove
Kerik into the breach?; holiday pander?; "the Dink" corrects the record; more
http://www.jewishworldreview.com | NEW YORK — NEW YORK — Talk about terrific timing!
At the precise moment that various influential New York Republicans are privately touting former Police Commissioner Bernard Kerik to challenge Mike Bloomberg — the vulnerable ex-Democrat — in the 2005 GOP mayoral primary, Harvey Weinstein revealed yesterday that Miramax will make a movie based on Kerik's life story.
"Bernie Kerik embodies the resolve of all New Yorkers," Weinstein declared — in what might constitute a warm endorsement if Kerik decides to run. "His grit, determination and never-say-die attitude are an inspiration and prove, once again, that leadership is an action, not just a word."
Kerik, who just returned from four months in Iraq helping to build the new post-Saddam Hussein police force, wasn't ruling anything out when I reached him yesterday through his office at Giuliani partners, the consulting firm founded by Bloomberg's City Hall predecessor.
"I'm not going to comment," Kerik answered when I asked if he's considering a run. "Right now, I'm sticking to the private sector. Anything to do with politics right now is going to have to do with getting the message out on Iraq and getting President Bush re-elected."
As for a mayor's race, "We'll see down the road," Kerik said.
That sounds like a definite maybe.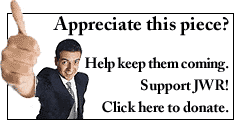 I asked Kerik if there's any possibility that Miramax can release the big movie — based on Kerik's memoirs, "The Lost Son: A Life in Pursuit of Justice" — in time to cement his folk-hero status before the election?
He laughed heartily. "That's up to Harvey Weinstein," he giggled, adding: "I've heard everyone from Bruce Willis to Russell Crowe being talked about to play me."
As for the current mayor, the New York Daily News's Dave Saltonstall tells me that thatch-roofed Republican pollster Frank Luntz, who advised Bloomberg in 2001, dropped by City Hall yesterday to lunch with Bloomberg senior adviser Vinnie La Padula — presumably to offer ideas on how to climb out of the cellar — and then schmoozed with other top Bloomberg aides.
As for his Hizzoner's vow never to govern by polling data, communications director Bill Cunningham insisted that this policy remains operative. "No, you didn't stumble upon the smoking pollster gun," he joked to Saltonstall. "I can tell you right now, we are not doing any polling — and Mr. Luntz is not doing any polling for us."
"THE DINK" CORRECTS THE RECORD
Diminutive movie star Peter Dinklage was the big draw at Monday night's post-screening party for his break-out film "The Station Agent." Celebrity guests at the upper East Side restaurant Kitsch lined up to tell "The Dink" what a fabulous performance he'd delivered.
But that didn't dissuade the 4-foot-6 actor from giving the New York Daily News's Spencer Morgan a piece of his mind over this column's item about Dinklage's recent flirty encounter at a SoHo saloon with 5-foot-10 former Elite model Caitlin Baldwin.
"It seems like that woman just wanted publicity for herself," Dinklage said. "She kind of tweaked it. And she sent in a picture of herself." Dinklage rebutted Baldwin's account, point by point: "I met her. But she said we closed down the bar. I left with my friends and got a ride back to Williamsburg from my friend. I didn't drink her under the table. She did have some drinks so maybe she just remembered it wrong. I really don't mind, but it's funny that she would make that up. It's kind of a nonstory. So I'm all right at a bar. Is it because of my size?"
Writer-director Tom McCarthy told Morgan that Sidney Lumet, who is famously brutal on actors and is also the father-in-law of "Station Agent" co-star Bobby Cannavale, sometimes showed up on the set to offer advice. So did McCarthy employ any Lumet-inspired techniques?
"We beat up Pete all the time," McCarthy joked, but added: "We worked the hell out of that guy. And he was pretty, well, dragging by the end. But that's when you're happy not only to have a good actor, but to have a friend. He got it. It was never an issue with him."
THE BRIEFING
LENNY LENDS A HAND: A crowd of celebs turned out for the rock-star stylings of actress Gina Gershon, who was fronting for Girls Against Boys at Joe's Pub Tuesday night. (Gershon's movie, "Prey for Rock & Roll," opens this Friday.) The packed house, including Fisher Stevens, Liev Schreiber, Ahn Duong and Julianna Margulies, went nuts at the surprise on-stage appearance of Lenny Kravitz, who brought his electric guitar. Gershon and Kravitz (who showed up sans Nicole Kidman and performed two songs with Gershon) are old friends from Beverly Hills High School — where yours truly passed through the 9th grade many, many years earlier. Go, Normans!
HOLIDAY PANDER?: Democratic presidential candidate Howard Dean, who's had his troubles with members of the Jewish community over recent blurted remarks that "it's not our place to take sides" in the Middle East and that Israel must dismantle "an enormous number" of West Bank settlements, is planning to help New York's Lincoln Square Synagogue celebrate the harvest festival of Sukkos on Friday. The Forward's E.J. Kessler reports that Dean, who sometimes points out that his wife is Jewish, will visit a traditional sukkah and then try to placate various religious and political leaders. "It's an opportunity for him to hear from Jewish leadership," said Dean's Jewish affairs adviser, Matt Dorf. "He's going to be listening ."


Comment by clicking here.

10/14/03: Madge gets mad, lips are sealed; the candidates who listen; he who hesitates is Beatty
10/13/03: Clothes, but no cigar; New Yorkers put a Sox in it; mad at Matalin?; more
10/09/03: Gray Davis goes to the movies; Ali Wentworth, working blue; Law & Order?; pot of gold at the end of the rainbow room?
10/08/03: Art-time for Hitler; the actress who hates movies; lying "Liam"
10/07/03: Pond scum of the rich and famous
07/24/03: Ali and George, living it up; Mel Gibson's Washington power play
07/21/03: White House smear?
07/17/03: Yet another intern scandal; it's her party and she can pay if she wants to
07/14/03: On the auction block: JFK'S boxer shorts; love bytes the maestro
07/10/03: A hairy situation at Homeland Security; Van Susteren v. Orth
06/30/03: Rep. Patrick Kennedy: I've never worked a (bleeping) day in my life; Drudge's dressing down; Ken Lay's Kerry connection
06/26/03: Rapping the beat
06/23/03: Another Watergate scandal?; AL GORE TV!
06/19/03: Tony Snow, rocker?; that won't be crow on Mr. Carlson's plate
06/16/03: Missing dog, ransom demand, Hollywood ending
06/12/03: Giving both parties the needle
06/09/03: WHAT DID SHE KNOW, AND WHEN DID SHE KNOW IT?
06/05/03: Incoming from Barbara Bush?
06/02/03: Bob Dole's plan for fighting unemployment
05/29/03: Newt's new novel
05/27/03: Hitchens & Blumenthal, together again; He still believes in a man called Hope
05/09/03: Close, but no cigar; Romeo & Juliet with a happy ending?; Geraldo to help Heebs?
05/05/03: So Bill Gates and Tom Brokaw walk into a coffee bar . . .; hotel hell; more

© 2003, Creators Syndicate