Jewish World Review Oct. 21, 2003 / 25 Tishrei, 5764

Lloyd Grove
Morris & Jaci's charm offensive; Hell hath no fury; Wintertime for Hitler
http://www.jewishworldreview.com | NEW YORK — Dynamic Duo Morris and Jaci Reid are taking New York by drizzle — and they don't even live here yet.
Little by little, drop by drop — of Martell Cognac, a client of Morris Reid's corporate consulting firm — they are insinuating themselves into the city's sequined social fabric and scaling the celebrity ziggurat.
The Reids are also burnishing their social status by serving on half a dozen charitable boards ranging from the Whitney Museum, to New York University, to the Dance Theatre of Harlem, to Love Heals, an AIDS prevention and education group. Jaci has hired a personal publicist on occasion, and recently, the Reids scored a story in The New York Times.
In recent months they have thrown intimate dinners and Gatsby-like blowouts at their East Hampton summer rental, and the movers and shakers who have supped at their table (or sipped on their lawn) include media scion Lachlan Murdoch and his model-wife Sarah; hip-hop fashion phenoms Russell and Kimora Lee Simmons; U.S. Rep. Harold Ford, a rising Tennessee Democrat; King of All Media Howard Stern and model-girlfriend Beth Ostrosky; high-tech publishing heir Daniel Ziff; "The View" regular Star Jones; restaurateur Jimmy Rodriguez and trendy artist Renee Cox.
On Saturday night, the Reids hosted the last in a series of dinner parties paid for by Martell to promote the brand "and get Martell Cognac into the right hands, and get a buzz going," as Morris explained.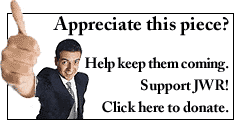 This dinner was at the spectacular upper West Side apartment of hedge fund manager Matt Gohd, a friend from Democratic Party circles and Kennedy family connections. I was seated between the saucy Jaci (dressed sexily in a tight-fitting leather miniskirt and flashing a six-carat diamond ring) and the more demurely pantsuited Patricia Duff, ex-wife of billionaire Ronald Perelman.
"Morris and I have been married for seven years — so I'm getting that seven-year itch," Jaci flirted, jabbing my ribs with her elbow while her husband, across the table, laughed.
He's eight years younger than she, lending them a certain Demi-Ashton thang. "My husband is younger, but he's an old soul," Jaci told me. "I'm the one who acts like a teenager!"
After dinner, the Reids and a few guests piled into their chauffeured Town Car and headed for Bungalow 8, where owner Amy Sacco greeted them like old friends and the socializing continued over bottles of Veuve Cliquot.
Both Reids come from humble roots. Jaci, from Houston's working-class, largely African-American 3rd Ward, is a former cocktail waitress and dancer who started in politics working for Chicagoan Carol Moseley Braun. Morris, from Akron, is a social worker's son. Both were raised by single mothers after their fathers left the home.
They fell for each other 10 years ago in Washington, where Morris was a top aide to Bill Clinton's Commerce secretary, the late Ron Brown, and Jaci was working for U.S. Trade Representative Mickey Kantor. They eloped in St. Barts — it was her second marriage, his first — and today they spend their Christmases on the fashionable island.
"When we argue," Morris told me, "it usually ends with my buying Jaci a piece of jewelry."
"So I guess that means," Jaci quipped, "that one is on the way."
Aside from Manhattan, they also make the scene in Los Angeles and London, and carom between the Hamptons and D.C., where Morris's company, Westin Rinehart, is based. (There is no Westin or Rinehart in the company; Morris just likes the sound of it.)
The Reids are in the process of exchanging their Washington town house for a luxury flat on the Potomac, and Jaci tells me she hopes one day soon to have a permanent home in Manhattan, where her role-models are American Express CEO Ken Chenault and wife Kathryn — "because they're giving back to the African-American community" — and philanthropist Evelyn Lauder.
"I admire what (Lauder's) done with the cause of breast cancer." She added: "It's not about us. It's about the cause."
HELL HATH NO FURY
I'm told that former San Antonio Express-News advice columnist Becky Whetstone, just divorced from Texas Democratic Congressman Charlie Gonzalez, is writing a bitter tell-all of her five-year marriage, "The Congressman's Wife," and is also launching a Web site "dedicated to people like me who get crushed by power."
The site, now under construction, will be a place for similarly victimized ex-spouses to seek emotional and financial support, and just plain vent.
The 45-year-old Whetstone, the mother of two teenagers from a previous marriage, plans to include the anecdote of how her husband allegedly didn't lift a finger when her hair caught on fire in a Washington restaurant, as well as other stories of spouses who were "squashed like a bug," as she has told friends privately. The moral: Don't marry powerful people who can wield their clout to gain advantage in a divorce.
On Monday Gonzalez told me: "I'm glad that the marriage is over. I wish Becky well. I just hope her book is factual."
THE BRIEFING
WINTERTIME FOR HITLER: I'm relieved to report that the Fuhrer's stock is very low these days on the art market. New Hampshire's R&R Auction House wanted at least $7,500 for two postcard-size watercolors of a panther and a field, painted in 1907 when the future mass murderer was a starving artist in Vienna. Over the weekend, R&R announced that the paintings sold for only $8,625. Auction house owner Bob Eaton must be bummed, which is perhaps why he didn't return several phone calls yesterday.
NAILING DOWN A CONFESSION: CNN anchor Anderson Cooper not only admits to being a nail-biter in the upcoming issue of Details, he defends the practice: "I'm not saying you should start biting your nails, but if you already do, why stop? Nail biting isn't sexy or stylish, but it is at least genuine — an increasingly hard-to-find hint of humanity. . . . I suppose if you've never bitten your nails, there isn't any way to explain the habit. It's not enjoyable, really, but there is a certain satisfaction — pride in a job well done."
BUSTING THE SELL-BY DATE?: Gossip, like fine wine, often benefits from proper aging. But it can turn to vinegar if left too long on the shelf. This might be the trouble with the bulletin in another column Sunday about a sighting of "Today" show host Matt Lauer "with pregnant wife Annette," at Allison on the Beach in Wainscott. Annette Lauer gave birth to daughter Romy on Oct. 2.


Comment by clicking here.

10/20/03: Isn't it rich?; men (and the occasional woman) behaving badly; peacenik John Lennon supporting the U.S. military?; courageous Connie
10/16/03: George Clooney and intolerable Drudgery; Cameron goes native; and you thought the war in Iraq was nasty?; now it can be revealed; star wars?
10/15/03: Kerik into the breach?; holiday pander?; "the Dink" corrects the record; more
10/14/03: Madge gets mad, lips are sealed; the candidates who listen; he who hesitates is Beatty
10/13/03: Clothes, but no cigar; New Yorkers put a Sox in it; mad at Matalin?; more
10/09/03: Gray Davis goes to the movies; Ali Wentworth, working blue; Law & Order?; pot of gold at the end of the rainbow room?
10/08/03: Art-time for Hitler; the actress who hates movies; lying "Liam"
10/07/03: Pond scum of the rich and famous
07/24/03: Ali and George, living it up; Mel Gibson's Washington power play
07/21/03: White House smear?
07/17/03: Yet another intern scandal; it's her party and she can pay if she wants to
07/14/03: On the auction block: JFK'S boxer shorts; love bytes the maestro
07/10/03: A hairy situation at Homeland Security; Van Susteren v. Orth
06/30/03: Rep. Patrick Kennedy: I've never worked a (bleeping) day in my life; Drudge's dressing down; Ken Lay's Kerry connection
06/26/03: Rapping the beat
06/23/03: Another Watergate scandal?; AL GORE TV!
06/19/03: Tony Snow, rocker?; that won't be crow on Mr. Carlson's plate
06/16/03: Missing dog, ransom demand, Hollywood ending
06/12/03: Giving both parties the needle
06/09/03: WHAT DID SHE KNOW, AND WHEN DID SHE KNOW IT?
06/05/03: Incoming from Barbara Bush?
06/02/03: Bob Dole's plan for fighting unemployment
05/29/03: Newt's new novel
05/27/03: Hitchens & Blumenthal, together again; He still believes in a man called Hope
05/09/03: Close, but no cigar; Romeo & Juliet with a happy ending?; Geraldo to help Heebs?
05/05/03: So Bill Gates and Tom Brokaw walk into a coffee bar . . .; hotel hell; more

© 2003, Creators Syndicate