Jewish World Review Nov. 26, 2003 / 1 Kislev, 5764

Lloyd Grove
Catherine Crier raps Jacko's TV defender, refuses on-air hint of racism; At 50, Tina's in full cry; STAY OUT OF HER WAY!; more
http://www.jewishworldreview.com | NEW YORK — Syndicated radio host Flo Anthony was having a very tough time the other night as the lone defender of Michael Jackson on Court TV's "Catherine Crier Live."
Things got so heated, during a discussion of race and the Jackson prosecution, that she wept during the commercial breaks.
But a couple of hours later, Denzel Washington made her feel better by phoning her at home "to thank me for standing my ground and not backing down," Anthony told me yesterday.
"He told me that his phone wouldn't stop ringing from friends telling him to turn on the show. He told me he was proud of me and that he wanted me to know that he loved me."
Anthony added that "I was victimized" during her Friday Court TV appearance, when gossip columnist Ted Casablancas admonished her, "Shut up and let me finish, woman!" as she tried to interrupt his criticism of the accused pedophile pop star.
"How dare you tell me to shut up?" Anthony shot back.
Moments later, Anthony complained to Crier: "I really don't appreciate at this moment being the only African-American member of this panel. You guys have done all this stuff to me today."
"Done what stuff?" Crier demanded.
"Ted hollering 'Shut up!', all this stuff with the African-American ..."
"Well, Flo," Casablancas interjected. "It's about time somebody did."
"I've never hollered at you, 'Shut up!', Anthony responded. "I've never disrespected you. I've never been disrespected so much in my life by a host."
At which Crier insisted, "I have no disrespect for you, Flo. ... Howard Dean has said, in his campaign ... if we can't talk about these issues, then shame on all of us. If we can't talk about this, then I'm in the wrong business."
Yesterday, Anthony told me: "It was only about 30 minutes, but it felt like a lifetime."
She said that when she got home to her upper East Side apartment, she poured herself a glass of wine to calm her nerves. Then came the call from the movie star, who had obtained her number from a mutual friend.
Washington's publicist, Alan Nierob, confirmed the phone call, but cautioned that it was a show of support for Anthony, not Jackson.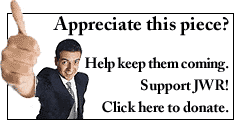 At 50, Tina's in full cry
Tina Brown was stunned - and ultimately moved to tears - when her husband, Harold Evans, and a small coterie of close friends threw a surprise party to celebrate her 50th birthday Monday night.
Brown, a CNBC host and erstwhile Talk magazine editor (who actually turned 50 last Friday), was lured to the palatial Park Ave. apartment of Talk alumna Holly Peterson on the pretext of honoring National Humanities Medal winner Joan Ganz Cooney, the founder of the Children's Television Workshop and wife of financier Pete Peterson, Holly's dad.
But when Brown and Evans arrived, they were greeted by a "Happy Birthday"-chorusing crowd of FOTs ("Friends of Tina") that included CNBC president Pamela Thomas Graham, entertainment lawyer Alan Grubman, agent Mort Janklow, media mogul Steve Rattner, NY Daily News columnist Abe Rosenthal and romance novelist Shirley Lord, CNBC producer Kathy O'Hearn, Miramax Books editor Susan Mercandetti and Council on Foreign Relations president Richard Haass; New Yorker editor David Remnick, Vanity Fair managing editor Chris Garrett and former Talk editorial director Maer Roshan; writers Stephen Schiff, Jeffrey Toobin, Adam Gopnik, Christopher Buckley and Ken Auletta (with his wife, agent Binky Urban); historian Simon Schama, and PR impresarios Hamilton South and Anne Reingold.
Brown's eyes grew wide, then wet, as Buckley, Gopnik, Schama and Evans raised their glasses in birthday toasts. Evans read aloud from her long-ago article in the New Statesmen that first attracted him when she was a student at Oxford - a piece about a lunch with British Cabinet official Richard Crossman.
"Over lunch, Crossbum [his satirical nickname] is made to sing for his supper," Evans recited. "He has the jovial garrulity and air of witty indiscretion that shows he intends to give nothing away."
Brown, by contrast, gave everything away - choking up as she she surveyed the guests and declared that they represented the best days of her life.
The Briefing MOM TO THE RESCUE: CNN anchor Anderson Cooper knows zero about cuisine (he claims that he grew up with only Carr's crackers in the kitchen cupboard) and he cares even less. So he wasn't looking forward to interviewing British food guru Nigella Lawson for a Thanksgiving segment. "Basically I was trying to figure out how to get out of it," Cooper told me yesterday. "What does someone do in that situation? He calls his mom!" Which is why Gloria Vanderbilt, Cooper's mother and a fanatical Lawson devotee, came to the set yesterday to conduct the pretaped interview for tonight's broadcast.
AND NOT A TURKEY IN SIGHT: How does Donald Trump celebrate Thanksgiving? With a groundbreaking ceremony at Mar-a-Lago, of course. He's invited his rich Palm Beach pals, including Dame Celia Lipton Farris - the first dues-paying member of Trump's club - to celebrate the new ballroom on the former Marjorie Merriweather Post estate. "When completed, in approximately 14 months, there will be nothing like the monumentality and beauty of our new Ballroom," the Donald writes in his invitation to the ceremony.
STAY OUT OF HER WAY! When rainclouds burst over Sessa on Monday night, after the premiere of the movie "Honey," hot-tempered supermodel Naomi Campbell was in no mood to get wet. A spy tells me that she came running from her SUV to the VIP entrance, and nearly knocked over the folks waiting patiently to go through the metal detector - including "Honey" star Jessica Alba, rap impresario Russell Simmons, and singers Usher and Maxwell - to get out of the rain.


Comment by clicking here.

11/25/03: The mogul strikes back?; go ahead, make Harvey's day; more
11/24/03: Georgette's pilfered baubles; prosecutor of pop?; absent but not missed?; Norman Mailer's prescription for education reform; more
11/20/03: Is a movie career in store for Maria Bartiromo?; People for the Unethical Treatment of Humans?; more
11/19/03: Scientologists on Razor's edge?; picking a winner?; source on a hot tin roof?; more
11/18/03: Clay Aiken neuters PETA?; THEM'S FIGHTIN' WORDS!; a mural for Joe
11/17/03: When networks attack!; leaky Fawcett; forget the Paris Hilton video!; more
11/13/03: Publicity hounds; Prophetic priest; Dumb and Dumber
11/12/03: Not so Rosie; do you believe in miracles?; catalogue of sins; My Heart Belongs to Koppel
11/10/03: Gen. clark on the Subway diet; life of the party; MTV's Dumb and Dumber?; the hug issue; but does the $6,000 shower curtain convey?; red faces at Buckingham palace?
11/06/03: Let them eat pita?; verbal jousting; pretenders to the throne?
11/05/03: Will Harvey Weinstein and Gregg Easterbrook now be pals?; crazed Quentin; more
11/04/03: Herding off the hipsters; more
11/03/03: Dean's tell-all on himself?; Lisaraye vs. Mya?; the odd couple; no need to panic; just don't call him "Scooter"!; Rosie scenarios
10/30/03: Autumn of the editor?; Cynthia Nixon's split may be costly; 'Burning' questions
10/29/03: Ah-nold, unauthorized!; a dilemma for Melissa Gilbert? not even Frank Gifford can help him now!; nobody wanted Elizabeth Hurley
10/28/03: It's Cher calling!; Brown Alert
10/27/03: Paparazzi uncensored!; where's Aaron Brown?; postcards from the middle; invasion of the party snatchers?; House flooded when not afire?; suspenders of disbelief?
10/23/03: Ace up Howard Dean's sleeve; Woody's ordeal; Paul Simon's kid makes good; the non-beginning of a beautiful friendship?
10/22/03: Showing the flag; Joe Frazier, smokin'!; see Carville bruised-up — sort of
10/21/03: Morris & Jaci's charm offensive; Hell hath no fury; Wintertime for Hitler
10/20/03: Isn't it rich?; men (and the occasional woman) behaving badly; peacenik John Lennon supporting the U.S. military?; courageous Connie
10/16/03: George Clooney and intolerable Drudgery; Cameron goes native; and you thought the war in Iraq was nasty?; now it can be revealed; star wars?
10/15/03: Kerik into the breach?; holiday pander?; "the Dink" corrects the record; more
10/14/03: Madge gets mad, lips are sealed; the candidates who listen; he who hesitates is Beatty
10/13/03: Clothes, but no cigar; New Yorkers put a Sox in it; mad at Matalin?; more
10/09/03: Gray Davis goes to the movies; Ali Wentworth, working blue; Law & Order?; pot of gold at the end of the rainbow room?
10/08/03: Art-time for Hitler; the actress who hates movies; lying "Liam"
10/07/03: Pond scum of the rich and famous
07/24/03: Ali and George, living it up; Mel Gibson's Washington power play
07/21/03: White House smear?
07/17/03: Yet another intern scandal; it's her party and she can pay if she wants to
07/14/03: On the auction block: JFK'S boxer shorts; love bytes the maestro
07/10/03: A hairy situation at Homeland Security; Van Susteren v. Orth
06/30/03: Rep. Patrick Kennedy: I've never worked a (bleeping) day in my life; Drudge's dressing down; Ken Lay's Kerry connection
06/26/03: Rapping the beat
06/23/03: Another Watergate scandal?; AL GORE TV!
06/19/03: Tony Snow, rocker?; that won't be crow on Mr. Carlson's plate
06/16/03: Missing dog, ransom demand, Hollywood ending
06/12/03: Giving both parties the needle
06/09/03: WHAT DID SHE KNOW, AND WHEN DID SHE KNOW IT?
06/05/03: Incoming from Barbara Bush?
06/02/03: Bob Dole's plan for fighting unemployment
05/29/03: Newt's new novel
05/27/03: Hitchens & Blumenthal, together again; He still believes in a man called Hope
05/09/03: Close, but no cigar; Romeo & Juliet with a happy ending?; Geraldo to help Heebs?
05/05/03: So Bill Gates and Tom Brokaw walk into a coffee bar . . .; hotel hell; more

© 2003, Creators Syndicate