Jewish World Review Feb. 27, 2004 / 6 Adar, 5764

Lloyd Grove
Regan rebellion; Ed Limato strikes again!; tears for Tom; more
http://www.jewishworldreview.com | NEW YORK — This week, the small staff at ReganBooks — the highly profitable publishing imprint at Rupert Murdoch's HarperCollins — received good news and bad news.

The good news is that Sean Hannity's "Deliver Us from Evil: Defeating Terrorism, Despotism and Liberalism," a ReganBooks title, has just hit No. 1 on the New York Times Bestseller list. (Click HERE to purchase. Sales help fund JWR.) The bad news is that four more employees of the notoriously sharp-tongued Judith Regan have just left the imprint.

The departure of longtime marketing director Carl Raymond and his assistant (whom Regan, in a brief phone interview, referred to as "a temp"), leaves ReganBooks without a marketing department. Also gone are a junior editor and Regan's personal assistant.

"All I will say about that," Regan told me, "is that Carl Raymond is the only one who resigned. He is an enormously talented marketing director. He was with me for over five years, and he worked like a dog."

Raymond didn't return my call. He and the others are the latest departures in what I'm told has been a "mass exodus" from Regan's fiefdom in the past two years — nearly a dozen employees in all.

Regan is unapologetic.

"You know what? To be very successful, there's a lot of very hard work, and a lot of insanity, which goes with the territory," she told me. "I run a tight ship, work with very creative and hardworking people, who are really smart and really aggressive. We also produce at a very high level. Some people can't do that. Some people don't have the work ethic, the creativity, the drive, the ambition, the desire — and that's why they don't make it."

But a former ReganBooks staffer said: "She is the boss from hell," and half a dozen ex-employees complained to me about Regan's allegedly abusive behavior.

Fearing reprisals from their former boss, none of these ex-staffers would allow me to identify them. Their testimony, however, is remarkably consistent.

According to multiple sources, the 50-year-old mother of two is a brilliant publisher with an uncanny feel for the marketplace. She can also be enormously charming.

But she is also, I've been told, a bully who regularly addresses underlings as "(expletive deleted) retards" and "(expletive deleted) idiots," and phones them after midnight at home to berate them in profanity-laced tirades.

I'm told that one Regan employee developed a stress-induced skin rash, and another suffered stomach trouble under her steady fire. I hear that HarperCollins compensated several departing employees who signed confidentiality agreements on their way out the door.

When Regan left Simon and Schuster to establish her imprint at HarperCollins in 1995, she reported directly to Chairman Murdoch of News Corp., which owns the publishing house as well as Fox News and the New York Post. But now she answers to HarperCollins CEO Jane Friedman (who didn't return repeated phone calls about Regan).

The allegedly toxic atmosphere at ReganBooks is an open secret at HarperCollins, and in the past six months, Friedman installed exec Carie Friemuth (who also didn't return my phone calls) to, as one person told me, "monitor the insanity."

Regan didn't personally respond to a detailed e-mail enumerating the complaints, but her lawyer called them "outrageous" and "patently false."

HarperCollins Vice President of Corporate Communications Lisa Herling e-mailed: "Judith Regan is an extraordinarily creative and talented publisher. Her abundant talents have been demonstrated again and again by the critical and commercial success of books published under the ReganBooks imprint.

"In your e-mail, you ask Ms. Regan to comment upon certain allegations from unnamed sources. It is HarperCollins' policy never to comment on internal personnel matters, nor dignify gossip by responding to it."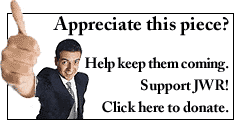 ED LIMATO STRIKES AGAIN!

Mel Gibson's Hollywood agent — who last year tossed the contents of a martini glass into the face of a fellow gossip columnist — is now dissing Variety's venerable Army Archerd.

International Creative Management's Ed Limato has disinvited the influential columnist — who has written critically about Gibson's "The Passion of the Christ" — from his star-studded party at the Limato mansion in Beverly Hills.

The 82-year-old Archerd told me Thursday that Limato is angry about his Wednesday column which quoted Andy Rooney calling Gibson a "wacko."

"I must ask you not to attend my pre-Oscar party," Limato wrote in a letter quoted in Archerd's column Thursday. "It would be most uncomfortable since Mel Gibson has been, as you know, a very close friend as well as an important client of mine for the past 23 years. I feel you have been relentless in your negative positioning of him over the past few months, so I'm sure you will understand."

Archerd told me: "Sounds like he's crucifying the messenger."

THE BRIEFING

COME TO SAUDI ARABIA?: The theocratic desert kingdom that spawned Osama bin Laden is trying to change its image of isolation and Islamic radicalism by throwing down the welcome mat to tourists. At least some tourists. "The people of Saudi Arabia are warm, hospitable and friendly," the Saudis say on their new Web site, sauditourism.gov.sa. "They extend a warm invitation to you to come and experience this unique and rare destination."

But then the Web site advises: "Visas will not be issued for the following groups of people: An Israeli passport holder or a passport that has an Israeli arrival/departure stamp. Those who don't abide by the Saudi traditions concerning appearance and behaviors. Those under the influence of alcohol . . . Jewish People." I'll take St. Barts.

TEARS FOR TOM: There were few dry eyes — and more than a few weeping fashionistas — at Wednesday night's Gucci show in Milan, designer Tom Ford's swan song at the luxury label. A spy for this column reports that mountain-sized Andre Leon Talley of Vogue was heaving with sobs as the crowd gave Ford a standing ovation. Word is that 42-year-old Ford is moving to Hollywood to direct movies and maybe write a book.


Comment by clicking here.

02/26/04: McCain predicts a nasty campaign; the misdirected missive; Janet Jackson, the interview; more
02/20/04: Introducing the Kerry sisters; cyberflap!; Snoop Dogg v. O'Reilly?; more
02/18/04: John Kerry's Friendster?; On the mend?; food for fraughtm; more
02/13/04: John & Carolyn, redux; Zell Miller shows the flag; kill Quentin?; more
02/11/04: HE FEELS BAD!; Dick Cheney, still not dead; more
02/06/04: Glittering Grammys; a laurel for Janet; Haryl's heart
02/04/04: Shriver quits NBC; "Marshmallow" Mike Tyson?; Super Bowl propriety?; MTV's next production?; more
01/30/04: The political forehead front; Alies meets Franken; the art of the hype; arrested career development?
01/28/04: Eyebrow-raising politics; call him indescribable; Woods vs. Williams; more
01/23/04: Eyebrow-raising mystery; who's punk'd anyway?; don't curb your enthusiasm; more
01/21/04: Ridiculous lives of the self-important stars; long arm of the law; all's fair in love and literature
01/16/04: Global warming at a glacial pace; targeting pop culture; Is 'the price of loyalty' too high?
01/14/04: Busting on the "cult buster"; Sarsgaard thinks globally; one angry woman; more
01/08/04: Sitcom star won't be excused from Blake murder trial; fierstein on fire; Drudge & Blumenthal, together again
01/07/04: Bono hits a brick wall; Britney, before the nuttiness; the Arianna primary; more
01/02/04: Where have you gone, Joe DiMaggio!?; "Bachelor" bruises; Returning to the scene of the crime?
12/31/03: Disaster for the defense; no-war Omar; the shoe must go on; more
12/19/03: Bob Shapiro's free commercial?; Are sophisticated and hip New Yawkers easily duped?; Positive Saddam fallout?; Ratty insult?
12/17/03: Magic Mystery Tour?; Russell Simmons battles ink by the barrel; Would it have killed her to say 'get well soon'?; no Gest room
12/12/03: Karenna defends her dad; now she tells us!; say it ain't so, Mo!; more
12/10/03: Man & wife, interruptus; pepperoni has feelings, too; more
12/05/03: The knives are out; Who's sorry now?; JWR in the news
12/04/03: The war of the gest-minnellis; something borrowed, something cashmere; fashion trendsetter, nailed!
12/03/03: Colombian grace under pressure; Lord of the Screwups; more
12/02/03: Curb your anti-Semitism?; fame fatigue?; bowing to pressure?; more
12/01/03: Dennis the Menace strikes again; first literary feud of the holiday season; Norma Jean & Hef in heaven?; the fog of McNamara; more
11/26/03: Catherine Crier raps Jacko's TV defender, refuses on-air hint of racism; At 50, Tina's in full cry; STAY OUT OF HER WAY!; more
11/25/03: The mogul strikes back?; go ahead, make Harvey's day; more
11/24/03: Georgette's pilfered baubles; prosecutor of pop?; absent but not missed?; Norman Mailer's prescription for education reform; more
11/20/03: Is a movie career in store for Maria Bartiromo?; People for the Unethical Treatment of Humans?; more
11/19/03: Scientologists on Razor's edge?; picking a winner?; source on a hot tin roof?; more
11/18/03: Clay Aiken neuters PETA?; THEM'S FIGHTIN' WORDS!; a mural for Joe
11/17/03: When networks attack!; leaky Fawcett; forget the Paris Hilton video!; more
11/13/03: Publicity hounds; Prophetic priest; Dumb and Dumber
11/12/03: Not so Rosie; do you believe in miracles?; catalogue of sins; My Heart Belongs to Koppel
11/10/03: Gen. clark on the Subway diet; life of the party; MTV's Dumb and Dumber?; the hug issue; but does the $6,000 shower curtain convey?; red faces at Buckingham palace?
11/06/03: Let them eat pita?; verbal jousting; pretenders to the throne?
11/05/03: Will Harvey Weinstein and Gregg Easterbrook now be pals?; crazed Quentin; more
11/04/03: Herding off the hipsters; more
11/03/03: Dean's tell-all on himself?; Lisaraye vs. Mya?; the odd couple; no need to panic; just don't call him "Scooter"!; Rosie scenarios
10/30/03: Autumn of the editor?; Cynthia Nixon's split may be costly; 'Burning' questions
10/29/03: Ah-nold, unauthorized!; a dilemma for Melissa Gilbert? not even Frank Gifford can help him now!; nobody wanted Elizabeth Hurley
10/28/03: It's Cher calling!; Brown Alert
10/27/03: Paparazzi uncensored!; where's Aaron Brown?; postcards from the middle; invasion of the party snatchers?; House flooded when not afire?; suspenders of disbelief?
10/23/03: Ace up Howard Dean's sleeve; Woody's ordeal; Paul Simon's kid makes good; the non-beginning of a beautiful friendship?
10/22/03: Showing the flag; Joe Frazier, smokin'!; see Carville bruised-up — sort of
10/21/03: Morris & Jaci's charm offensive; Hell hath no fury; Wintertime for Hitler
10/20/03: Isn't it rich?; men (and the occasional woman) behaving badly; peacenik John Lennon supporting the U.S. military?; courageous Connie
10/16/03: George Clooney and intolerable Drudgery; Cameron goes native; and you thought the war in Iraq was nasty?; now it can be revealed; star wars?
10/15/03: Kerik into the breach?; holiday pander?; "the Dink" corrects the record; more
10/14/03: Madge gets mad, lips are sealed; the candidates who listen; he who hesitates is Beatty
10/13/03: Clothes, but no cigar; New Yorkers put a Sox in it; mad at Matalin?; more
10/09/03: Gray Davis goes to the movies; Ali Wentworth, working blue; Law & Order?; pot of gold at the end of the rainbow room?
10/08/03: Art-time for Hitler; the actress who hates movies; lying "Liam"
10/07/03: Pond scum of the rich and famous
07/24/03: Ali and George, living it up; Mel Gibson's Washington power play
07/21/03: White House smear?
07/17/03: Yet another intern scandal; it's her party and she can pay if she wants to
07/14/03: On the auction block: JFK'S boxer shorts; love bytes the maestro
07/10/03: A hairy situation at Homeland Security; Van Susteren v. Orth
06/30/03: Rep. Patrick Kennedy: I've never worked a (bleeping) day in my life; Drudge's dressing down; Ken Lay's Kerry connection
06/26/03: Rapping the beat
06/23/03: Another Watergate scandal?; AL GORE TV!
06/19/03: Tony Snow, rocker?; that won't be crow on Mr. Carlson's plate
06/16/03: Missing dog, ransom demand, Hollywood ending
06/12/03: Giving both parties the needle
06/09/03: WHAT DID SHE KNOW, AND WHEN DID SHE KNOW IT?
06/05/03: Incoming from Barbara Bush?
06/02/03: Bob Dole's plan for fighting unemployment
05/29/03: Newt's new novel
05/27/03: Hitchens & Blumenthal, together again; He still believes in a man called Hope
05/09/03: Close, but no cigar; Romeo & Juliet with a happy ending?; Geraldo to help Heebs?
05/05/03: So Bill Gates and Tom Brokaw walk into a coffee bar . . .; hotel hell; more

© 2003, Creators Syndicate