Jewish World Review Feb. 20, 2004 / 28 Shevat, 5764

Lloyd Grove
Introducing the Kerry sisters; cyberflap!; Snoop Dogg v. O'Reilly?; more
http://www.jewishworldreview.com | NEW YORK — Vanessa Kerry says Internet rumors of an extramarital affair between 27-year-old Columbia Journalism School grad Alexandra Polier and Kerry's father won't hurt the Democratic presidential front-runner.

"It's absolute cr-p. Cr-p from start to finish," Sen. John Kerry's daughter, a 26-year-old Harvard Medical School student, told the New York Daily News's Soni Sangha Thursday. "I read it on the Drudge Report, and I died laughing."

Both Polier and the Massachusetts senator have denied any relationship.

As for the campaign, "We're keeping right on track," said Vanessa Kerry, the product of his first marriage to Julia Thorne. "We've won 16 of 18 contests, and we are doing really well."

Vanessa and her 30-year-old sister — an aspiring filmmaker who, coincidentally, is also named Alexandra — were the stars of a Glamour magazine-sponsored panel discussion featuring candidates' daughters, including Catherine Edwards (daughter of John) and Rebecca Lieberman (daughter of Joe).

Vice President Cheney's 37-year-old daughter Liz — a former State Department official who will likely end up campaigning against the Kerrys in the coming political battle — told the audience: "The issues in this election are more important than any other election in my lifetime . . . and it can come down to 10 or 15 votes per precinct."

Vanessa Kerry agreed. "I second Liz Cheney. It does come down to precincts."

As soon as Vanessa finished, her big sister caught her eye from the other side of the stage, mouthing something and shaking her head disapprovingly. "Who?" mouthed back Vanessa.

Alexandra cocked her head in Cheney's direction, again shaking her head, "No."

The event, also coincidentally, was held at Polier's alma mater, Columbia University.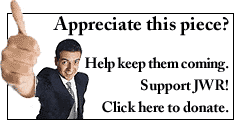 CYBERFLAP!

Brooklyn essayist John Lee was a swashbuckling computer hacker nicknamed "Corrupt" when Wired magazine put him on its cover a decade ago.

The 29-year-old Lee, an African-American, has cleaned up his act since the Wired story headlined "Gang War in Cyberspace."

But now he's shaking up cyberspace again with his claim that two popular "bloggers" — Choire Sicha of Gawker.com and Ana Marie Cox of Wonkette.com — are guilty of subtle racism.

"These sites have decided that one way to telegraph their supreme coolness is to continually joke about non-whites as marginalized second-class citizens," Lee wrote about the Web logs owned by British Internet entrepreneur Nick Denton.

"It's this casual, damaging disregard that is hard to quantify, and yet, Gawker and Wonkette exemplify the growing phenomenon of white hipsters adopting a casual racism," Lee continued. "Is it any wonder so many still feel blogging's a white man's sport?"

Since Lee leveled his charge this week on Africana.com, a chorus of bloggers have weighed in pro and con, and Sicha and Cox have been at pains to defend themselves.

"I would applaud John Lee for making me feel guilty, but I am a white liberal — it's just not that hard," Cox wrote. "My intent . . . is to mock the powerful and to draw attention to the hypocrisy of the true believers. If Lee didn't understand that's what I was trying to do (in her facetious commentary on rap mogul Russell Simmons recently disrupting a celeb-studded Democratic strategy session on Upper West Side), I don't think it's my job to explain the joke to him."

Sicha, meanwhile, e-mailed me: "My interns are busily drafting Mr. Lee a lengthy memo on the meaning of sarcasm."

Lee, for his part, sounded greatly amused.

"Who knew this firestorm du jour would inspire a response like Dean losing a primary?" he told me. "When Gawker and Wonkette are confronted with their own brand of sarcasm and subjective inspection they react like a comedian bombing on stage, saying, 'You don't get it!'

"We do get it. It's just funnier to see how thin-skinned they are."

THE BRIEFING

GET READY TO RUMBLE: Fox News star Bill O'Reilly apparently has done something to annoy Snoop Dogg, the tough-talking rapper who has, I hope, put his tough-acting ways behind him. When Maxim magazine asked Snoop whom he wants to fight, the rapper replied: "Bill O'Reilly, that b-tch-a — . 'Cause he's a b-tch." O'Reilly said Thursday through a Fox flack, "I'll be happy to have lunch with him anytime." No, Bill, maybe you didn't hear right: That's punch , not lunch.

BIG BEN?: In case you thought that Ben Affleck, post-J.Lo, has taken a solemn vow to stop frightening the horses and children, think again. In the upcoming In Style, he confides that 1998, the year he and Matt Damon won the Best Original Screenplay Oscar for "Good Will Hunting," was the best year of his life. "I've never been happier than I was that year. Since then things have become more complicated and weird, though not necessarily worse. It would be nice to win for acting. I'm sure my work in Gigli has a shot!" Nice enough. But in reminiscing about his Oscar, Affleck can't resist the urge to tell the mag: "I remember standing at a urinal next to Charlton Heston, which was a really interesting moment, getting to measure my manhood against Moses'."

THE PASSION OF THE SEXPOT: I suppose it was inevitable that even Pamela Anderson would get religion. The buxom former "Baywatch" babe and hard-core video star sermonizes in Jane magazine: "I now love going to church. It's nondenominational, but they preach from the Gospel with sincerity. I've been reading the Torah lately. But the Book of John is also a good place to start. I've never felt anything but love from the people at the church I belong to. It doesn't matter to them that I'm on TV. Who cares?"


Comment by clicking here.

02/18/04: John Kerry's Friendster?; On the mend?; food for fraughtm; more
02/13/04: John & Carolyn, redux; Zell Miller shows the flag; kill Quentin?; more
02/11/04: HE FEELS BAD!; Dick Cheney, still not dead; more
02/06/04: Glittering Grammys; a laurel for Janet; Haryl's heart
02/04/04: Shriver quits NBC; "Marshmallow" Mike Tyson?; Super Bowl propriety?; MTV's next production?; more
01/30/04: The political forehead front; Alies meets Franken; the art of the hype; arrested career development?
01/28/04: Eyebrow-raising politics; call him indescribable; Woods vs. Williams; more
01/23/04: Eyebrow-raising mystery; who's punk'd anyway?; don't curb your enthusiasm; more
01/21/04: Ridiculous lives of the self-important stars; long arm of the law; all's fair in love and literature
01/16/04: Global warming at a glacial pace; targeting pop culture; Is 'the price of loyalty' too high?
01/14/04: Busting on the "cult buster"; Sarsgaard thinks globally; one angry woman; more
01/08/04: Sitcom star won't be excused from Blake murder trial; fierstein on fire; Drudge & Blumenthal, together again
01/07/04: Bono hits a brick wall; Britney, before the nuttiness; the Arianna primary; more
01/02/04: Where have you gone, Joe DiMaggio!?; "Bachelor" bruises; Returning to the scene of the crime?
12/31/03: Disaster for the defense; no-war Omar; the shoe must go on; more
12/19/03: Bob Shapiro's free commercial?; Are sophisticated and hip New Yawkers easily duped?; Positive Saddam fallout?; Ratty insult?
12/17/03: Magic Mystery Tour?; Russell Simmons battles ink by the barrel; Would it have killed her to say 'get well soon'?; no Gest room
12/12/03: Karenna defends her dad; now she tells us!; say it ain't so, Mo!; more
12/10/03: Man & wife, interruptus; pepperoni has feelings, too; more
12/05/03: The knives are out; Who's sorry now?; JWR in the news
12/04/03: The war of the gest-minnellis; something borrowed, something cashmere; fashion trendsetter, nailed!
12/03/03: Colombian grace under pressure; Lord of the Screwups; more
12/02/03: Curb your anti-Semitism?; fame fatigue?; bowing to pressure?; more
12/01/03: Dennis the Menace strikes again; first literary feud of the holiday season; Norma Jean & Hef in heaven?; the fog of McNamara; more
11/26/03: Catherine Crier raps Jacko's TV defender, refuses on-air hint of racism; At 50, Tina's in full cry; STAY OUT OF HER WAY!; more
11/25/03: The mogul strikes back?; go ahead, make Harvey's day; more
11/24/03: Georgette's pilfered baubles; prosecutor of pop?; absent but not missed?; Norman Mailer's prescription for education reform; more
11/20/03: Is a movie career in store for Maria Bartiromo?; People for the Unethical Treatment of Humans?; more
11/19/03: Scientologists on Razor's edge?; picking a winner?; source on a hot tin roof?; more
11/18/03: Clay Aiken neuters PETA?; THEM'S FIGHTIN' WORDS!; a mural for Joe
11/17/03: When networks attack!; leaky Fawcett; forget the Paris Hilton video!; more
11/13/03: Publicity hounds; Prophetic priest; Dumb and Dumber
11/12/03: Not so Rosie; do you believe in miracles?; catalogue of sins; My Heart Belongs to Koppel
11/10/03: Gen. clark on the Subway diet; life of the party; MTV's Dumb and Dumber?; the hug issue; but does the $6,000 shower curtain convey?; red faces at Buckingham palace?
11/06/03: Let them eat pita?; verbal jousting; pretenders to the throne?
11/05/03: Will Harvey Weinstein and Gregg Easterbrook now be pals?; crazed Quentin; more
11/04/03: Herding off the hipsters; more
11/03/03: Dean's tell-all on himself?; Lisaraye vs. Mya?; the odd couple; no need to panic; just don't call him "Scooter"!; Rosie scenarios
10/30/03: Autumn of the editor?; Cynthia Nixon's split may be costly; 'Burning' questions
10/29/03: Ah-nold, unauthorized!; a dilemma for Melissa Gilbert? not even Frank Gifford can help him now!; nobody wanted Elizabeth Hurley
10/28/03: It's Cher calling!; Brown Alert
10/27/03: Paparazzi uncensored!; where's Aaron Brown?; postcards from the middle; invasion of the party snatchers?; House flooded when not afire?; suspenders of disbelief?
10/23/03: Ace up Howard Dean's sleeve; Woody's ordeal; Paul Simon's kid makes good; the non-beginning of a beautiful friendship?
10/22/03: Showing the flag; Joe Frazier, smokin'!; see Carville bruised-up — sort of
10/21/03: Morris & Jaci's charm offensive; Hell hath no fury; Wintertime for Hitler
10/20/03: Isn't it rich?; men (and the occasional woman) behaving badly; peacenik John Lennon supporting the U.S. military?; courageous Connie
10/16/03: George Clooney and intolerable Drudgery; Cameron goes native; and you thought the war in Iraq was nasty?; now it can be revealed; star wars?
10/15/03: Kerik into the breach?; holiday pander?; "the Dink" corrects the record; more
10/14/03: Madge gets mad, lips are sealed; the candidates who listen; he who hesitates is Beatty
10/13/03: Clothes, but no cigar; New Yorkers put a Sox in it; mad at Matalin?; more
10/09/03: Gray Davis goes to the movies; Ali Wentworth, working blue; Law & Order?; pot of gold at the end of the rainbow room?
10/08/03: Art-time for Hitler; the actress who hates movies; lying "Liam"
10/07/03: Pond scum of the rich and famous
07/24/03: Ali and George, living it up; Mel Gibson's Washington power play
07/21/03: White House smear?
07/17/03: Yet another intern scandal; it's her party and she can pay if she wants to
07/14/03: On the auction block: JFK'S boxer shorts; love bytes the maestro
07/10/03: A hairy situation at Homeland Security; Van Susteren v. Orth
06/30/03: Rep. Patrick Kennedy: I've never worked a (bleeping) day in my life; Drudge's dressing down; Ken Lay's Kerry connection
06/26/03: Rapping the beat
06/23/03: Another Watergate scandal?; AL GORE TV!
06/19/03: Tony Snow, rocker?; that won't be crow on Mr. Carlson's plate
06/16/03: Missing dog, ransom demand, Hollywood ending
06/12/03: Giving both parties the needle
06/09/03: WHAT DID SHE KNOW, AND WHEN DID SHE KNOW IT?
06/05/03: Incoming from Barbara Bush?
06/02/03: Bob Dole's plan for fighting unemployment
05/29/03: Newt's new novel
05/27/03: Hitchens & Blumenthal, together again; He still believes in a man called Hope
05/09/03: Close, but no cigar; Romeo & Juliet with a happy ending?; Geraldo to help Heebs?
05/05/03: So Bill Gates and Tom Brokaw walk into a coffee bar . . .; hotel hell; more

© 2003, Creators Syndicate