Jewish World Review Nov. 20, 2003 / 25 Mar-Cheshvan, 5764

Lloyd Grove
Is a movie career in store for Maria Bartiromo?; People for the Unethical Treatment of Humans?; more
http://www.jewishworldreview.com | NEW YORK — I'm told the vaunted "Money Honey" of CNBC "Squawk Box" fame has been asked by Francis Ford Coppola to read for a part in "Megalopolis," his epic about the New York of the future.

Bartiromo's tryout — to play a somewhat villainous character, I'm told — may take place in the next couple of weeks. But Coppola, an occasional Bartiromo guest on CNBC, is still hard at work on the screenplay. Initial news accounts reported that the movie would be released next year — which looks highly unlikely today.

"He's doing it in his own time, according to nobody else's schedule but his," a Coppola spokeswoman told me Wednesday, noting that the director has filmed some Manhattan atmospherics but no dialogue.

Bartimoro had no comment Wednesday.

She was a guest Tuesday night at the National Italian American Foundation's "White Truffle" dinner at San Domenico's in honor of Italian tenor Andrea Bocelli (who's headlining Madison Square Garden tonight (11/20)). Also attending were prostate cancer patient Robert De Niro (cleanshaven and looking healthy) and longtime companion Grace Hightower, Gov. George Pataki and wife Libby, Gina Lollobrigida, Mario Andretti, Yogi Berra and Vic Damone, who couldn't resist approaching Bartiromo and telling her: "You have the sexiest lips."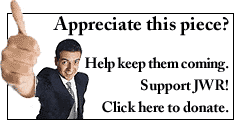 UNETHICAL TREATMENT OF HUMANS?

The man behind Triumph the Insult Comic Dog says People for the Ethical Treatment of Animals tricked him into participating in an ad with the controversial slogan: "Get Neutered — It Didn't Hurt Clay Aiken."

In a message posted on triumphtheinsultcomicdog.com, comedy writer Robert Smigel (in the guise of Triumph) accuses PETA of hiding their real agenda and misrepresenting the "American Idol" runner-up's comments about cats in Rolling Stone magazine.

"Turns out PETA had an ax to grind with Clay," Smigel/Triumph says. "They released the ad and a press release, quoting Clay talking trash about cats, like 'Cats are Satan.' Never mind that Clay keeds(kids). They quoted Clay saying 'I ran over a kitten when I was 16.' Never mind that they left out the part where Clay said it was an accident that haunts him to this day. Well played, PETA. And I thought I was the pub whore."

Triumph adds: "I'm not into animal rights. The only animal right I want is the right to hump Ashanti's leg."

Triumph says the attack on Aiken, whose lawyers have been on PETA's case, "wasn't my first choice. I really wanted 'Chop 'Em Off — They Didn't Taste That Great Anyway.' But PETA was jonesing for the Clay joke . . . Of course, I have to stand with Clay, even if they hadn't twisted his quotes."

PETA President Ingrid Newkirk was unapologetic yesterday: "PETA's no pussy when it comes to getting the spay and neuter issue on the radar, and we take Triumph's remarks as a compliment, delivered doggy-style."

THE BRIEFING

TIME RUNNING OUT?: Vice President Cheney emerged as the man to beat during Wednesday's somber musings — a so-called "debate" — in the Henry Luce Room of the Time-Life Building on the newsmag's next Person of the Year. New York State Attorney General Eliot Spitzer pronounced: "Dick Cheney is the intellectual force behind the Bush administration. . . . There is a rise of the plutocracy — hence all these scandals, and Cheney is behind it." ABC News's George Stephanopoulos: "Cheney is more powerful than Gore." Enron whistleblower Sherron Watkins: "He's like wormwood. You sort of picture him sitting there whispering, whispering, whispering." New York Times pundit David Brooks: "Only Bush & Cheney know how much Cheney does . . . I'm surprised I'm not hearing Paris Hilton's name!" A Time magazine type revealed privately that the Person of the Year debate is "bogus journalistically. It's a marketing gimmick, it's not a news story."

GET OUT THE VIOLIN: Poor Phil Donahue. At Tuesday night's Creative Coalition event at Sotheby's, where Donahue was given the Christopher Reeve First Amendment Award, he suggested that MSNBC made him a free speech martyr when it canceled his show last February. "The experience I had at cable helped me to understand what it must have been like to be blacklisted," Donahue told the crowd, "and the horrible experience of being labeled un-American or un-patriotic for not being pro-war." The way I heard it, Phil, MSNBC paid you $1 million a year, heavily and expensively promoted your show, but pulled the plug when it tanked in the ratings.

NEXT TIME MAYBE HE'LL INCLUDE THE NAME: It's now abundantly clear that David Blaine knew precisely what he was doing with that 44-day stunt in London. On Wednesday, President Bush, on a controversial state visit to the U.K., began his address at Banqueting House: "It was pointed out to me that the last noted American to visit London stayed in a glass box dangling over the Thames. A few might have been happy to provide similar arrangements for me — I thank Her Majesty the Queen for interceding — we're honored to be staying at her house."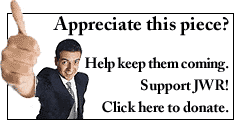 Comment by clicking here.

11/19/03:Scientologists on Razor's edge?; picking a winner?; source on a hot tin roof?; more
11/18/03: Clay Aiken neuters PETA?; THEM'S FIGHTIN' WORDS!; a mural for Joe
11/17/03: When networks attack!; leaky Fawcett; forget the Paris Hilton video!; more
11/13/03: Publicity hounds; Prophetic priest; Dumb and Dumber
11/12/03: Not so Rosie; do you believe in miracles?; catalogue of sins; My Heart Belongs to Koppel
11/10/03: Gen. clark on the Subway diet; life of the party; MTV's Dumb and Dumber?; the hug issue; but does the $6,000 shower curtain convey?; red faces at Buckingham palace?
11/06/03: Let them eat pita?; verbal jousting; pretenders to the throne?
11/05/03: Will Harvey Weinstein and Gregg Easterbrook now be pals?; crazed Quentin; more
11/04/03: Herding off the hipsters; more
11/03/03: Dean's tell-all on himself?; Lisaraye vs. Mya?; the odd couple; no need to panic; just don't call him "Scooter"!; Rosie scenarios
10/30/03: Autumn of the editor?; Cynthia Nixon's split may be costly; 'Burning' questions
10/29/03: Ah-nold, unauthorized!; a dilemma for Melissa Gilbert? not even Frank Gifford can help him now!; nobody wanted Elizabeth Hurley
10/28/03: It's Cher calling!; Brown Alert
10/27/03: Paparazzi uncensored!; where's Aaron Brown?; postcards from the middle; invasion of the party snatchers?; House flooded when not afire?; suspenders of disbelief?
10/23/03: Ace up Howard Dean's sleeve; Woody's ordeal; Paul Simon's kid makes good; the non-beginning of a beautiful friendship?
10/22/03: Showing the flag; Joe Frazier, smokin'!; see Carville bruised-up — sort of
10/21/03: Morris & Jaci's charm offensive; Hell hath no fury; Wintertime for Hitler
10/20/03: Isn't it rich?; men (and the occasional woman) behaving badly; peacenik John Lennon supporting the U.S. military?; courageous Connie
10/16/03: George Clooney and intolerable Drudgery; Cameron goes native; and you thought the war in Iraq was nasty?; now it can be revealed; star wars?
10/15/03: Kerik into the breach?; holiday pander?; "the Dink" corrects the record; more
10/14/03: Madge gets mad, lips are sealed; the candidates who listen; he who hesitates is Beatty
10/13/03: Clothes, but no cigar; New Yorkers put a Sox in it; mad at Matalin?; more
10/09/03: Gray Davis goes to the movies; Ali Wentworth, working blue; Law & Order?; pot of gold at the end of the rainbow room?
10/08/03: Art-time for Hitler; the actress who hates movies; lying "Liam"
10/07/03: Pond scum of the rich and famous
07/24/03: Ali and George, living it up; Mel Gibson's Washington power play
07/21/03: White House smear?
07/17/03: Yet another intern scandal; it's her party and she can pay if she wants to
07/14/03: On the auction block: JFK'S boxer shorts; love bytes the maestro
07/10/03: A hairy situation at Homeland Security; Van Susteren v. Orth
06/30/03: Rep. Patrick Kennedy: I've never worked a (bleeping) day in my life; Drudge's dressing down; Ken Lay's Kerry connection
06/26/03: Rapping the beat
06/23/03: Another Watergate scandal?; AL GORE TV!
06/19/03: Tony Snow, rocker?; that won't be crow on Mr. Carlson's plate
06/16/03: Missing dog, ransom demand, Hollywood ending
06/12/03: Giving both parties the needle
06/09/03: WHAT DID SHE KNOW, AND WHEN DID SHE KNOW IT?
06/05/03: Incoming from Barbara Bush?
06/02/03: Bob Dole's plan for fighting unemployment
05/29/03: Newt's new novel
05/27/03: Hitchens & Blumenthal, together again; He still believes in a man called Hope
05/09/03: Close, but no cigar; Romeo & Juliet with a happy ending?; Geraldo to help Heebs?
05/05/03: So Bill Gates and Tom Brokaw walk into a coffee bar . . .; hotel hell; more

© 2003, Creators Syndicate