Jewish World Review Dec. 17, 2003 / 22 Kislev, 5764

Lloyd Grove
Magic Mystery Tour?; Russell Simmons battles ink by the barrel; Would it have killed her to say 'get well soon'?; no Gest room
http://www.jewishworldreview.com | NEW YORK — Did the Beatles reunite — six years after their April 1970 split — for an abortive recording session in Los Angeles?

That has long been a rumor in the obsessive cult of Beatlemaniacs, and now dealer Gary Zimet, of momentsintime.com, claims to have the smoking tape box.

The label on the box indicates that the Fab Four, along with their longtime producer George Martin, convened on Nov. 2, 1976, at Davlen Sounds, a studio in L.A. The typed label reads:

Client: Warner/Elektra/Atlantic
Artist: John, Paul, George, Rich
Producer: GM
Engineer: GE
Master Reel No.1
Tones
No.1 Happy Feeling 4 min 32 sec
No.2 Back Home 3 min 43 sec
No.3 Rockin' Once Again 5 min 34 sec
No.4 People of the 3rd World 7 min 48 sec
No.5 Little Girl 4 min 54 sec
There's a catch, of course.

The tape inside the box was apparently erased, and none of the alleged songs is audible.

"Paul McCartney has done everything within his power to keep this out of print," Zimet told this column. "Since it would be hideously embarrassing to him that the Beatles tried to get back together and failed. . . . They ended up fighting, they walked out of the studios."

Zimet identified the owner of the tape as Arizona resident Keith Chrismon. "I'm a collector, I've been in the entertainment business and I acquired this roughly six weeks ago," Chrismon said, though he refused to name the seller. "I purchased it from a former employee of Apple (Records, the Beatle-owned label) from way, way back. The only reason he knew of the tape was because of working in a minor capacity with Apple. He's not a big shot — he was just a young performer and actor. (He) got scared into burying it. . . . He refused to make the tape public basically out of fear of Paul McCartney.

"Apparently it was a bad way to end things," Chrismon explained. "There were a lot of rumors that they had gotten back together, but no one could prove it. Now I've got the proof. There were five songs put on the tape. Five songs — four were new and one was a remake. The remake was 'Little Girl.'"

Chrismon supplied a tantalizing May 1997 e-mail, apparently from Davlen founder Len Kovner, to a Beatles researcher in Scotland: "Someone you know must have seen the 3M tape box with the Davlen Sound Studios logo and song list. It is rather difficult to talk about, as this is one of the most obscure events in the Beatles' history. . . . As I was the engineer, along with other noted L.A. engineers, I still work with the remaining lads. If you would like to phone me . . . I can shed some additional light and stories about these historical and failed events."

Kovner was unreachable Monday, and McCartney's rep, Paul Freundlich, didn't return repeated phone calls.

RUSSELL SIMMONS BATTLES INK BY THE BARREL

Russell Simmons is mad as he-- and he's not gonna take it any more.

The hip hop/fashion impresario was practically spitting with rage Monday when he called to complain about an item in another newspaper's gossip column that says his wife, Kimora Lee Simmons, "comes off a mite materialistic" in the January Harper's Bazaar.

Bazaar documents the eye-popping facets of her larger-than-life lifestyle — including a 49,000-square-foot, 20-bathroom mansion in Saddle River, N.J., a 25-carat diamond ring, a fleet of luxury cars, five maids, four assistants, two live-in nannies, a chef and two drivers.

"Every other week it's the same thing, and I'm upset about it and she's upset about it," Simmons told me, adding that he has no problem with the Harper's Bazaar spread. "Does anyone care about Donatella Versace's extravagance or Karl Lagerfeld's? This is all because Kimora is an African-American Asian woman. It's as if they think she's undeserving."

Kimora Lee, designer of the Baby Phat apparel line among other business and philanthropic pursuits, drafted an aggrieved letter to her tormentors: "It is obvious the writers of the New York Post really don't quite know me, my husband, or family . . .

"I'm not defined by the materialistic things that were listed in the article. I do possess them but they do not possess me. My focus is on my children, my family, my career, and my community. Extravagance is in the eye of the beholder."

She added that their daughters, 3 and 1/2-year-old Ming Lee and 1 and 1/2-year-old Aoki Lee Simmons, "are being exposed to educational experiences of which neither Russell nor I could have ever dreamed. They are learning French and Italian, they take yoga, swimming, ballet, piano, and gymnastics. But most of all, as a mother, I am teaching them to respect the oneness of humanity and to never look down on someone who is less privileged or fortunate.

"The truth is the more I give, the more I receive. In fact, we give to more than 70 different charities."

The author of the offending column told me: "Kimora Lee Simmons is great. If she wasn't already here, we'd have to invent her."

THE BRIEFING

WOULD IT HAVE KILLED HER TO SAY 'GET WELL SOON'?: "Dear Siegfried and Roy," pop star Pink wrote to Siegfried Fischbacher and Roy Horn in a letter ginned up by People for the Ethical Treatment for Animals. "I was very sad to learn that Gildah, the 55-year-old elephant used in your show, has been penned up at the Mirage since the show closed after October's tiger attack. I'm urging all my fans and fellow PETA members to join me in asking you to release her to a sanctuary. . . . 'Peace on Earth' doesn't seem very viable in much of the world this year, but won't you grant it to one pathetic old lonely elephant on the Vegas strip?" Pink goes on in the manner, and never once wishes Horn a speedy recovery from his almost-fatal tiger-inflicted injuries.

NO GEST ROOM: Liza Minnelli's estranged hubby, David Gest, who is looking for a television venue to tell his story of pain and suffering, offered himself recently to "60 Minutes" correspondent Christiane Amanpour after being impressed by her segment on children with cerebral palsy. I'm told that Gest's divorce lawyer, Raoul Felder, made the pitch via e-mail. Amanpour's response: a giggle and a polite no-thanks.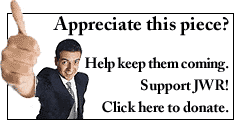 Comment by clicking here.

12/12/03: Karenna defends her dad; now she tells us!; say it ain't so, Mo!; more
12/10/03: Man & wife, interruptus; pepperoni has feelings, too; more
12/05/03: The knives are out; Who's sorry now?; JWR in the news
12/04/03: The war of the gest-minnellis; something borrowed, something cashmere; fashion trendsetter, nailed!
12/03/03: Colombian grace under pressure; Lord of the Screwups; more
12/02/03: Curb your anti-Semitism?; fame fatigue?; bowing to pressure?; more
12/01/03: Dennis the Menace strikes again; first literary feud of the holiday season; Norma Jean & Hef in heaven?; the fog of McNamara; more
11/26/03: Catherine Crier raps Jacko's TV defender, refuses on-air hint of racism; At 50, Tina's in full cry; STAY OUT OF HER WAY!; more
11/25/03: The mogul strikes back?; go ahead, make Harvey's day; more
11/24/03: Georgette's pilfered baubles; prosecutor of pop?; absent but not missed?; Norman Mailer's prescription for education reform; more
11/20/03: Is a movie career in store for Maria Bartiromo?; People for the Unethical Treatment of Humans?; more
11/19/03: Scientologists on Razor's edge?; picking a winner?; source on a hot tin roof?; more
11/18/03: Clay Aiken neuters PETA?; THEM'S FIGHTIN' WORDS!; a mural for Joe
11/17/03: When networks attack!; leaky Fawcett; forget the Paris Hilton video!; more
11/13/03: Publicity hounds; Prophetic priest; Dumb and Dumber
11/12/03: Not so Rosie; do you believe in miracles?; catalogue of sins; My Heart Belongs to Koppel
11/10/03: Gen. clark on the Subway diet; life of the party; MTV's Dumb and Dumber?; the hug issue; but does the $6,000 shower curtain convey?; red faces at Buckingham palace?
11/06/03: Let them eat pita?; verbal jousting; pretenders to the throne?
11/05/03: Will Harvey Weinstein and Gregg Easterbrook now be pals?; crazed Quentin; more
11/04/03: Herding off the hipsters; more
11/03/03: Dean's tell-all on himself?; Lisaraye vs. Mya?; the odd couple; no need to panic; just don't call him "Scooter"!; Rosie scenarios
10/30/03: Autumn of the editor?; Cynthia Nixon's split may be costly; 'Burning' questions
10/29/03: Ah-nold, unauthorized!; a dilemma for Melissa Gilbert? not even Frank Gifford can help him now!; nobody wanted Elizabeth Hurley
10/28/03: It's Cher calling!; Brown Alert
10/27/03: Paparazzi uncensored!; where's Aaron Brown?; postcards from the middle; invasion of the party snatchers?; House flooded when not afire?; suspenders of disbelief?
10/23/03: Ace up Howard Dean's sleeve; Woody's ordeal; Paul Simon's kid makes good; the non-beginning of a beautiful friendship?
10/22/03: Showing the flag; Joe Frazier, smokin'!; see Carville bruised-up — sort of
10/21/03: Morris & Jaci's charm offensive; Hell hath no fury; Wintertime for Hitler
10/20/03: Isn't it rich?; men (and the occasional woman) behaving badly; peacenik John Lennon supporting the U.S. military?; courageous Connie
10/16/03: George Clooney and intolerable Drudgery; Cameron goes native; and you thought the war in Iraq was nasty?; now it can be revealed; star wars?
10/15/03: Kerik into the breach?; holiday pander?; "the Dink" corrects the record; more
10/14/03: Madge gets mad, lips are sealed; the candidates who listen; he who hesitates is Beatty
10/13/03: Clothes, but no cigar; New Yorkers put a Sox in it; mad at Matalin?; more
10/09/03: Gray Davis goes to the movies; Ali Wentworth, working blue; Law & Order?; pot of gold at the end of the rainbow room?
10/08/03: Art-time for Hitler; the actress who hates movies; lying "Liam"
10/07/03: Pond scum of the rich and famous
07/24/03: Ali and George, living it up; Mel Gibson's Washington power play
07/21/03: White House smear?
07/17/03: Yet another intern scandal; it's her party and she can pay if she wants to
07/14/03: On the auction block: JFK'S boxer shorts; love bytes the maestro
07/10/03: A hairy situation at Homeland Security; Van Susteren v. Orth
06/30/03: Rep. Patrick Kennedy: I've never worked a (bleeping) day in my life; Drudge's dressing down; Ken Lay's Kerry connection
06/26/03: Rapping the beat
06/23/03: Another Watergate scandal?; AL GORE TV!
06/19/03: Tony Snow, rocker?; that won't be crow on Mr. Carlson's plate
06/16/03: Missing dog, ransom demand, Hollywood ending
06/12/03: Giving both parties the needle
06/09/03: WHAT DID SHE KNOW, AND WHEN DID SHE KNOW IT?
06/05/03: Incoming from Barbara Bush?
06/02/03: Bob Dole's plan for fighting unemployment
05/29/03: Newt's new novel
05/27/03: Hitchens & Blumenthal, together again; He still believes in a man called Hope
05/09/03: Close, but no cigar; Romeo & Juliet with a happy ending?; Geraldo to help Heebs?
05/05/03: So Bill Gates and Tom Brokaw walk into a coffee bar . . .; hotel hell; more

© 2003, Creators Syndicate