Mona Charen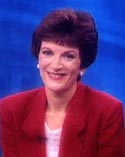 Not home but library alone
(JWR) --- (http://www.jewishworldreview.com) IN SAN MARINO, CALIF., parents will soon be charged a fine if they fail to collect their unaccompanied children from the public libraries after closing time.
According to the Los Angeles Times, large groups of children -- some as young as 4 -- are left at San Marino libraries and at libraries across the country by parents who think they have hit upon a free baby-sitting service. Librarians are dismayed. "We don't provide day care," Terri Maguire, a South Pasadena librarian told the L.A. Times. "We aren't responsible for the children." Neither are the parents, apparently.
This dump-the-kids-in-a-seemingly-safe-place isn't limited to libraries.
Some parents leave their children in churches on Sunday morning, the better to take advantage of free baby sitting. They show up as if to attend the service, drop the children in the basement child-care center, and head off to the mall or wherever for a couple of hours --- a shameful but at least not terribly dangerous practice.
Abandoning a child at the library for several hours, on the other hand, leaves them completely vulnerable to any number of horrors. "A library isn't a safe haven," Maguire said. "Anyone can come into a library, and I mean anyone. Parents would never think of dropping an 8-year-old off at the mall alone."
Other 8-year olds are sent to libraries as the caretakers for even younger kids. A Monterey, Calif., librarian recalled having to call the police about a set of four siblings, the eldest 8 years old and the youngest 4, who were dropped at the library daily. The policeman had to explain to the parents that 8 was too young to be given such a responsibility.
The presence of so many latch-key and abandoned children has changed the atmosphere of libraries. No longer do adults attempt to maintain quiet. The kids chat, nap, surf the Internet, flip open cell phones and talk to friends, or do homework. Few seem to be spending the time reading. One Palmdale, Calif., librarian told the L.A. Times that she was alarmed to see an unsupervised boy swinging from the outside of the staircase.
East Coast librarians report the same phenomenon. A Virginia librarian who worked in the District of Columbia said she first noticed unaccompanied children around 1985. And the numbers have been increasing ever since. At Long Beach's branch libraries, before being issued a library card, parents must sign a pledge promising not to leave kids under the age of 11 at the library alone.
Now, there are two things to consider about library dumping. The first is that conservatives who are hot for "parents bills of rights" and believe that parents always do what is right for their kids had better think again. The evidence is everywhere that parents, even affluent parents in well-groomed suburbs, are neglecting their children in breathtaking ways.
The second factor to consider about this phenomenon is this: Why do so many American voters tell pollsters that they are not interested in tax cuts right now? If we are not in need of more of our money, if we are feeling so flush that we're prepared to say, "Spend it on buying down the national debt," we must think everything on the home front is pretty well set.
And yet, these same people are also so strapped that they cannot afford to pay the cost of a baby sitter to keep their children safe. Nor can they manage the financial sacrifice of having one parent stay at home.
Teenage girls give birth at proms or in hotel rooms, and what do the parents say? We never knew. Kids get a hold of guns and shoot up the playground. And what do the parents say? We have no idea where he got the gun. Record numbers of children are taken from their parents and raised in the chaos of foster care because their parents are too cruel, too selfish or too strung out on drugs to do even the basics for their offspring.
We talk a good game -- about "protecting" the children from cigarettes and AIDS and kidnappers -- but in reality, we're busy with our own interests.
Not to worry: The library will love them, teach them and raise them right.