Jewish World Review /Oct. 19, 1998 /29 Tishrei 5759
Mona Charen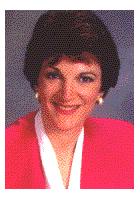 The school voucher that saved a family
SHE WAS YOUNG, poor and seemingly without life prospects. Like many others, she had gotten pregnant in high school. But unlike most of them, she married her boyfriend, finished school and, together with her infant son, went to be with him in Europe when he joined the military. A daughter was born three years later.
Almost as if following a script, the young couple quarreled and separated. It was after the separation that they took an unusual path.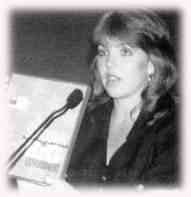 Wheatley

Eric and Melinda Wheatley both discovered something that few couples seem to grasp: Staying together for the sake of the children is a good idea. Melinda, who had remained in Germany for a time after her husband had returned to the United States, fell into bad company. One of her new companions raped her.

It was then that Melinda turned to God. In her misery, she recognized what only someone of considerable strength can see -- that she needed to grow up and take responsibility for herself and her children. She contacted her husband, and they decided to get back together. Seven years later, she says, "When you are doing the right thing, and the person you're with is doing the right thing, it's really hard not to fall in love with him again."

It wasn't easy. They were still poor. Eric worked in a warehouse, and Melinda worked as a bookkeeper. They lived in a dangerous neighborhood on the northeast side of San Antonio, Texas. Their son, Isaac, had to pass through metal detectors at school. When he was only 8, the principal warned the Wheatleys to turn his jacket inside out, since the sports logo on the back could be confused with gang colors and get him into deep trouble.

Moreover, Melinda and Eric were worried about Isaac's behavior in school. The wild atmosphere was affecting him. But since the teachers and administrators had their hands full with the really violent and dangerous kids, Isaac's problem was never addressed.

One night, as the children (there were now three) lay sleeping, the Wheatley home was sprayed with bullets from an AK-47. One of the bullets went through a mattress inches from 3-year-old Troy's head. The Wheatleys were suddenly desperate to escape all of it -- the awful neighborhood, the unsafe public school and the low-paying jobs.

Through a friend, they heard about a private voucher program sponsored by Fritz Steiger called CEO (Children's Educational Opportunity), which would pay one-half of the tuition at a private school. They got on the waiting list (there is always a waiting list). In time, Isaac made it, and the Wheatleys placed him in a Christian school. They also joined the church and met people who took their responsibilities as adults seriously. They began to take pride in their home and their work. They no longer asked, "How much sick leave do I get, and how can I abuse it?" Instead, they looked for opportunities to move up.

Melinda persuaded an attorney she knew to train her in the evenings as a paralegal in exchange for cheap labor. Her interest in public affairs eventually got her a place at a public interest law firm and later at the Texas Public Policy Foundation, where she is now, at age 30, the vice president.

Though the Wheatleys have now achieved the American dream, with all three children in good, safe schools and a home on a quiet street, Melinda never forgot the struggling families in her old neighborhood. With help from Thaddeus Lott, founder of Houston's Wesley school, and state legislator Mike Krusee, she began a charter school in San Antonio.

Nearly all of the children at her new school are Hispanic (as is her husband), and 75 percent are poor. But the atmosphere is like that of an elite private school. All of the kindergartners are reading. The kids come from rough backgrounds, but in school, they are polite and well dressed (in uniforms). And they are learning. Her obligation to the state, which provides the funding, is simply to obey health and safety regulations, and to submit her students to state testing. "We are bursting to do that," says Wheatley happily, "to show what we have achieved."

What she has achieved is a lifetime's worth of work in only 30 years. Look out, world, Melinda Wheatley has just gotten started.

10/14/98: Are powerful women different?
10/09/98: Can just sex be impeachable?
10/07/98: Repeal Miranda
10/02/98: Understanding the polls
10/01/98: What school texts teach about marriage
9/28/98: Fear of choice
9/23/98: A fork in the road: Bubba's fate and ours
9/18/98: Christianity and the Holocaust
9/16/98: The national dirty joke
9/11/98: Are we in crisis?
9/09/98: Does Burton's sin let Clinton off the hook?
9/07/98: Liar's Poker
9/01/98: One, two, three
8/28/98: Fat and folly
8/25/98: When homework is a dirty word
8/21/98: The unravelling
8/18/98: The wages of dishonesty
8/17/98: Sex, honor and the presidency
8/12/98: Pro-choice extremist
8/10/98: Switch illuminates biology's role
8/05/98: The presumption of innocence and the American way
8/03/98: An American hero
7/29/98: Lock up those who need psychiatric care
7/24/98: Making the military more like us
7/22/98: The 'Net sex hoax... and us
7/20/98: Disappointed by Cosbys
7/15/98: Feelings, not morality, rule
7/10/98: Guns as the solution?
7/8/98: Teacher preacher
7/6/98: The China behind the headlines
7/1/98: What is the First Amendment for?
6/26/98: The Republican city
6/24/98: Poison pen
6/22/98: Clinton: inventing his own reality?
6/16/98: Senator mom?
6/12/98: Wisconsin: a trail blazer?
6/9/98: These girls say no to sex, yes to excellence
6/5/98: Lewinsky's ex-lawyer would feel right at home as Springer guest
6/2/98: English? Si; Republican? No!
5/29/98: The truth about women and work
5/27/98: Romance in the '90s
5/25/98:Taxing smokers for fun and profit
5/19/98: China's friend in the White House
5/15/98: Look out feminists: here comes the true backlash
5/12/98: The war process?
5/8/98: Where's daddy?
5/5/98: The joys of boys
5/1/98: Republicans move on education reform
4/28/98: Reagan was right
4/24/98: The key to Pol Pot
4/21/98: The patriot's channel
4/19/98: Child-care day can't replace mom
4/15/98: Tax time
4/10/98: Armey states obvious, gets clobbered
4/7/98: A nation complacent?
4/1/98: Bill Clinton's African adventure
3/27/98: Understanding Arkansas
3/24/98: Jerry Springer's America
3/20/98: A small step for persecuted minorities
3/17/98: Skeletons in every closet?
3/13/98: Clinton's idea of a fine judge
3/10/98: Better than nothing?
3/6/98: Of fingernails and freedom
3/3/98: Read JWR! :0)
2/27/98: Dumb and Dumber
2/24/98: Reagan reduced poverty more than Clinton
2/20/98: Rally Round the United Nations?
2/17/98: In Denial
2/13/98: Reconsidering Theism
2/10/98: Waiting for the facts?
2/8/98: Cat got the GOP's tongue?
2/2/98: Does America care about immorality?
1/30/98: How to judge Clinton's denials
1/27/98: What If It's Just the Sex?
1/23/98: Bill Clinton, Acting Guilty
1/20/98: Arafat and the Holocaust Museum
1/16/98: Child Care or Feminist Agenda?
1/13/98: What We Really Think of Abortion
1/9/98: The Dead Era of Budget Deficits Rises Again?
1/6/98: "Understandable" Murder and Child Custody
1/2/98: Majoring in Sex
12/30/97: The Spirit of Kwanzaa
12/26/97: Food fights (Games children play)
12/23/97: Does Clinton's race panel listen to facts?
12/19/97: Welcome to the Judgeocracy, where the law school elite overrules majority rule
12/16/97: Do America's Jews support Netanyahu?
---
©1998, Creators Syndicate, Inc.