Mona Charen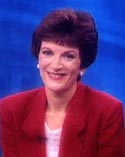 What did he say?
(JWR) --- (http://www.jewishworldreview.com) THIS MUST BE SOMEBODY'S IDEA OF A JOKE. David Howard, former head of constituent services for D.C. Mayor Anthony Williams, resigned last week after uttering a racial epithet.
Or did he? Well, it sounded like a racial epithet. There is no dispute about the word. Here is exactly what Howard said, "I will have to be niggardly with this fund because it's not going to be a lot of money."
Two district employees were shocked upon hearing this word and immediately raised an alarm. Howard sputtered that the word means miserly or cheap and derives from Scandinavian roots. He then apologized for choosing the word.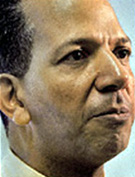 Williams: Critics said he's "too white."
Boy, did he show them!

No matter. He had to submit his resignation. Resigning was the right decision, explained Mayor Williams, because "given the overall circumstances" and a "racial climate that needs a lot of work," Howard's word choice was akin to "getting caught smoking in a refinery that resulted in an explosion."

Well, hold on. It sounds like poor old Howard was caught chewing gum in a refinery -- if we stick with the mayor's metaphor -- except someone thought the gum was a cigarette ...

Oh, dear. So let's see, under this latest language regulation, it is now a job-forfeiting offense to use words that can even be misheard or misunderstood as racial epithets. That covers a lot of ground. One certainly hopes that the District of Columbia has no problems with raccoons or the judiciary. There can no longer be a nip in the air, and neither cars nor geese can be said to honk.

Shouldn't the employees who misunderstood the word and revealed their ignorance of the English language be the ones offering apologies? Apparently not. In the Alice in Wonderland world of political correctness, down is up and up is down. In any case, when you put a weapon like this in people's hands, they are going to use it for the sheer fun of it.

And just to add icing on the cake, there is another layer to this farce.

The gays and lesbians are getting in on the act, too. It seems that Howard is openly gay. Accordingly, the gay groups are rallying to his cause. They argue, heatedly, that Williams' decision to accept Howard's resignation so readily is "a slap in the face to a constituency that supported him."

Here's a brain teaser: Analyze to within a fair degree of certainty the chances that gay and lesbian groups would rally to the support of any straight man unjustly fired in such circumstances.

Is it really so idealistic to imagine a world in which gay and lesbian groups, civil rights groups, whoever, would simply stand up for what is right instead of perceiving injustice only when group interests are at stake?

Meanwhile, in the District of Columbia, in response to a Washington Post report about the extremely high number of child and infant deaths that were never "solved," the new coroner is reopening old cases and finding some that "cry out" as homicide. Four-month-old Ebony Brown was pronounced dead on Nov. 12, 1994. Though she had multiple healing fractures and weighed just 7 pounds, the cause of her death had been, until now, "undetermined."

Chaulette Willis was also 4 months old when she died in a crack house in Southeast Washington in 1992. Her diaper had not been changed for days, and the skin beneath it was "raw, ulcerated, and rotting." She weighed 10 pounds at death and had 2 pounds of feces in her diaper. Her death, until it was re-examined with a spur from the Post, had been labeled "sudden infant death syndrome."

Nicole Des Ware was 17 months old at death in 1995. Her parents said she tumbled down a flight of stairs. But Jonathan Arden, the coroner, says a fall would not have caused the old injuries that were discovered during the autopsy.

No charges have been filed in any of these cases, nor have any district employees offered their resignations for failing to notice or prosecute these murders. Dr. Arden warns that prosecutions are still highly unlikely.

Just don't call them niggardly.