Mona Charen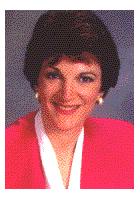 Try him
(JWR) --- (http://www.jewishworldreview.com) THE MANEUVERING AMONG MEMBERS OF THE SENATE to escape the dictates of the Constitution is a sorry spectacle this week.
One would not have thought that the question of whether President Bill Clinton would be tried in the Senate would be open for debate. The Constitution requires that following an impeachment by the House, the Senate shall hold a trial.
But senators are not displaying the sort of dedication to duty and adherence to principle that their colleagues in the House showed just two weeks ago. Instead, they seem to be frantically searching for a way out of their constitutional responsibilities.
(Cynics are discouraged from concluding that the Senate is seeking to avoid a trial only because senators are not permitted to speak during the presentation of evidence and must submit all questions in writing to the chief justice.)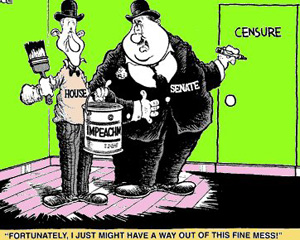 One plan reportedly being circulated among Republican and Democratic leaders would authorize a "resolution" to proceed with a trial. This resolution would require a two-thirds vote for passage. In other words, one-third of the Senate will be able to short-circuit a trial. What happens then? The Senate would entertain a vote on censure, and everyone would go home happy.
What this tidying-up operation overlooks is the facts. Facts are stubborn things, Ronald Reagan used to say. And the reason the Senate is now facing the prospect of a trial is that conscientious members of the House could not quite get past the fact that the president had committed perjury and attempted to obstruct justice. A deal that avoids a Senate trial will permit those crimes to forever fall within the ambit of acceptable behavior for presidents.
Some of the president's advocates argue that if the president is tried and not removed from office, the leniency effect will be the same. Moreover, they continue, if there is a trial that results in acquittal, the president will escape censure, too.
Should censure be a goal of those who believe the president is guilty? No.
In the first place, trials are unpredictable. The evidence just might sway some wavering souls who have been attempting to avoid the truth. And then there is the utter irrelevance of censure.
Never has a man worked harder to have himself rebuked than has Bill Clinton. The reason is twofold. Being scolded beats being removed from office any day, and besides, Bill Clinton is immune to censure.
We can guess that he has lived his entire married life enduring a liberal amount of scolding and disapproval from his spouse. It has not seemed to improve his character or dampen his spirits. Moreover, he has shown himself again and again to be utterly immune from shame. In this, he may be unique among public figures.
Here is a man who has seen the most intimate details of his illicit and slightly strange sexual life broadcast by print, video and computer to the remotest spots on the globe. He could have avoided this mortification in any number of ways, yet chose to risk it. This is not the mark of someone who fears being shamed.
And at a deeper level, in everything he does, from lying about sex to lying about his political opponents, there is a shameless quality to the man that is his most distinguishing characteristic.
Sure, he has mouthed words of contrition about his conduct, but they came out of his mouth sounding like Yasser Arafat's professions of peaceful intent in the Middle East -- less than persuasive. Besides, his conduct (rather than his words) has betrayed his true belief that any tactics are acceptable in pursuit of his own self-interest.
That's why he could direct James Carville, Charles Ruff and David Kendall to smear the prosecutor (the O.J. defense), allow his wife to lie for him on the "Today Show," and let word leak through his favored media outlet, Salon magazine, that the personal lives of every Republican would be turned over with a spade if the impeachment effort went forward. And that is why, at this, his defining hour, he is enjoying and reveling in the support of Larry Flynt.
Of course he is bucking for censure. He knows better than anyone how utterly meaningless it would be.