http://www.NewsAndOpinion.com | If there's a rumor of infidelity about a presidential candidate, it must be addressed! This goes right to the issue of character and temperament. Right?

Depends on the year. In 2004, no. When the Drudge Report passed along a juicy leak about John F. Kerry's supposed infidelities, the mainstream media pursed its lips and sewed them shut, leaving the issue to hiss and dissipate on the Internet and talk radio. In 1992, though, it was different. That election year was Bizarro World: Few in the media really cared about Bill Clinton's attempts to avoid military service, and everyone was talking about the rumors that Bush 41 had an affair.

Whence did the rumor originate? From beyond the grave. A footnote in a book about Washington lobbyists quoted Louis Fields, an ambassador to the nuclear disarmament talks in Geneva, saying he'd arranged for then-Veep George H.W. Bush to share adjoining rooms with an aide at a guest house in 1984. Mr. Fields was unavailable to elaborate for the '92 election, having died six years before — no doubt at the behest of Barbara Bush's secret team of ninja assassins.

The left loved it: Mr. Family Values, eh? Spy magazine ran a story giving 100 reasons not to vote for Bush, and put the No. 1 reason on the front cover: "He cheats on his wife." A CNN reporter asked Bush 41 about the affair in a news conference. Stone Phillips asked him about the adultery question for "Dateline NBC." The New York Post put the story on the front page. Helen Thomas gargled out a question or two. In the week leading up to the GOP convention, the rumor was floated daily in news dispatches. Why, it was simply irresistible. Just like the recent George W. Bush AWOL story: The press had a meaty slander leveled at a goody-goody they abhorred. Release the hounds!

The rumor died after the convention. In September, it was Clinton's turn on the grill: The draft issue resurfaced. In 1992, media investigations suggested that Clinton's uncle kept him from being drafted, so he could go play Boy Scholar at Oxford. Clinton denied knowing about his uncle's machinations. "It's news to me," he said, and he suggested that the GOP made it up. Days later he admitted that he had known months before about his uncle's activities. As the Associated Press put it: "Clinton insisted he was not contradicting his earlier denial, which he said was meant to convey that he did not know of his uncle's actions at the time they were made."

Makes you almost miss ol' Slick, doesn't it?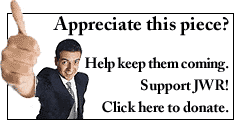 Ask yourself how much Clinton's evasions bothered the people who now obsess over Bush 43's National Guard service. To sum up: George Bush 41 — war hero, no evidence of affair. Bill Clinton — Gennifer Flowers with the audiotape, draft dodger. Media verdict: a draw.

But there was more going on in 1992 than a dead man's charge of infidelity. Perusing the front pages of 1992, you see 2003 in its larval stage. Saddam Hussein defies inspectors. U.N. officials threaten sanctions. Qusai claims the United Nations and United States are conspiring against Muslims. The entire fetid mess that would erupt 11 years later is open for all to see, but no one really cared. The other big issue besides the supposed affair was Bush 41's response to a rhetorical question about what he'd do if a rhetorical granddaughter had a rhetorical abortion. Foreign affairs? From the AP, this stinging quote:

"If they're such whizzes at foreign policy, why is Saddam Hussein thumbing his nose at the rest of the world?"

So said Al Gore. Back when he cared.

And this, from Aug. 14: "Fundamentalist rebels attacked Kabul with rockets in an assault that killed at least 100 people and wounded hundreds more. As the shelling intensified, a United Nations agency said it was removing its staff from Kabul."

That was 1992. Clinton's draft record? Whatever. Bush the Elder accused of infidelity? Charge! The inverse of 2004, in a way. But on the other hand: Under fire from Islamic terrorists the United Nations cut and run, and into that void poured the enemies of civilization.

Nice to know some things never change.

Every weekday JewishWorldReview.com publishes what many in Washington and in the media consider "must reading." Sign up for the daily JWR update. It's free. Just click here.

JWR contributor James Lileks is a columnist for the Minneapolis Star Tribune. Comment by clicking here.