http://www.NewsAndOpinion.com | The simplest questions often yield the most revealing answers. Let's pretend we've just asked the Democratic presidential contenders how they feel about apple pie:
John Kerry: Serving in Vietnam, I came to regard apple pie as a symbol of the America for which so many fine men died in a misguided war, and I am determined not to repeat that mistake. And I like it with ice cream.
Dick Gephardt: I will never forget seeing my dad at the kitchen table, shaking his head over the high price of apples, and that's why I'm running today: to give all Americans free and fair access not just to apples, but the whole pie. Government is the crust; people are the filling.
Dennis Kucinich: My dreams are filled with the screams of innocent apples, fed by the millions into industrial mincing machines.
Howard Dean: Well, you have to understand that George Bush not only doesn't get the complex history of splicing and cross-breeding that led to the modern apple, he's alienated the countries in the world whose apple stocks might replenish our own after the worst environmental policies since Catherine the Great threatened the domestic Macintosh-producing regions. You can't solve that by flying to Baghdad and serving pie — which I understand was pecan, an ironic choice, since they've stopped serving pecans at VA hospitals because of Bush cutbacks.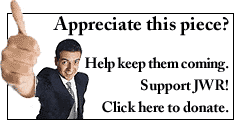 Notice that the perfect hypothetical Dean comment demonstrates his broad, furious intellect and his contempt for Bush without really answering the question.
Why? Because it's beneath him! Ask him the boxers or briefs question, and you might just get a history of textile tariffs, delivered with testy impatience.
So it was an interesting moment on MSNBC's "Hardball" when Chris Matthews asked Gov. Dean whether Osama bin Laden should be tried in the United States or by the World Court. For a presidential candidate, this is not a difficult question. It requires no long cogitation, no disquisitions about the role of international law from the Wilsonian perspective. It doesn't require any second-guessing. You say that bin Laden attacked America, and he deserves to be tried there by Americans.
That's what you say if you want to be president of the United States, anyway.
Said Howard Dean, in his standard tone of dismissive impatience: "I don't think it makes a lot of difference." Matthews repeated the question. And Dean said it again: "The truth is, it doesn't make a lot of difference."
Try bin Laden in an American court, before an American jury, or try him in The Hague: no difference, monsieur.
Hmmm. The president of the World Court is from China. There is one American judge on the court, and two from the Middle East. No difference between that court and one where the jurists hail from Wisconsin, Missouri and Florida. Noted.
What prompted this opinion? It's one thing to say that terrorists should be hunted down and cuffed, read their Miranda rights and put on trial — as opposed to, say, having gigantic mountain-shearing bombs dropped on their mountainous headquarters. It's another thing to say that the World Court should have jurisdiction over the crimes of Sept. 11. And it's another thing entirely to say that it's six of one, half-dozen of the other.
Has ritual deferment to all manifestations of the "international community" become a requirement for a Democrat nowadays?
In the same interview Dean referred to the Iraq campaign as "a unilateral pre-emptive" action. He meant this in a bad way, of course — as if attacking bin Laden's base in Afghanistan and killing him dead before Sept. 11 would have been a bad idea. Dean said we should also enlist the help of the "Soviet Union" to put pressure on Iran. (They really should update the atlases in the Vermont Foreign Affairs Department.) He vowed to break up media conglomerates like Rupert Murdoch's Fox empire, presumably because it's government's role to save you from Bill O'Reilly.
In short: Howard Dean says a lot of things. Come the presidential election, the GOP will have a two-word response:
Roll tape.

Every weekday JewishWorldReview.com publishes what many in Washington and in the media consider "must reading." Sign up for the daily JWR update. It's free. Just click here.

JWR contributor James Lileks is a columnist for the Minneapolis Star Tribune. Comment by clicking here.