http://www.NewsAndOpinion.com | Talk about two blasts from the past: Al Gore recently gave a speech sponsored by MoveOn.org, an organization originally founded for the purpose of issuing a great national tut-tut to Bill Clinton, making that motherly scowl of disappointment and then "moving on."

Well, everything about that sorry event has moved on, except MoveOn.org. Now they're another liberal advocacy group. And Gore's speech sounded a familiar theme of modern liberalism: George W. Bush is a greater threat to America than Islamist terror.

It was a greatest-hits collection of overgeneralizations, including the de rigeur accusation of fascism, complete with literary flourish:

"Where civil liberties are concerned, they have taken us much farther down the road toward an intrusive, `Big Brother'-style government — toward the dangers prophesized by George Orwell in his book `1984' — than anyone ever thought would be possible in the United States of America."

Remember "Carnivore," the dreaded FBI Internet surveillance program that would sift through billions of bits looking for crooks? A pre-Bush, Clinton-Gore era creation. Until we have video of Gore throwing himself over a server shouting "leave my Internet alone!" his protestations of looming Big-Brotherism will seem a tad unconvincing.

Wouldn't be a stemwinder without that No. 1 hit, Climate of Fear: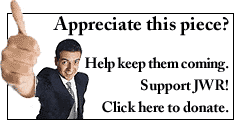 "They have exploited public fears for partisan political gain and postured themselves as bold defenders of our country while actually weakening, not strengthening, America."

Yes, yes, how true. We all remember Bush's speech to Congress, in which he demanded a capital gains tax cut in the name of the victims of Sept. 11. I mean, every day, it's the same thing: "Oogie boogie! Islam is coming to kill you, so we must give money to Africa for AIDS and reconsider our national park fire prevention strategy!" The man is shameless.

Personally, this member of the public remembers the fears that clutched the nation in the weeks after Sept. 11. Fear of germs, fear of spores, fear of small planes corkscrewing into nuke plants. You wanted to know that every young male with a Syrian passport coming over the border from Canada on a student visa would be taken aside and asked a few questions — maybe even photographed, if that's not too Big Brothery.

Exploiting public fears? Well, when al-Qaida opened a new front in New York City, the public saw it on TV and felt it in their wallets.

One hates to break it to Mr. Gore, but the public doesn't fear that the government will use the Patriot Act to find out whether a suspect used a library computer to get the go-code from a Yahoo-hosted jihadi message board. The public is worried that they won't.

Here's the peculiar thing: Some Democrats' sudden spasm of concern about governmental intrusions might have traction if people also sensed that the Dems had a sense of the greater context. We're at war. We're grappling with a vast and shadowy Hydra-headed foe who wants us dead as dirt.

One waits for Gore et al to admit that the Republic's greatest peril doesn't come from a man who took the fight to the enemy's stronghold, knocked off two horrid tyrannies AND proposed generous prescription drug benefits in his spare time. One waits for them to be as worried about Osama's heirs as they are worried about John Ashcroft's power to tap the phone of the next Mohamed Atta.

Said Fightin' Al: "It makes no more sense to launch an assault on our civil liberties as the best way to get at terrorists than it did to launch an invasion of Iraq as the best way to get at Osama Bin Laden."

Please. Gore's a smart man. He knows the importance of the Iraq campaign. He knows that the strike on Baghdad wasn't to get Osama. He knows what intel he saw when he was veep. And he knows these bits of rhetorical fibbing will go down well with his base. He accuses Bush of telling lies to create a climate of fear for the purposes of amassing political power? Psychologists call this "projection." Move on, Mr. Gore. Move on.

Every weekday JewishWorldReview.com publishes what many in Washington and in the media consider "must reading." Sign up for the daily JWR update. It's free. Just click here.

JWR contributor James Lileks is a columnist for the Minneapolis Star Tribune. Comment by clicking here.