Jewish World Review Dec. 15 /20 Kislev, 5764

James Lileks
Dems Are Mainstreaming the Extreme

http://www.NewsAndOpinion.com | If Al Gore had waited to endorse the post-nomination Howard Dean, he would have allied himself with the moderated, temperate Dean that will supposedly emerge once he gets a gravitas implant. Instead, Gore's wrapped himself around a guy who's still shoveling raw meat to the roaring disciples.
It reminds us that the Democrats of '04 aren't the hopeful Kennedyesque batch we saw in '00, when Gore rose to national prominence. They've gotten angrier. They can't crack a mike without mainstreaming fringe ideas.
The question is whether Gore gives the Dean wing legitimacy — or whether Dean's untrammeled rants will bring Gore down. Three random examples show the perils of Gore's embrace of the new New Democrats.
Item! John Kerry skillfully deploys the F-word in a Rolling Stone interview, wooing that coveted demographic of superannuated rockers looking for nekkid Britney pix. If you believe that civil language is a quaint Victorian hang-up unsuited to modern times, you're cheering Kerry. But he just guaranteed public discourse will get coarser and coarser, until voters wonder whether a man who doesn't curse like a hooker thinks he's better than the rest of us. Parents across the land say, "Thanks, John Kerry! Nice role-modeling, you blankety-blank!"
Item! Dennis Kucinich's Web site runs a music video that names the soldiers killed in Iraq, lists the companies involved in reconstruction, and asks how many more must die to enrich George W. Bush's cronies. It's pure tinfoil-beanie stuff, and its use of the dead soldiers' names is opportunistic and obscene. Imagine the stuck-pig peals we'd hear if Bush displayed a counter of the Iraqis who'd be dead today if we hadn't knocked over Saddam Hussein. Tagline: "If Howard Dean had been president, Iraqis would be tortured to death by their government today, and their graves never marked." The Voyager probe would pick up the howls of protest — even though the assertion would be true. Kucinich mainstreams conspiracy theories, and everyone shrugs.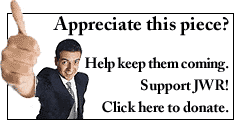 Item! Dean, talking to Diane Rehm — the Mother Teresa of Beltway radio — excoriated Bush for undue privacy in the Sept. 11 investigation. It produced some "interesting" theories, Dean said, such as the idea that the Saudis warned Bush of the imminent attack. Very clever, this; it allowed Dean to move the charge from the fever swamps of Internet forums to the national spotlight. Did he believe it? Oh, no — but it's interesting, he said, and can't be disproved. OK, then: Dr. Dean sealed his gubernatorial records, and this makes some suspect he was an abortionist who sold the sundered remains to Satanists for Black Mass rituals. Hey, it's an interesting theory. Until we see the records, who knows?
All these items are part of a disquieting trend: the mainstreaming of the extreme. Think of the GOP at the peak of its pique in the '90s. The Republicans didn't nominate a ranter who trafficked in "interesting" theories about Bill Clinton whacking Vince Foster for discovering the family coke ring. They nominated decent old Bob Dole, America's Poster Dad for erectile dysfunction. The party's nut jobs seethed in the margins — which is why Bush could later win on the "Kinder-Gentler 2.0" program of compassionate conservatism. Republicans didn't want revenge so much as they wanted to win.
But the Democrats want revenge. For Florida. For Bush's refusal to let France and Germany decide American foreign policy. For invading poor, helpless, never-hurt-a-fly Iraq. For making the Dixie Chicks feel uncomfortable. Not for drilling in ANWR, but for wanting to. For this and a thousand other sins, Bush must pay — and if al-Qaida detonates a nuke in the Baltimore harbor during President Dean's term, it'll be Bush's fault for toppling the fascists of Iraq without the approval of Syria and China.
If Gore wants these people on his side in '08, it's because he thinks they'll still be spitting mad in four years. And he's right. They will be. They will hate Bush more than Osama bin Laden, right up until the day the Islamists target mixed-gender schools, abortion clinics and gay-rights counseling centers.
Then they might finally realize it's not only their war too — it always has been.

Every weekday JewishWorldReview.com publishes what many in Washington and in the media consider "must reading." Sign up for the daily JWR update. It's free. Just click here.

JWR contributor James Lileks is a columnist for the Minneapolis Star Tribune. Comment by clicking here.

12/08/03: Does Dean Really Want to Be President? One Wonders, When He Opens His Mouth
11/24/03: The real story: Most Brits see U.S. as force for good
11/19/03: The Trouble With Al Gore's Screed on Civil Liberties
11/11/03: Can a fellow win with the Confederate Metrosexual vote?
10/22/03: Let's make Greenpeace pay
09/29/03: Ah-nold & Clark may be on different sides of the aisles, but their supporters are cut from the same cloth
09/19/03: All Hail the Ninth Circuit Court of Surreal
08/26/03: This time, the record industry doesn't stand a chance!
08/18/03: Assessing the Schwarzenegger Factor in Republicanism
08/08/03: No wonder Howard 'Two Covers' Dean gets all the buzz
08/04/03: Expect bad news for the foreseeable future
07/28/03: Despot's Deserts
07/21/03: No winners in this game of gotcha
07/14/03: Doing the right thing in Liberia may not be the right thing to do
06/27/03: On feet in Democratic mouths
06/16/03: The real story behind Hillary's book
06/09/03:America's new mission was and remains: Extirpating the flaming nutballs and the societies that nurture them
06/03/03: The Constitution as gag order
05/23/03: Sometimes the theme of world events is chaos itself
05/16/03: Newspapers are only human, after all
05/13/03: What McCarthy messed up
05/06/03: Still think the International Criminal Court was a good idea?
04/03/03: The world is ending, the world is ending! Doesn't anybody care!? Why won't anybody listen!?
03/14/03: Kerry and the Dems are banking on American electorate's tendancy to forget history
02/28/03: Roadmap to peace?
02/13/03: We live in an age where the poet has been cast out from the halls of power --- sob, sob
02/10/03: Found: League for International Justice and Peace talking points
01/30/03: The US can go to war whenever it likes for its own reasons, and all the UN can do is pass more worthless paper
01/23/03: People who'd volunteer for the Iraqi army if they saw Saddam wearing a "Free Mumia" button
01/16/03: One of those head vs. heart things
12/27/02: Whistleblowers?
01/06/02: The second year of this jangled millennium
11/16/01: Attack of the 'Patriotism police' and other Hollywood fare
11/12/01: From the bleats of dismay
10/30/01: Osama and the Genie
10/08/01: "We can stop the Bush Death Juggernaut"
11/04/01: America, loathe or it leave it
09/25/01: Do the Europeans actually think that the war on murderous zealotry will be furthered by undercutting America?
08/27/01: If the economy is in a funk, why aren't we dancing?
08/14/01: Dubyah's embarrassing presidential vacation
08/10/01: Hail to our co-chiefs?
08/03/01: Constitution: George the Uniter picked a doozy to unify detractors
07/25/01: The real reason why we need missile defense (What those uppity policy wonks won't tell you!)
06/18/01: Paining the egalitarian soul
06/01/01: One of the stranger indexes you'll ever hear about
05/21/01: One man's toke is another man's snort
05/08/01: Republicans want poisoned water
04/23/01: We bleat as we're sheared
04/10/01: Boys will be boys. And that's the problem
04/06/01: Pity the anti-American Left, they're gonna have a hard time on this one
03/26/01: You've been warned
03/16/01: The GOP's inexplicable desire to fold
02/23/01: Will the Jeb Bush administration attack Saddam in 2011?
02/09/01: In search of the the first ashtray thrown by a member of the First Family
02/06/01: Can you say 'Ayatollah Bush'?
01/24/01: The new Executive Orders
01/22/01: Hey, Dubya: Wanna save Ashcroft? Teach him to rap!
01/09/01: Bubba gets his last licks
01/05/01: The low-down on the coming recession (What those snooty economists won't tell you)
12/23/00: Memo to Dubya: Wanna show who is boss? Nuke 'em!
12/06/00: The Count of Carthage
At the Sore/Loserman Transition HQ
12/01/00: The Count of Carthage
11/28/00: Clinton knows history isn't written by the victors anymore
11/17/00: Chad's the word
11/08/00: The strangest political night
11/07/00: Get ready to return to the Dark Ages


© 2003, James Lileks