http://www.NewsAndOpinion.com | Imagine this scenario: Two antiabortion activists drive up to a Planned Parenthood clinic, jump out of the car, run hard for the front door and burst into the office shouting, "Abortion is murder!" While the protesters are upstairs attempting to string a banner out the windows, the receptionist dials 911. Cops come; the intruders are removed. Not the first time and probably not the last.
Now add this twist: The government files charges against the prolife group that sent the activists. You might be thinking, "About time! Hit 'em with that RICO stick again, G-men." Intimidation and violence have no place in civil society. Someone wants to protest, he can stand on the other side of the street; if someone wants to play Tony Soprano and send his goons into a private business, well, he should hardly be exempt from prosecution.
Back to the real world. Last year Greenpeace members invaded a cargo ship. They sped alongside in a dinghy, clambered up a ladder, jumped on deck and unfurled the all-important banner, the text of which demanded that President Bush do something about illegal mahogany imports.
(Remember how some said Iraq would be a distraction from the war on Al-Qaida? Imagine how it's hurt the war on international cellulose-smuggling syndicates.)
The protesters spent a weekend in jail. And now federal prosecutors are charging the people who approved the boarding: Greenpeace itself.
Will the same people who cheered the first example support the second?
The First Amendment will survive. Greenpeace can go door-to-door, run Web sites, organize marches and do all the other things we associate with peaceable protest. But if the board of directors instructs the troops to start heaving bricks through store windows, it ought to pay.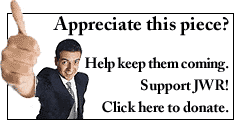 Granted, boarding a ship is not necessarily a violent act. Neither is driving your car into your neighbor's garage, running into his house and chanting pro-recycling slogans. It would, however, be illegal. Yes, yes, a small and inconvenient fact when compared to the moral gravity of recycling, but some diehards still cling to the sanctity of private property.
Remember: Feeling passionate about your cause does not make you exude a special chemical that renders you immune to all laws.
In fact, willingness to accept the consequences of your dissent actually gives your dissent more moral weight. It's one thing to stage a lunch-counter sit-in at a Woolworth's in a liberal Northern town, and quite another thing to try it in the heart of Jim Crow land.
No one else will go to jail if Greenpeace is convicted. The organization could be placed on double-secret probation, and could lose its tax-exempt status.
Chances of that happening are just about zero; the PR cost to the administration would be horrid. As is, Greenpeace has been handed a marvelous fundraising tool. By the time this all plays out, a good portion of the faithful will be convinced John Ashcroft has decamped to the Amazon with a chainsaw in one hand and a shotgun in the other, felling old trees and shooting rare marmosets whose tears hold the cure to cancer.
But it's the principle! Dissent is being squashed like an Amazonian clusterbug!
Perhaps not. The charge, after all, is a misdemeanor. This isn't a jackboot on the face of the brave. It's not even a slipper. More like a silk sock pressed on Greenpeace's Birkenstock, a gentle reminder: In a time of suicide bombings, in the post-USS Cole era, perhaps speeding up to cargo ships in small boats and scaling the sides isn't a good idea, and might actually earn you a headful of lead.
Nonsense, the activists insist — they had "GREENPEACE" written on the boat and on their clothing. No terrorist or pirate would ever do that; it would be wrong! It would violate the Pirates' Code!
Uh-huh. Note to Greenpeace: We're sure you mean well, but in a world of pain and suffering, aren't there more important causes? Even the PETA guys probably look at you askance. Chickens suffer by the billions every day, and Greenpeace is worried about wood?

Every weekday JewishWorldReview.com publishes what many in Washington and in the media consider "must reading." Sign up for the daily JWR update. It's free. Just click here.

JWR contributor James Lileks is a columnist for the Minneapolis Star Tribune. Comment by clicking here.