http://www.NewsAndOpinion.com | Saddam Hussein had a pistol when he was captured, but he didn't use it. He just surrendered without a shot. And people wonder whether he was still getting advice from the French.
For that matter, one wonders why he had to be dragged out at all. We could have used sanctions to force him out in seven months. He had only three-quarter mil in cash; eventually he'd tire of having pizza delivered every night, and he'd come out on his own.
The reactions from foes of President Bush were predictable. You'd swear that if you jabbed the average Democratic presidential candidate awake at 3 a.m., he'd shout, "Unilateral cowboy yellowcake carrier landing fake-turkey photo op!"
Joe Lieberman acted like a grown-up, but John Kerry insisted we could have found Saddam sooner if we'd had allies. Here the French, working for us this time, could have deployed their elite squad of truffle-hunting pigs to sniff out the bunker.
John Edwards, attempting to move his poll numbers to a sum larger than his shoe size, laid out his vision in a Des Moines speech: "A one-dimensional foreign policy in a three-dimensional world will not secure our nation." Ah yes, the old nuance deficit. Bush's solution is always the same -- bombs and bluster. Hence the big craters in Tehran, Pyongyang, Riyadh and Paris.
What bold new thinking would President Edwards bring to this multidimensional world? A new U.N. Security Council resolution opposing the spread of weapons of mass destruction.
Splendid idea. Just don't enforce it! Make it something nice and stern, with words like "strongly pledge" and "emphatically reject." Then take a vote and have a nice long lunch; New York is full of great restaurants. It's fun being a U.N. diplomat! And while you're up, make a resolution against killer asteroids and musicals based on Boy George, OK? Thanks; kisses.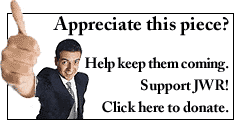 Howard Dean graciously praised the capture, but you could hear the big BUT flexing in the wings. Sure enough: "The capture of Saddam has not made America safer," Dean said in his big foreign-policy speech. "I have never found the evidence convincing that Iraq was ever a significant threat to the United States." Drawing on his own network of Iraqi informants and private spy satellites, Dean also remarked that Saddam's capture "could have taken place six months ago."
Remind us again why we're getting foreign-policy advice from a former governor of a tiny state most famous for tree sap and ice cream? Someone should hand the Sage of Vermont the Dec. 14 article from the Telegraph. According to the British paper, the coalition government claims it's found documents that put Sept. 11 terrorist Mohammad Atta in Baghdad in the summer of 2001, meeting with the notorious Palestinian Abu Nidal. Said the Telegraph:
"Dr. Ayad Allawi, a member of Iraq's ruling seven-man Presidential Committee, said the document was genuine. `We are uncovering evidence all the time of Saddam's involvement with al-Qaida,' he said."
Could be a forgery; could be nothing. But consider the many Iraqi connections to the 1993 World Trade Center bombing and the numerous Saddam-bin Laden connections spelled out in the famed 50-point memo to the Senate Intelligence Committee.
Either Dean firmly believes that no such connection between Iraq and al-Qaida could ever be made, in which case he is stunningly naive, or he is banking that the connection won't be proven before the election, in which case he is willing to mislead everyone to land his keister in the big chair.
Here's the most telling quote of his foreign-policy address, as reported by MSNBC:
"Dean said he `would not have hesitated' to launch an attack on Iraq `had the United Nations given us permission and asked us to be part of a multilateral force."'
He believes it is the obligation of the United States to beg the United Nations for a "mother-may-I" first.
In the '90s, the flaming nutcases on the right were convinced that Bill Clinton wanted to relinquish sovereignty to the United Nations. Now the worst fear of the hard-right crazies is a campaign promise from the Democrats' front-runner. Look for Dean to start taking helicopters to his campaign appearances. Black ones!

Every weekday JewishWorldReview.com publishes what many in Washington and in the media consider "must reading." Sign up for the daily JWR update. It's free. Just click here.

JWR contributor James Lileks is a columnist for the Minneapolis Star Tribune. Comment by clicking here.