Jewish World Review Jan. 27, 2004 / 4 Shevat, 5764
When the battle over artistic freedom goes over the edge
By James Lileks

http://www.jewishworldreview.com | Everyone talks about insufferably pretentious art, but no one does anything about it. Until now.

Perhaps you read the story: Zvi Mazel, the Israeli ambassador to Sweden, shows up at an art gallery and comes across an installation called "Snow White and the Madness of Truth." Picture a rectangular pool of blood-red water and a tiny boat bearing the picture of Hanadi Jaradat, a woman who murdered 21 people in Haifa last October.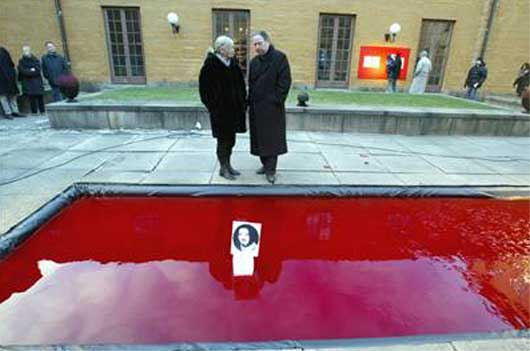 Swedish artists Gunilla Skoeld Feiler, left, and Israeli born Dror Feiler stand behind their restored art installation, 'Snow White and the Madness of Truth', at the courtyard of the Museum of National Antiquities in Stockholm




The artist wanted a reaction? He got one. News reports made it sound as if the ambassador rampaged through a gallery, knocking over waiters and patrons, yelling for vengeance. Not really. Swedish TV covered the event; the evening news showed the ambassador unplugged the lights around the display without saying a word. Then he took one of the spotlights and threw it into the red-colored water. Outraged, yes. But hardly unhinged.


"A pool of blood, of my brothers," the ambassador snapped, "and you tell me to do nothing?" Next question.


As the ambassador left the hall, one of his associates asked, plaintively: "Have you read it?" He meant the poem that accompanied the exhibit. Like much modern art, "Snow White" needed a text to explain itself, or it would just look like someone threw food dye in the wading pool. The poem laid out the bomber's motivation: She killed "for the June 12 deaths of her brother, and her cousin," who were "killed in an encounter with the Israeli security forces."


That's a kind way of saying her brother was at the house of her cousin Salah Jaradat, who was head of the Islamic Jihad in Jenin. Until the IDF showed up, anyway.


The artist, Dror Feiler, is an Israeli-born Jew now living in Sweden. He insists he's against suicide bombing, which is nice to know. You can see how someone might mistake a pool of blood with a picture of a smiling terrorist as something less than total condemnation of the intifada. Pictures of the victims? No. Pictures of the devastation? Of course not.


Too literal. What counts is the existential mystery, the acte gratuit, the impenetrable constructs of oppression and religion that we can roll around in our mouths all day because we don't have to worry that someone will come into our coffeehouse and blow herself up. Yet.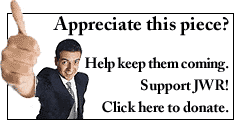 How did the artist feel? Right after the ambassador's spontaneous criticism, Feiler addressed the gallery patrons. "He sabotaged our art," Feiler said, "and he showed how the democratic thoughts of Israel are."

Mr. Feiler no doubt prefers the democratic thoughts of Arafat, Hamas and the rest.

He was clutching a saxophone as he made his remarks, and for the sake of the Swedes one can only hope he didn't use it. Here's what Feiler wrote about his music: "As a new dimension and complement to the orderly dialectics of classical Marxism it uses the theory of complexity: a method of complications and implications as an antithesis to the dialectic method of restricted sequence of cause and effect."

Translation: You can't dance to it, and it makes dogs leave the room. It fits with "Snow White." Feiler is one of those modern artists who cannot paint a simple picture, but spend all day in cafes smoking furiously and cooking up grand proposals for installations that recontextualize the gender messages inherent in postwar kitchen appliances.

Good art makes some people mad, of course. Can't please everyone. But just because some outraged traditionalists protested "The Rite of Spring" doesn't mean that you're Stravinsky if someone calls your work offensive dreck. And "Snow White" was offensive dreck. It's pretentious nonsense from a culture that's played out and lost, a culture that treats unhinged killers as tragic heroines.

Feiler says he was struck by the paleness of Hanadi's face, and how it contrasted with the color of blood. Red contrasts with white? Who knew? What clever artists we have these days. Perhaps next time Feiler can contrast, say, evil and innocence, and tell us where he stands on the matter.

You can imagine him scoffing at that request: "What, do I have to draw you a picture?"
Every weekday JewishWorldReview.com publishes what many in Washington and in the media consider "must reading." Sign up for the daily JWR update. It's free. Just click here.
JWR contributor James Lileks is a columnist for the Minneapolis Star Tribune. Comment by clicking here.
© 2004, James Lileks