http://www.NewsAndOpinion.com | In the forgettable movie "Eraser," Arnold strapped on two guns the size of telephone poles for the final battle. Cool! Each gun had a floodlight that lit up the set like movie-premier searchlights -- wicked cool! Only one problem: When you saw him coming toward you, all you had to do was shoot between the lights.
An apt metaphor, perhaps, for Schwarzenegger's campaign. He's not gunning from the left or the right. What counts is the center, and this is where Arnold resides.
This has caused much lamenting and rending of garments on the ironclad right; he's not this, he's not that, he said this, he smoked pot, he has no solid position on the treaty of Ghent, etc. The social-issue wing of the Republicans has its checklist: You must castigate abortion, glower at the gays, gag at the sewage the entertainment industry produces, and above all you must believe that the Kennedys always wear shoes in public to hide their cloven hooves.
Arnold fails these tests. He's pro-choice. We can be reasonably sure that he jokes with gay make-up artists instead of punching them in the jaw on general principle. His movies are notable for the funny lines he says before he blows nine-inch holes in his adversaries' skulls. He does nude scenes in his Terminator movies, for heaven's sake; he might be the first governor whose granite glutes have appeared in Panavision all over the nation. He is literally sleeping with the Kennedy family. And he calls himself a Republican?
Sure. It doesn't really take that much. A little populism, a brief salaam in the direction of Frederick Hayek, some furrowed-brow remarks over the need to lift the regulatory burden, some swipes at the coddled and ossified elements of the civil-service sector (the "special interests" he keeps talking about) and you get to wear the big R on your super-hero costume.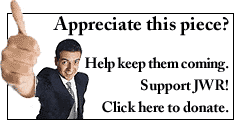 Arnold may not be a rock-ribbed conservative. But consider this: If he didn't feel affinity for the basic tenets of the party, he wouldn't be a Republican. Being a Democrat in Hollywood is the path of least resistance; it's as natural as breathing air or complaining about the help. Sure, Arnold's a liberal variant of the Republican idea, but that just means he's electable in a liberal state. He isn't the end of Republican come-back in the Golden State; he'd be the beginning.
As political theater goes, it's quite entertaining. But it's all such a bad idea. Recalls ought to be reserved for truly bad officials, and it's not as if they caught Davis sawing up prostitutes in a cheap motel room. Yes, he may not have been forthcoming on the details of the budget deficit -- imagine that. A politician who gilds the lily and doesn't admit he borrowed it from the florist's.
Recalls ought to be reserved for the characters you find in a Thomas Nast cartoon, and the proponents of this fandango shouldn't be surprised to find it used against Republicans elsewhere.
But you couldn't tell the impeachment boosters that, either. Hey! Impeaching Clinton is a bad precedent! "I'm sorry, your lips were moving, and some sounds came out, but it didn't quite make sense. Bad precedent? Of course! Clinton is the worst precedent we've ever had."
Will Arnold win? Well, he'll bring new voters to the polls -- we saw this in Minnesota with Jesse Ventura. People who never voted will find it cool to vote for Arnold, and even though they might not be the most sophisticated participants in the process, they'll probably intuit that a vote isn't just a thumbs-up statement. It means something. Yelling "I bought your video" doesn't really put an actor in your debt, but shouting "I voted for you" somehow does.
In any case, it'll change a few minds about the possibilities of politics. All their life they saw politicians as nothing more than nerdy bloodless grinbots, and now here's this guy: a giant with a gap-tooth smile smoking a Montecristo the size of Gray Davis' shin bone. Heck yeah!
One problem: Who will be the lieutenant governor, aka the sidekick? No one who's seen Arnold's movies will volunteer for the job.
That guy always gets killed in the first 20 minutes.

Every weekday JewishWorldReview.com publishes what many in Washington and in the media consider "must reading." Sign up for the daily JWR update. It's free. Just click here.

JWR contributor James Lileks is a columnist for the Minneapolis Star Tribune. Comment by clicking here.