http://www.NewsAndOpinion.com | It goes without saying that President Bush emanates a mind-warping energy field. You've seen it in action: Perfectly rational people who pride themselves on their nuanced, sophisticated opinions fall to the ground and begin frothing and barking when the subject turns to Bush; you expect them to succumb to Sudden Rumplestiltskin Syndrome, grab a leg in each hand and rip themselves in two.

We've all seen this happen in America, but who knew the energy field could cross an entire ocean?

Obviously, it can. "Red Ken" Livingstone, mayor of London, took leave of his senses when confronted with the possibility of Bush physically entering his city.

Red Ken — so named for his adoration of statist collectivism — held a press conference in advance of Bush's visit to the queen. The good mayor announced that he did not recognize Bush as president, because he was not really elected. (The ignorance of these provincial Euros is stunning, eh?) Ken recalled a recent visit to the United States, where he had called the Bush regime "the most corrupt and racist American administration in over 80 years." (Tsk: typical European ignorance of history. And we let these people have nuclear arms?) Ken went on:

"Some U.S. journalist came up to me and said, `How can you say this about President Bush?' Well, I think what I said then was quite mild. I actually think that Bush is the greatest threat to life on this planet that we've most probably ever seen. The policies he is initiating will doom us to extinction."

Let us look at the list of threats to life on this planet: A giant meteor. An accident in a nanotech lab releases microscopic flesh-munchers. A solar flare blows off the atmosphere. Mutated ebola cooked up by ex-Soviet scientists and sold to al-Qaida sweeps the world. Paris Hilton reproduces. North Korea sells nukes to the People's Army for the Liberation of Manitoba. And so forth.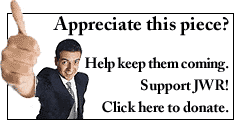 It takes a particular sort of man to see Bush not as a politician with whom one disagrees, but as a threat to the human species, an instrument that could end man's domain and bring about cockroach supremacy on every continent.

It takes a uniquely stupid man to believe this, in other words. Not to say that Red Ken isn't smart — no. He's smart in the fashion of modern Euro multiculti lefties. He can speak at length about post-colonial paradigms of transcultural interpenetration and Orientalist subtexts in BBC pre-Thatcherite epistemological narratives. And he'll be talking right up to the moment when the suicide bomber drives a car up the steps of City Hall.

Red Ken is a perfect symbol of Old Europe — not the Europe mired in the Bourbon past, the dusty histories of Ententes Cordiale, but the post-'68 Europe of knee-jerk pro-Marx anti-Americanism. Red Ken's ilk are a disaffected lot; they never got the revolution they sought so keenly. The system crushed their utopian dreams, and all they have to show for the struggle is an iron grip on academia, the media and the political structure of a dozen nations.

Ken may not speak for England — most recent polls show that the ruddy God & Queen & Roast Beef soul of Albion still stands by the United States. But he's part of a bigger problem.

Europe has two strains inimical to American interests. One is the anti-globo anti-capitalism anti-everything nutballs like "Antiimperialista," an Italian organization raising money for the Iraqi "resistance." According to the BBC, which calls the group "anti-war," the money could buy weapons for Baathist terrorists. The technical term for groups like this is "The Enemy."

That's one problem. The other is demographic. There are millions of poor, male, unassimilated Muslims in European cities who agree with Red Ken about Bush, but share nothing else with the mayor. They'd be happy to give him the revolution he long desired. But Red Ken should reread his history: The ones who send the first wave to the scaffold comprise the next batch sacrificed for the cause.

You can scream all you like about how you supported Kyoto and opposed genetically modified food, Ken. They won't know what you're talking about. They won't even care.

Every weekday JewishWorldReview.com publishes what many in Washington and in the media consider "must reading." Sign up for the daily JWR update. It's free. Just click here.

JWR contributor James Lileks is a columnist for the Minneapolis Star Tribune. Comment by clicking here.