http://www.NewsAndOpinion.com | We live in a pre-fascist state, you know. The coup of 2000, the Reichstag fire of 9-11, the endless wars of aggression — it's all there as plain as the small mustache that would be on George W. Bush's face if he were honest. All that's missing is the one piece of evidence that proves we're reliving the Nazi horrors ...
Wait, this just in: The Associated Press reports that the administration has a new bill to overhaul Amtrak. "In addition to encouraging private investors to build railroads, the bill would improve service and promote high-speed rail service between cities." There you go! The trains are going to run on time!
One small question: Aren't evil dictatorships supposed to be good propagandists? We ought to be seeing nothing but Good News on Parade every night on TV. Brave soldiers running into burning buildings to rescue orphans and their bunnies! Heroic soldiers pointing to the horizon as their comrades build the new People's Canal! Grinning soldiers shouldering sacks of flour as they pass out food and RJ Reynolds fine tobacco products to grateful locals! Ululating Baghdadis salaaming the statue of Bush, erected on Saddam's old plinth! But we get none of this. C'mon, Karl Rove! Pick up the pace, Wolfie. Come 2004, you've got to make us happy you suspended the election.
Instead, we get bad news. Granted, it's not all good over there. Last week, for example, 34 Iraqis were killed by gunfire in Baghdad and 70 were wounded, many quite seriously. Gang warfare? A U.S. hot-pursuit mission gone awry? No: According to a Baghdad newspaper, they were killed by the bullets they fired in the air to celebrate the death of Saddam's butchers-in-waiting, Qusai and Odai. That's the bad news. The good news is that the sociopathic duo is dead, and there are Baghdad newspapers that can report on the matter without worrying whether the editor will turn up face down in the Tigris.
One could say that's progress.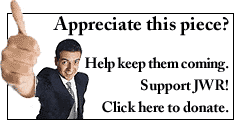 But good news doesn't make interesting headlines — especially when the good news consists mostly of the absence of horrible news.
"Assessment of Basra's antiquated electrical system complete; upgrades to dynamo control mechanisms ordered" isn't the sort of headline that sells newspapers.
Expect bad news for the foreseeable future. It's sexier than success. Eventually every network will do the Six Months Later story, and you know how that will go:
First, "The Best of Shock and Awe" highlight reel while the narrator describes how the Iraqis folded like a three-legged card table. Then the postwar quagmire, as the Americans failed to convince a kneecapped nation to leap to its feet and do the Charleston in 100 days. Then some Bright Spots, followed by a stand-up report from whichever anchorperson parachuted in for the closing visuals. "Tonight, Baghdad is calm, but many people look to the future, and wonder whether this is liberation — or occupation." Mournful music, slow-mo shots of an Iraqi child's blank face, a scowling soldier, a toppled statue of Saddam.
If you're not depressed by the end, Dan Rather will personally come to your house and force-feed you Valium and alcohol.
What good news leaks out seems to come entirely from the soldiers themselves, writing letters home to family and friends. They circulate on the Internet like samizdat manifestoes. Some soldiers have weblogs in which they recount the pains and joys of helping a country rebuild while wearing 90 pounds of gear in weather that resembles a vacation on the Venusian equator. The good news is there, in other words — and it's a mystery why the administration isn't blaring it out every day.
Anyone up for some deep 'n' evil conspiracy theories?
Maybe the Bush team is playing rope-a-dope again. Let the opposition scream about missing weapons of mass destruction, let the bad news dominate, let the polls sink and the sharks circle. Let a few more Democratic candidates suggest that the president could be, as he might put it, impeacherated.
Then, voila! Lots of WMDs and yellowcake for all. Hey presto! Full power and clean water all over Iraq. For the main course, Saddam-on-the-slab. By then the next election will be under way, and the economy will be better as well.
Brilliant. And they'll still hold the election.
Just to humor us, of course.

Every weekday JewishWorldReview.com publishes what many in Washington and in the media consider "must reading." Sign up for the daily JWR update. It's free. Just click here.

JWR contributor James Lileks is a columnist for the Minneapolis Star Tribune. Comment by clicking here.