Jewish World Review August 5, 2003 / 8 Menachem-Av, 5763

Lori Borgman
S'Mores Maker threatens all we hold dear (and gooey)
http://www.NewsAndOpinion.com | There's a new kitchen product in department stores that's absolutely disturbing. I am talking, of course, about the new S'mores Maker.
The S'mores Maker consists of a round wooden tray that holds three attractive containers, one for graham crackers stacked in a neat row, one for chocolate bars stacked in a neat row, and one for marshmallows arranged in a pleasing geometric pattern. It also has a small Sterno pot with a little grate on top for toasting marshmallows a light golden brown. Oh yes, and it comes with four brightly colored skewers.
This is so unnatural, so very, very unnatural.
The S'mores Maker has a picture on the box of a group of freshly-scrubbed young people gathered together laughing and making jolly, assembling S'mores. The writing on the box says you can make s'mores inside and outside!
What is the world coming to?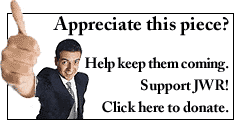 Let's start at the beginning shall we? No. 1, nobody needs to make s'mores inside. Making s'mores is an outside activity. It may be the last activity that can still get people off the couch and into the great outdoors. Under no circumstances should we encourage anyone to stay in temperature-controlled climates and make s'mores while watching television and playing video games. It's unhealthy, it's unnatural and it's not why the marshmallow was invented.
No. 2, you don't line up the ingredients for s'mores in nifty containers that whirl around on a Lazy Susan. The ingredients for s'mores should stay on the ground around the campfire, scattered in a random fashion. The chocolate bars should be kept partially hidden, maximizing the difficulty of finding them in the dark.
S'more ingredients can be elevated to a picnic table, although this is not the preferred method. For maximum flavor, they must be kept outside in the pitch black, illuminated only by the dancing flames of a campfire. The fact that the components of the s'more are often dropped in the dirt is what gives them their unique flavor and distinctive crunch.
No. 3, s'mores are not made with marshmallows gently toasted to a light golden brown.
Marshmallows were meant to flame. High. Way into the air. You may recall the wilderness-loving president Teddy Roosevelt saying, "The only good marshmallow is a blazing marshmallow." Teddy was right. He was also right to tell the White House chef that he would end up with the moose and elk mounts on the wall in the wild game room if he ever made s'mores in the White House kitchen instead of outside, over an open fire on the south lawn.
Finally, no one in their right mind uses a brightly colored skewer to toast a marshmallow for a s'more. Can you say city boy? You prepare marshmallows on sticks you've hunted in the woods. In the dark. With no moon. With strange noises in the trees overhead and crunching and crackling sounds emanating from beneath your feet.
The proper utensil is a forked stick that leaves a smeary brown residue on your fingers when you jam on the marshmallow. The stick must be long enough to hold over the flames, but short enough to singe the hair on your arm and make you respect the fire.
A dusty graham cracker, a burnt marshmallow, and a soft chocolate bar assembled in the dark by a roaring fire under an endless starry sky, my friends, is a s'more.
And if they ever get all that packed in a box for $29.99, I'll be the first in line to make a purchase.
Enjoy this writer's work? Why not sign-up for the daily JWR update. It's free. Just click here.

JWR contributor Lori Borgman is the author of I Was a Better Mother Before I Had Kids. To comment, please click here. To visit her website click here.
07/25/03:Private journals, public records 07/25/03: Star appears bright-eyed, bushy-tailed
07/18/03: Girls pool talents for commercial success
07/11/03: Summer; the living is easy
07/03/03: Terrible twos make terrific workout
06/27/03: Emergency a matter of definition
06/13/03: A Father's Day roast for Mother Goose
06/05/03: Good examples of bad parenting
05/23/03: Faulty equations on the love calculator
05/16/03: Busted for Oreos!
05/09/03: Mom plus shipping equals excitement
05/02/03: Mom shudders at thought of the m-a-l-l
04/21/03: Mother Confessions
04/11/03: Husband snoring: Hit or mist
04/04/03: Flip flops hashed at the lunch table
03/28/03: Bare facts on protesters
03/21/03: Madonna: Like an Author
03/17/03: Mom develops rapport with son's answering machine
03/07/03: The call for courage
02/28/03: My relationship with Mister Rogers
01/31/03: Mom pushes memories out the door
01/24/03: Picture this! Human 'beans'
01/10/03: Password, please!
12/31/02: Who it was a good year for
12/06/02: Radio show guarantees family-size audience
12/02/02: High-seas adventure would enlist few takers today
11/15/02: Frozen turkey makes cook chicken out
11/15/02: What's going on with "going out?"
11/01/02: The crazy mind of middle-age
10/25/02: Relationship rooted in willow talk
10/18/02: The challenge of being spontaneous
10/11/02: No wheels, no keys, no problem?
10/04/02: Lessons of a childhood survivor --- my children's
09/20/02: "Cutting the Cord" to the Tube
09/13/02: Over there
08/30/02: The Last One Left
08/23/02: Rare sighting made on the patio
08/16/02: Kids get reality paycheck
08/08/02: We look like this . . . no, Kidman!
08/02/02: We should be a nation of 'nuts'!
07/26/02: Hold your applause --- please!
07/19/02: Greed and Mints on the Pillows
07/12/02: Remodeling: Blueprint for Disaster
07/08/02: The Botox wrinkle
06/28/02: One perfect day
06/21/02: Flush with excitement
06/14/02: The Ways a Father Says "I Love You"
06/07/02: Garage Sale Treasures
05/31/02: No Pudgy Hour at the gym
05/19/02: Ozzy, if you come for dinner, bring change
05/19/02: Instant Messaging and LOL
05/10/02: Some mothers get something more
05/03/02: I Nudge, Therefore I Am
04/25/02: Motherhood is seasonal work
04/19/02: Paper trail to college
04/12/02: What to cook or not to cook
03/31/02: Mom and Dad Break Curfew
03/22/02: Introducing P.P.M. (Partners Per Month)
03/15/02: Birth of a Pothole
03/08/02: When Enron Momma gets mad
03/01/02: Little hope for bookaholic
02/22/02: Wrestling with prejudice
02/15/02: Say What?
02/08/02: Kitchen intelligence
02/01/02: Age-old words
01/25/02: Abortion: Switching Sides
01/18/02: Kids, take note
01/11/02: The heart-stopper e-mail
01/04/02: The slightly sunny side of 2001
12/28/01: The Way Things Work
11/30/01: The Leftover Shuffle begins
11/27/01: Glasses bring age into focus
11/16/01: A different portion of Thanks
11/09/01: The Next Stage of Parenting
11/01/01: Of boys and patriotism
10/26/01: College Son the Invisible Man
10/19/01: Out of the closet ... and into the school
10/12/01: A Parent's Guide to Dating
10/05/01: "Taking Care of You"
09/28/01: Time indivisible
09/24/01: Refueling capitalism
09/14/01: A time to mourn
09/07/01: Lack of modesty stirs the troops
08/31/01: Scholarship search an education
08/24/01: The test for parents
08/17/01: Immodest proposals
08/10/01: Trying to R-r-r-re-re-relax
08/03/01: It may be shabby and chic, but it ain't cheap
07/20/01: Bride showered with sage advice
07/13/01: Baby Bear Finds Driving "Just Right"
07/06/01: Pale at the Thought of Bronze
06/29/01: A Dog's Best Friend
06/22/01: Rethinking fatherhood
06/14/01 Don't forget to lock the door
06/07/01 How grandma punishes her kids
06/01/01 Hearing voices
05/25/01 Cyborgs for Better or Worse
05/18/01 The death of Common Sense

© 2001, Lori Borgman