Jewish World Review July 25, 2003 / 25 Tamuz, 5763

Lori Borgman
Star appears bright-eyed, bushy-tailed
http://www.NewsAndOpinion.com | Summer was seeming rather routine until I went outside for the newspaper and saw George Clooney standing on the sidewalk. Drop dead gorgeous. Dark brown eyes, thick brows, deep five o'clock shadow.
You could have knocked me over with a feather. Or a squirrel's tail. I'm telling you as sure as I'm breathing, if ever a squirrel was created in the image of George Clooney, this was it.
George Clooney scampered over to the crabapple tree, and naturally, I followed. He scurried out on a branch, level with my eyes, and began chattering. I listened and nodded politely and he took a few steps closer. I took a few steps closer.
We kept inching toward one another. It was just like in the movie, "One Fine Day," when George Clooney and Michelle Pfeiffer were walking down the sidewalk toward one another, their eyes met and sparks flew. We were now so close that, had I taken three giant steps forward, I could have scratched George Clooney behind the ears.
It would have made for a great e-mail to far-away friends"Hi, there. Not much new here. Same ol', same ol', although I did get a chance to scratch George Clooney behind the ears."
Suddenly, George Clooney began chattering wildly. His chatter grew more and more excited.
I was glad the rolled-up newspaper was still in my hand. I would hate to do it, but if I had to, I would have. I could just see the headline in the National Enquirer: George Clooney Clubbed by Woman Armed With Newspaper Heavy With Circulars. They wouldn't say that it was a squirrel until the end of the article buried on page 39. Then George Clooney fans would be after me, there'd be threats against the family, I'd have to go into hiding and life would never be the same. I zipped back into the house while life still resembled normal.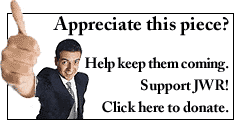 I entered the kitchen and told my husband that I had just had a disturbing encounter with a heavily- bearded squirrel that looked exactly like George Clooney.
The man didn't even look up from his coffee and the checkbook he was trying to balance. Just held out his hand for the A section of the newspaper.
"Sure you did," he says, "and last week I saw a woman on television who had seven green peppers that looked like Dopey, Happy, Grumpy and the gang. You're not going public with this are you?"
"Joke if you will," I said, "but I'm telling you, the only other place I've seen five o'clock shadow like this was on 'ER.' And hey, don't forget about the woman who had potato chips that looked like former presidents. She had a sour cream and onion chip that was a ringer for Abe Lincoln. Do you know the woman sold tickets to see those and made enough money to put her kids through college?"
"Was that before or after she spotted the black helicopters with the little green pilots?"
"Sure, keep laughing," I said.
"OK," he answered. "For the record, you do know that big shaggy thing in the neighbor's yard is not Big Foot, right?"
I didn't dignify him with an answer.
I left for an appointment and when I returned several hours later, the video camera was lying on the sofa. "Why is the camera out?" I asked.
He was quiet for a moment, looked rather sheepish and then said, "I spotted George Clooney in the backyard."
He's thinking we can sell the video for $29.95.
Enjoy this writer's work? Why not sign-up for the daily JWR update. It's free. Just click here.

JWR contributor Lori Borgman is the author of I Was a Better Mother Before I Had Kids. To comment, please click here. To visit her website click here.
07/18/03: Girls pool talents for commercial success
07/11/03: Summer; the living is easy
07/03/03: Terrible twos make terrific workout
06/27/03: Emergency a matter of definition
06/13/03: A Father's Day roast for Mother Goose
06/05/03: Good examples of bad parenting
05/23/03: Faulty equations on the love calculator
05/16/03: Busted for Oreos!
05/09/03: Mom plus shipping equals excitement
05/02/03: Mom shudders at thought of the m-a-l-l
04/21/03: Mother Confessions
04/11/03: Husband snoring: Hit or mist
04/04/03: Flip flops hashed at the lunch table
03/28/03: Bare facts on protesters
03/21/03: Madonna: Like an Author
03/17/03: Mom develops rapport with son's answering machine
03/07/03: The call for courage
02/28/03: My relationship with Mister Rogers
01/31/03: Mom pushes memories out the door
01/24/03: Picture this! Human 'beans'
01/10/03: Password, please!
12/31/02: Who it was a good year for
12/06/02: Radio show guarantees family-size audience
12/02/02: High-seas adventure would enlist few takers today
11/15/02: Frozen turkey makes cook chicken out
11/15/02: What's going on with "going out?"
11/01/02: The crazy mind of middle-age
10/25/02: Relationship rooted in willow talk
10/18/02: The challenge of being spontaneous
10/11/02: No wheels, no keys, no problem?
10/04/02: Lessons of a childhood survivor --- my children's
09/20/02: "Cutting the Cord" to the Tube
09/13/02: Over there
08/30/02: The Last One Left
08/23/02: Rare sighting made on the patio
08/16/02: Kids get reality paycheck
08/08/02: We look like this . . . no, Kidman!
08/02/02: We should be a nation of 'nuts'!
07/26/02: Hold your applause --- please!
07/19/02: Greed and Mints on the Pillows
07/12/02: Remodeling: Blueprint for Disaster
07/08/02: The Botox wrinkle
06/28/02: One perfect day
06/21/02: Flush with excitement
06/14/02: The Ways a Father Says "I Love You"
06/07/02: Garage Sale Treasures
05/31/02: No Pudgy Hour at the gym
05/19/02: Ozzy, if you come for dinner, bring change
05/19/02: Instant Messaging and LOL
05/10/02: Some mothers get something more
05/03/02: I Nudge, Therefore I Am
04/25/02: Motherhood is seasonal work
04/19/02: Paper trail to college
04/12/02: What to cook or not to cook
03/31/02: Mom and Dad Break Curfew
03/22/02: Introducing P.P.M. (Partners Per Month)
03/15/02: Birth of a Pothole
03/08/02: When Enron Momma gets mad
03/01/02: Little hope for bookaholic
02/22/02: Wrestling with prejudice
02/15/02: Say What?
02/08/02: Kitchen intelligence
02/01/02: Age-old words
01/25/02: Abortion: Switching Sides
01/18/02: Kids, take note
01/11/02: The heart-stopper e-mail
01/04/02: The slightly sunny side of 2001
12/28/01: The Way Things Work
11/30/01: The Leftover Shuffle begins
11/27/01: Glasses bring age into focus
11/16/01: A different portion of Thanks
11/09/01: The Next Stage of Parenting
11/01/01: Of boys and patriotism
10/26/01: College Son the Invisible Man
10/19/01: Out of the closet ... and into the school
10/12/01: A Parent's Guide to Dating
10/05/01: "Taking Care of You"
09/28/01: Time indivisible
09/24/01: Refueling capitalism
09/14/01: A time to mourn
09/07/01: Lack of modesty stirs the troops
08/31/01: Scholarship search an education
08/24/01: The test for parents
08/17/01: Immodest proposals
08/10/01: Trying to R-r-r-re-re-relax
08/03/01: It may be shabby and chic, but it ain't cheap
07/20/01: Bride showered with sage advice
07/13/01: Baby Bear Finds Driving "Just Right"
07/06/01: Pale at the Thought of Bronze
06/29/01: A Dog's Best Friend
06/22/01: Rethinking fatherhood
06/14/01 Don't forget to lock the door
06/07/01 How grandma punishes her kids
06/01/01 Hearing voices
05/25/01 Cyborgs for Better or Worse
05/18/01 The death of Common Sense

© 2001, Lori Borgman