Jewish World Review August 1, 2003 / 3 Menachem-Av, 5763

Lori Borgman
Private journals, public records
http://www.NewsAndOpinion.com | I've been a tad unsettled since hearing Senator Bob Graham's personal journals may become a liability should he run for president. My husband has kept a journal for as long as I've known him.
Keeping a journal is not a personality characteristic, it is the result of genetic coding. People who keep journals keep them religiously. Not even a 12-step program could stop them.
As a matter of fact, if I were to go through a box of my husband's old baby things, I wouldn't be surprised to find a miniature journal the size of a matchbook where, as an infant, he recorded the precise time he entered this world, the temperature high and low that day, the intervals of his feedings, how many times he was changed, and the cash total he received from well wishers and visitors. You can see why having boxes full of journals containing such personal information around the house would make me uneasy.
"Honey, do you think we should shred your journals?" I ask. "I'd hate to see them become a matter of public scrutiny and end up thrusting you into the presidential race."
"I have nothing to hide," he says looking up over his glasses while making yet another entry into his journal.
"Don't talk like that, it makes you sound like a candidate." "I am not a candidate and I will not run."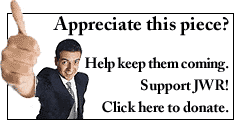 "Stop it, now you really sound like a candidate. Seriously, what could the pundits find if they got their hands on your journal?"
He randomly flips to a page and says, "I suppose they could find entries like this from Saturday: Read the paper then got a haircut at 8:30. Planted more grass in the front yard."
"That's it?" I asked. "No titillating tidbits from our wild and exciting lives?"
"Well, here's another entry: I worked from 9 until 5:50. Went to the bank to deposit my mileage check. Lori and I went to corner Mexican restaurant for dinner then to Half Price Books to use our 40% off coupons. Very humid. Had thunderstorms in the afternoon."
"There seems to be a lot of weather material in there," I said. "You don't do storm predictions, do you?"
"No," he says dryly. "You're confusing me with Ben Franklin and Poor Richard."
"Ah yes, another politician who kept a journal."
Afer my husband reads a few more entries which largely concerned weather, I decide the journals will never become a liability. The only ones outside the family who would be interested in his journal would be the folks at The Weather Channel, Willard Scott and the meteorological society. I cheerfully mention this fact and it is met with disdain.
"I'm a facts and figures guy," my husband says. "I like keeping records and these come in handy when we need to look up dates or information for medical records, insurance, taxes or just remember what we did during the year."
"What about the kids' charge that you stalk them in your journal?"
"So maybe I do write down where they go, who they go with and when they return home. I'm just a father keeping records. I am not a stalker."
"That's right, hon. And Richard Nixon was not a crook."
We read a few more entries about what we did in May, plans that bombed in April, some family fun we had in March and then we looked at each other.
"You thinking what I'm thinking?" the husband said.
"Yeah," I answered. "If any of the presidential candidates journals are this mundane they'll be finished before they ever get started."
Enjoy this writer's work? Why not sign-up for the daily JWR update. It's free. Just click here.

JWR contributor Lori Borgman is the author of I Was a Better Mother Before I Had Kids. To comment, please click here. To visit her website click here.
07/25/03: Star appears bright-eyed, bushy-tailed
07/18/03: Girls pool talents for commercial success
07/11/03: Summer; the living is easy
07/03/03: Terrible twos make terrific workout
06/27/03: Emergency a matter of definition
06/13/03: A Father's Day roast for Mother Goose
06/05/03: Good examples of bad parenting
05/23/03: Faulty equations on the love calculator
05/16/03: Busted for Oreos!
05/09/03: Mom plus shipping equals excitement
05/02/03: Mom shudders at thought of the m-a-l-l
04/21/03: Mother Confessions
04/11/03: Husband snoring: Hit or mist
04/04/03: Flip flops hashed at the lunch table
03/28/03: Bare facts on protesters
03/21/03: Madonna: Like an Author
03/17/03: Mom develops rapport with son's answering machine
03/07/03: The call for courage
02/28/03: My relationship with Mister Rogers
01/31/03: Mom pushes memories out the door
01/24/03: Picture this! Human 'beans'
01/10/03: Password, please!
12/31/02: Who it was a good year for
12/06/02: Radio show guarantees family-size audience
12/02/02: High-seas adventure would enlist few takers today
11/15/02: Frozen turkey makes cook chicken out
11/15/02: What's going on with "going out?"
11/01/02: The crazy mind of middle-age
10/25/02: Relationship rooted in willow talk
10/18/02: The challenge of being spontaneous
10/11/02: No wheels, no keys, no problem?
10/04/02: Lessons of a childhood survivor --- my children's
09/20/02: "Cutting the Cord" to the Tube
09/13/02: Over there
08/30/02: The Last One Left
08/23/02: Rare sighting made on the patio
08/16/02: Kids get reality paycheck
08/08/02: We look like this . . . no, Kidman!
08/02/02: We should be a nation of 'nuts'!
07/26/02: Hold your applause --- please!
07/19/02: Greed and Mints on the Pillows
07/12/02: Remodeling: Blueprint for Disaster
07/08/02: The Botox wrinkle
06/28/02: One perfect day
06/21/02: Flush with excitement
06/14/02: The Ways a Father Says "I Love You"
06/07/02: Garage Sale Treasures
05/31/02: No Pudgy Hour at the gym
05/19/02: Ozzy, if you come for dinner, bring change
05/19/02: Instant Messaging and LOL
05/10/02: Some mothers get something more
05/03/02: I Nudge, Therefore I Am
04/25/02: Motherhood is seasonal work
04/19/02: Paper trail to college
04/12/02: What to cook or not to cook
03/31/02: Mom and Dad Break Curfew
03/22/02: Introducing P.P.M. (Partners Per Month)
03/15/02: Birth of a Pothole
03/08/02: When Enron Momma gets mad
03/01/02: Little hope for bookaholic
02/22/02: Wrestling with prejudice
02/15/02: Say What?
02/08/02: Kitchen intelligence
02/01/02: Age-old words
01/25/02: Abortion: Switching Sides
01/18/02: Kids, take note
01/11/02: The heart-stopper e-mail
01/04/02: The slightly sunny side of 2001
12/28/01: The Way Things Work
11/30/01: The Leftover Shuffle begins
11/27/01: Glasses bring age into focus
11/16/01: A different portion of Thanks
11/09/01: The Next Stage of Parenting
11/01/01: Of boys and patriotism
10/26/01: College Son the Invisible Man
10/19/01: Out of the closet ... and into the school
10/12/01: A Parent's Guide to Dating
10/05/01: "Taking Care of You"
09/28/01: Time indivisible
09/24/01: Refueling capitalism
09/14/01: A time to mourn
09/07/01: Lack of modesty stirs the troops
08/31/01: Scholarship search an education
08/24/01: The test for parents
08/17/01: Immodest proposals
08/10/01: Trying to R-r-r-re-re-relax
08/03/01: It may be shabby and chic, but it ain't cheap
07/20/01: Bride showered with sage advice
07/13/01: Baby Bear Finds Driving "Just Right"
07/06/01: Pale at the Thought of Bronze
06/29/01: A Dog's Best Friend
06/22/01: Rethinking fatherhood
06/14/01 Don't forget to lock the door
06/07/01 How grandma punishes her kids
06/01/01 Hearing voices
05/25/01 Cyborgs for Better or Worse
05/18/01 The death of Common Sense

© 2001, Lori Borgman